Located in Regina, the capital of Saskatchewan, Canada, the Williston in Harbour Landing is a gorgeous, luxury apartment complex for senior living. The housing complex offers several amenities, including shops, a hair salon & nail spa, fitness centre, sports pub, and wonderful outdoor areas including the 9,000 square foot rooftop terrace, which uses Archatrak's 24"x24″ porcelain pavers in color Calstone, as well as MIXY 60 planters and planter benches. The community gathering space cleverly uses green turf to give the rooftop a 'green' feel.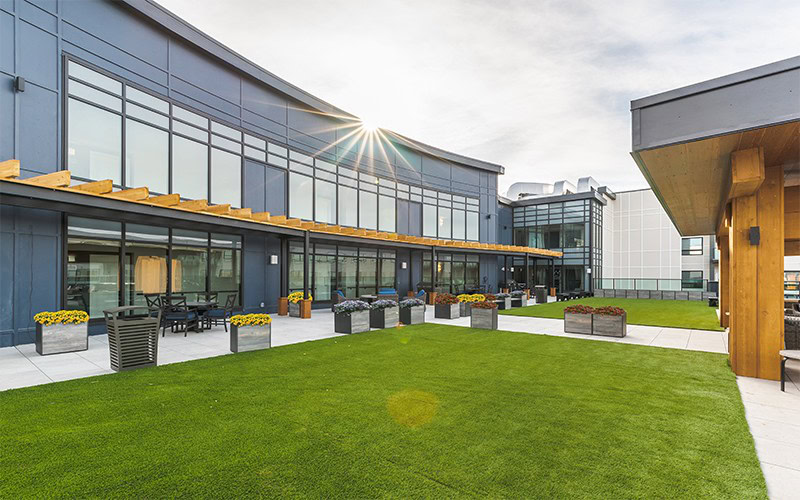 As developers continue to design with the concept of community in mind, the need to design a space that fosters more inclusive gathering spaces becomes increasingly relevant. A common approach to solving the need for common outdoor space is a building's rooftop. A recent article from Senior Housing News states that "People are really looking to continue their current lifestyle after moving into these senior living communities, and a big part of their current lifestyle is outdoor living." The Williston, with its beautiful rooftop gathering space, is an example of how the outdoor amenity war has influenced the design of senior housing projects.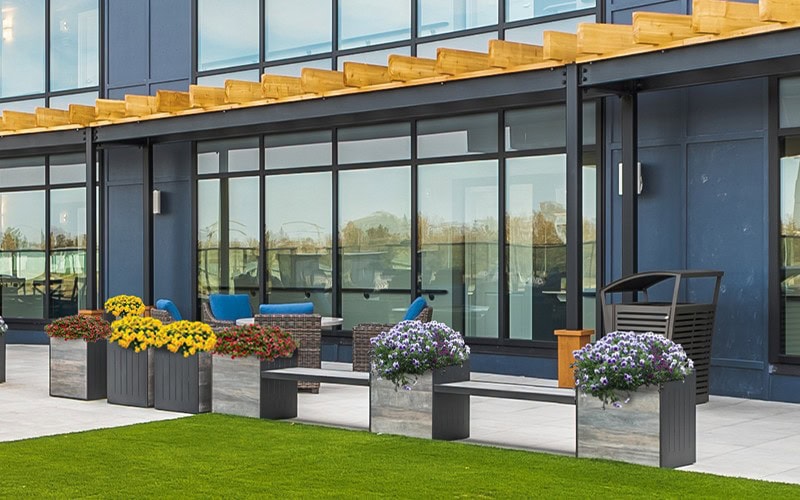 Creating such a space requires durable, adaptable and aesthetically appealing products. With an unsurpassed range of color options, Archatrak porcelain pavers not only bring beauty and creativity to outdoor spaces- their impermeable surface makes them extremely low maintenance and highly durable, especially Archatrak's T30 3cm porcelain pavers.
When creating gathering space on rooftop decks and terraces, common design challenges include how to protect the roof membrane and how to accommodate for gradual slopes on the roof's surface. Archatrak's solution to these design challenges are height adjustable and self-leveling support pedestals, which are both functional and affordable. These wide diameter, flat base roof paver supports avoid damage or penetration of existing waterproof membranes, eliminate the need for wood or steel structures, enable pipework, ductwork and cabling to be hidden from view, yet still permit easy access for inspection and maintenance. The support pedestals are held in place by the weight of the pavers, and in certain locations, wind uplift mitigation and break through protection may need to be implemented, depending on deck height, application and location.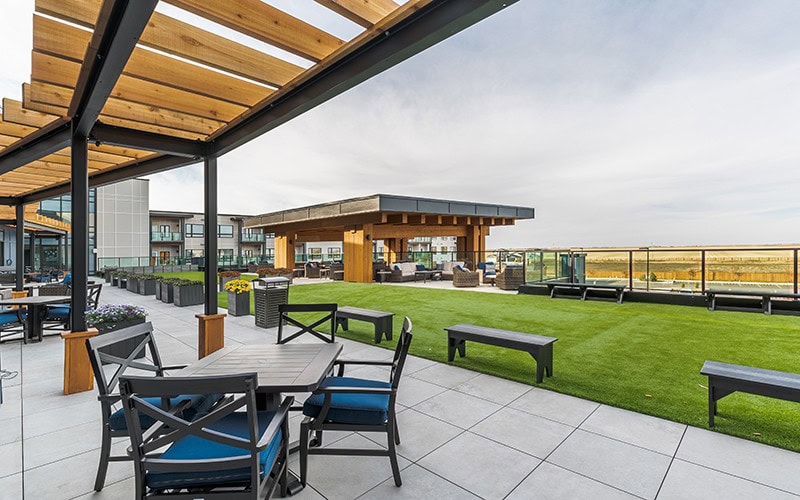 With our range of porcelain pavers, support pedestals, and site amenities such as planters and outdoor porcelain furniture, Archatrak is able to provide a 360-degree solution for your outdoor amenity needs. Are you interested in learning if Archatrak's paving products are the right option for your multi-family or senior housing project? Send us an email or call us at 866.206.8316 with questions.