Fiberglass Grating
Fiberglass Reinforced Plastic (FRP) is a composite material made of thermosetting plastic resin reinforced by fine glass fibers. By selecting the appropriate combination of fiberglass reinforcements, resins and additives, FRP grating panels can be used the most demanding decking, boardwalk and paver support applications.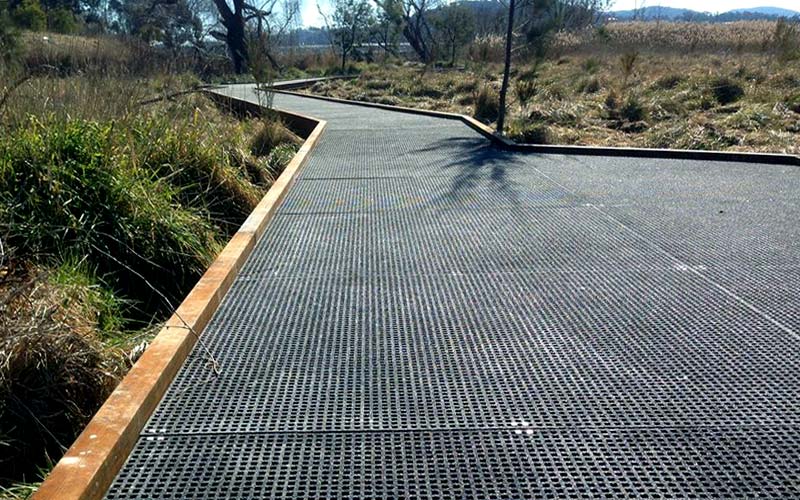 FRP molded grating panels are manufactured with interwoven high-strength glass rovings embedded in a thermosetting resin matrix to create one-piece structural panels which exhibit excellent bi-directional strength and one of the highest strength-to-weight ratios of any material.
The excellent corrosion resistance of FRP combined with its strength, impact resistance, and extended life compared to more traditional materials such as galvanized steel, aluminum, stainless steel, or wood, makes it one of the most useful, versatile, and economical solutions available for the construction of pedestrian walkways, dock decking, bridges, platforms, and stairways.  Both the panel thickness and the aperture size of the fiberglass deck grate panels can be tailored to the likely usage which includes:
Boardwalks
Dock decking for jetties & pontoons
Ramps for the disabled
Pedestrian bridges
Rooftop access walkways
Viewing platforms
Industrial work platforms
Stairs and landings
Beach access
Benefits of Fiberglass Grating

Lightweight – only 1/4 the weight of steel and 1/3 the weight of aluminum

High strength – tension, compression and bending strength similar to steel

High impact resistance - springs back to original shape when deflected

Excellent slip-resistance with bonded grit surface

Long life span – typically in excess of 25 years

High fire resistance, low flame spread index, and low toxic fumes with selected resins & fillers

Highly resistant to corrosive chemicals

Non-conductive but a conductive surface can be supplied as an option

Unaffected in marine environments and prolonged exposure to wet conditions

Uniform color and appearance

Easy on-site fabrication and/or trimming
Archatrak has specifically selected FRP resins, fillers and additives designed for maximum outdoor durability and fire resistance of our grating panels. Although there are four different types of resin systems available in the United States, only Type-I resins combined with Aluminum Hydroxide filler (not Calcium Carbonate) can provide the fire retardant and smoke suppression properties necessary for most exterior boardwalk and marine deck applications.
Type-O – polyester resin system with mid-level chemical resistance. Typically used in commercial or light industrial applications, especially where moisture is prevalent.
Type-I – isophthalic resin system. Archatrak's standard and the most popular resin system for more demanding industrial, marine and boardwalk grating applications. Provides long-lasting performance in areas where corrosion is an issue.
Type-V – vinyl ester resin system. Provides the highest chemical resistance and typically used in environments where FRP products are subject to frequent and direct contact with the harshest of chemicals.
Type-P – phenolic resin system. Used where fire resistance, low flame spread index, smoke suppression and low toxic fumes are critical. Typically used in offshore applications and confined spaces.
Typically, FRP grating will be rated in accordance with ASTM-E 84 as non-combustible with a flame and smoke spread level significantly less than 25. UV absorbers such as UV9 must also be incorporated into the resin system for long-term UV protection.
Gritted – Quartz grit is bonded to the top surface of the grid, to provide an exceptionally safe and hard-wearing walking surface with excellent slip resistance in wet, oily and icy conditions. Typically achieves a rating of R13 for wet/oil ramp and P5 for Wet Pendulum.
Concave – This standard post-production finish is created during the curing process when the top surface of the FRP grating naturally shrinks back to create the concave effect. This surface is typically used in applications where a degree of slip resistance is required for wet conditions, but a gritted surface may be too harsh (for example beach access boardwalks).
Smooth – The concave post-production finish is sanded to a flat surface and then coated with resin.  This surface is best used in architectural applications where a flat and regular surface appearance is desired.
Conductive  – Our standard range of FRP gratings are all non-conductive. However, there are occasions when conductive gratings are required. For these gratings, a top surface of a carbon based material is applied which is highly conductive. Copper earthing straps are then fixed at intervals to the grating and grounded, to safely discharge any static electricity.
Although FRP grating panels can be supplied in a multitude of different thicknesses, mesh sizes, colors, resins and fillers, as a specialist decking supplier, we only supply FRP grating panels which meet the specific requirements of mesh size, durability, fire resistance, slip resistance and limited deflection applicable to elevated roof deck, boardwalk, bridge and marine deck applications.
Detailed specifications of the preferred sizes offered by Archatrak are given here.
FRP grate panels are exceptionally quick and easy to install, normally just requiring fixing to bearers with special stainless steel fiberglass grating clips which are also used to tie panels together.
Safety procedures when cutting and handling fiberglass grating and guidelines for installing fiberglass panels in dock decking and boardwalk applications, can be seen here.