Break-through Protection
While Archatrak porcelain pavers are exceptionally durable, dense and rigid, they can nevertheless suffer damage due to mishandling, careless treatment or accidental impact. If tools, heavy furniture or other hard objects are dropped on the pavers from a significant height, chips, scratches, surface damage and/or cracking and breakage may occur.
In all situations where hard objects could be accidentally dropped from a significant height or where deck heights are greater than 4", especially in high traffic commercial installations, appropriate reinforcement sheets or protection panels should be installed on the underside of the pavers.
Archatrak currently offers several solutions for ensuring safe elevated flooring Installations.
'Shock Control 2.0' Adhesive Sheets
Shock Control 2.0 is a flexible, self-adhesive, fiberglass reinforced sheet, pre-cut to cover the underside of a 23.5″ x 23.5″ (nom.) paver. The sheet is attached to the paver simply by peeling off the protective backing and pressing the sheet onto the underside of a dry paver.
Always check that adequate adhesion is achieved and in no circumstances apply Shock Control when the ambient temp is below 32°F.  A primer may also be required under some circumstances to ensure adequate adhesion.
Download more detailed installation guidelines here.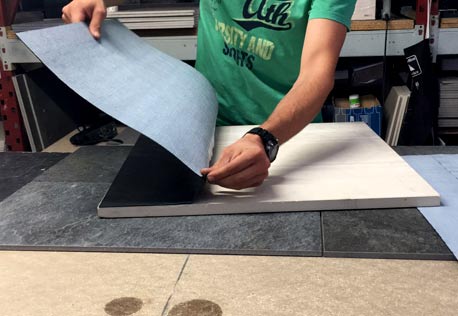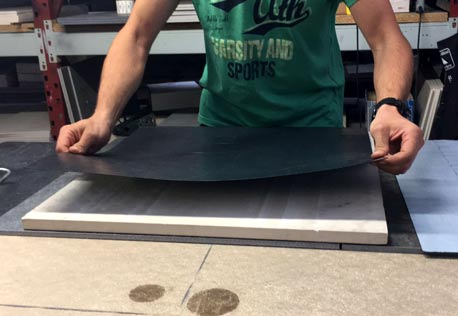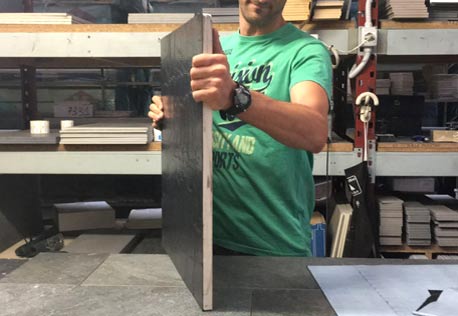 Shock Control 2.0 has been tested in accordance with 'Shock Test on Hard Bodies' UNI EN 12825:2003 whereby a steel penetrating body with a mass of 4.5 kg and with a hemispherical tip of 50 mm is made to fall onto the test panel from a height of 600 mm through a guide tube at the center of the panel, center of a side of the panel, at any other point that is the weakest point of the test object. The panel must not cave in or break after any blows. Shock Control 2.0 passed the above test for all three locations.
Note that this solution is primarily intended to hold together pieces of any broken paver and provide temporary support should a person be standing on a paver at the time of breakage. If any paver is broken while a person is standing on the paver, they should immediately step off the damaged paver as prolonged heavy weight applied to a damaged paver fitted with Shock Control 2.0 will cause it to sag and eventually fall.
Galvanized metal trays
Archatrak 'Spansafe' steel protection trays are designed to prevent fall though and to contain damaged parts should any paver break in use. The trays are constructed of 1mm thick galvanized steel sheet with ¾" high downturned edges on all four sides, folded to provide a double thickness edge for extra strength. Holes are drilled in the sheet for drainage.
The plates are installed by firstly laying out the pedestals in the approx. final position and then placing the plates so that each corner rests on a pedestal head, checking for level as each plate is laid. The porcelain pavers are then laid directly over the trays and butted tightly against the tabs on the pedestals.
It is recommended to lay a rubber shim (e.g. Archatrak ETE-LGH2) on top of the plates at each corner or spread a bead of silicone adhesive across the plates to minimize noise transmission and/or rattling.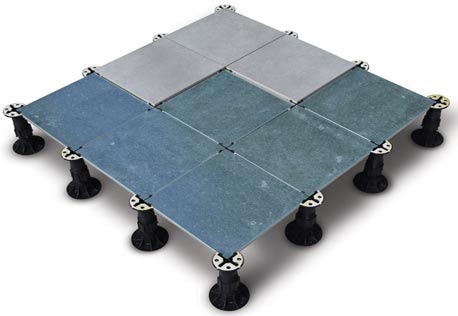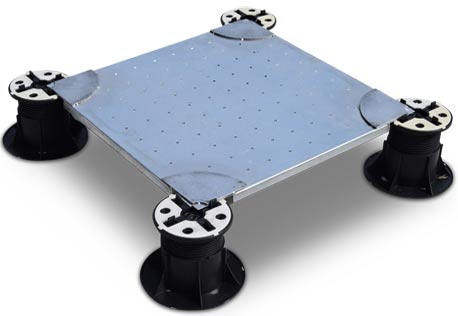 The effectiveness of the trays was tested by dropping a 3″ diam. steel ball weighing 1lb 9oz onto the center of a porcelain paver placed over the steel tray which in turn was supported by Eterno Maxi pedestals on each corner of the tray. The tray fully supported a person's weight including jumping up and down on the broken tile and no deflection or bending of the perimeter of the steel tray was observed.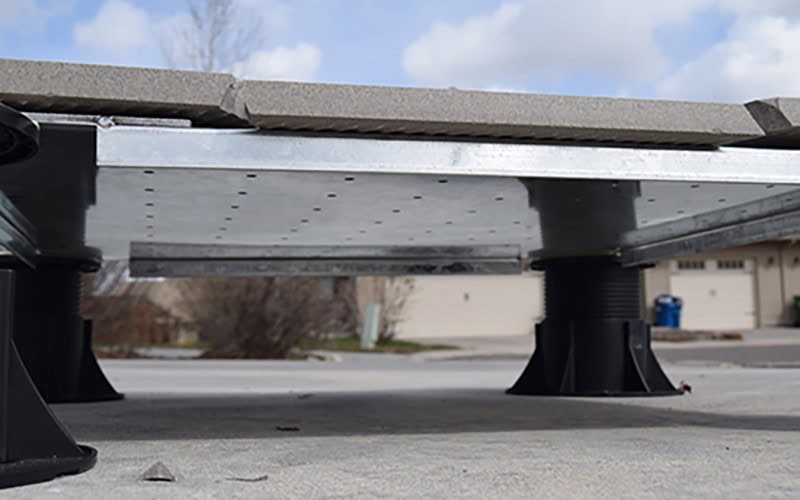 | Tray Specifications | | |
| --- | --- | --- |
| Size: | 23 7/16″ x 23 7/16″ | 23 /16" x 15 7/16" |
| Edge height: | 3/4″ | ¾" |
| Weight: | 7lb | 4.6lb |
| Steel thickness at corners: | 1/32" | 1/32" |