Street Seating and Dining Options for Closed City Streets
With cafes, restaurants and bars hit particularly hard by the Covid-19 pandemic, most cities are anxiously figuring out ways to restore some semblance of normal life in downtown regions. One of the more common solutions is the relaxation of regulations on allowing tables and chairs on the sidewalk outside cafes and restaurants. In other locations and particularly in the boroughs of New York, whole stretches of roads have been closed to vehicular traffic where they have been reimagined as 'Slow Streets' or 'Open Streets', giving even more opportunities to use these now wide, empty spaces for walking, bike riding, recreation and outdoor dining in conformity with recommended social distancing guidelines.
There are nevertheless a few issues with using blocked off streets to create street seating and dining areas for restaurants.
● roads are not perfectly level so chairs and tables need constant adjustment for stability
● the step down from the curb can be a hazard for both servers and diners
● a black asphalt roadway is not the most aesthetic looking location for dining
● clearly defining the seating and dining area is normally beneficial for the restaurant and patrons
So we've been thinking about ways we can help overcome these issues. Here's a few options.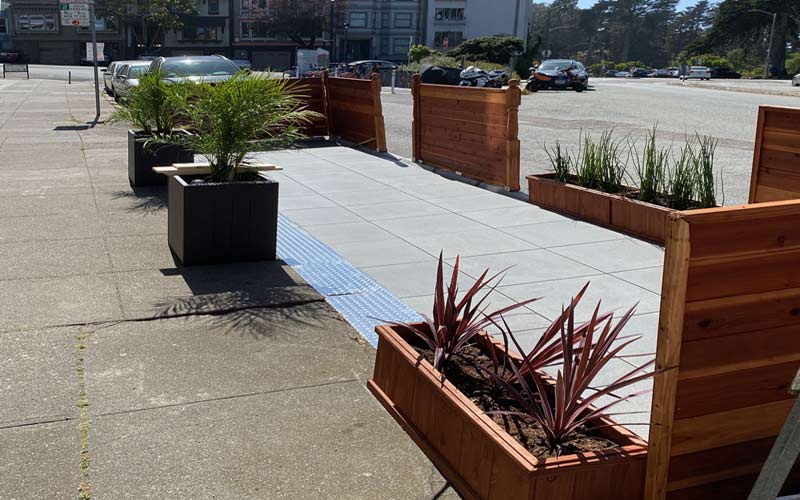 Curbside Platforms
The lowest cost option for a dedicated street seating area would be to create a raised deck which is made flush with the level of the pavement. This can be easily be achieved by constructing a deck with porcelain pavers supported by adjustable height pedestals. Not only will this give you a perfectly level deck despite the slope of the road, but the pedestals allow water to flow along the drain as normal. To avoid any gap between the pavement and the raised deck and make the deck wheelchair accessible, we suggest laying lengths of mild steel tread plate about 12" wide (depending on the curb profile) over the gap.
On the opposite side of the raised deck, it's best to have some means of restraining the porcelain pavers so they can't move, since they are simply resting on the top of the adjustable height pedestals and rely on the frictional properties of the two surfaces to keep them in place. The cheapest restraining option we suggest is to use low cost concrete curbs. These are typically about 6" high and 8" wide and 6' to 8' long. Although they can normally be pinned to the roadway, for this application, it's sufficient to simply butt the concrete curbs against the outer row of pavers.
The cost of this street seating solution using porcelain pavers and adjustable height pedestals would be about $10 per sq.ft. (plus shipping cost) depending on the pavers selected and the pedestal height. The steel plate and concrete curb would be supplied by others at some extra cost.
Two of the great advantages of this solution, apart from having the lowest cost, is that the deck can be as long or as wide as you like and all components are available immediately. Also, it's very simple to install – normally you won't need to employ a contractor (unless you need to cut pavers for whatever reason) since essentially you just lay out the pedestals, screw them up or down to adjust the height and place the pavers on top. Paver spacing and alignment is taken care of automatically by the spacer tabs on the pedestal heads. Basically the only tool you need is a spirit level.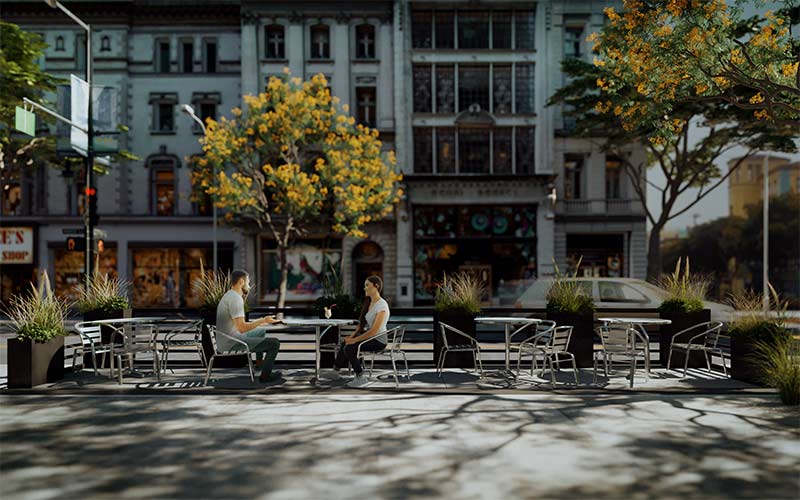 StreetDeck Basic Deck Kit
Our second street seating solution simply builds on the first idea by integrating a steel frame to completely enclose the deck. We developed a modular deck kit called StreetDeck, originally intended for building 'Parklets' i.e. elevated decks with small seating areas enclosed by planters and railings which are installed in place of one or two existing car spaces on urban streets.
Although the standard StreetDeck kit is either 12' long or 32' long and 6' wide, in actual fact there is no restriction on either the length or width, which can be easily increased in increments of 24".
The basic structure of StreetDeck is a raised deck of pedestal supported porcelain pavers with an integrated steel perimeter. So in this case, a concrete curb is not necessary. Naturally it is somewhat more time consuming to install than the option without the perimeter frame since all steel components must be bolted together.
The cost of this system with a 32' x 6' pedestal supported porcelain paver deck enclosed within a powder coated steel perimeter is around $9000. For decks much longer or wider, the cost per square foot could decrease quite significantly, since the most expensive part is the steel structure underneath the deck and the perimeter. Also because the steel substructure and perimeter components are currently produced to order, this solution is not available for immediate shipment, but is subject to several weeks lead time.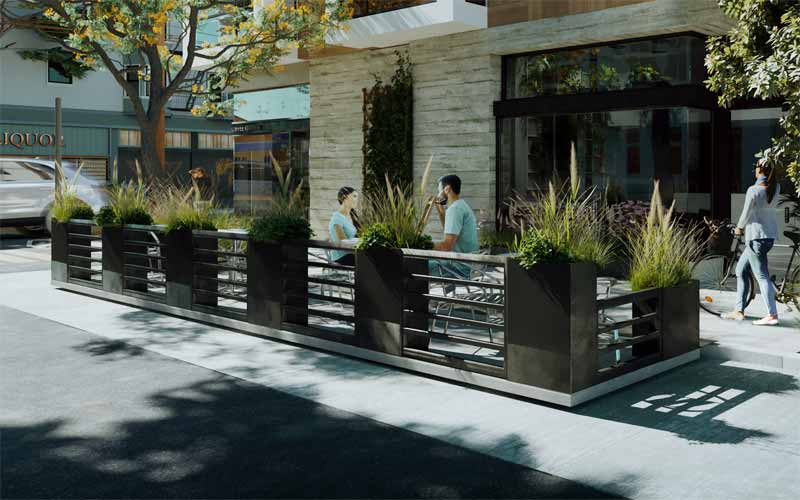 StreetDeck Full Deck Kit
Our third solution is the complete StreetDeck modular deck kit, including not only the deck, but integrated planters and railings. This kit was developed to comply with specific standards and regulations on railing heights, applied forces, under deck drainage, wheelchair accessibility etc. It is thus designed to provide a more permanent solution than the first two options, but nevertheless can be quickly removed and stored if required, for example in cities where streets must be kept clear in Winter for snow clearing.
As with the basic deck kit, the full StreetDeck deck kit is normally supplied as 12' or 32' long and 6' wide kits, but there is no reason why the deck cannot be extended as long or as wide as required, subject to 24″ increments.
Naturally, because this solution includes steel planters and steel railings, it is somewhat more expensive than the basic deck alone. Depending on the configuration, a 32' x 6' kit would typically cost between $20,000-$25,000. As with the previous option, this solution is not available for immediate delivery since all components apart from the pedestals and porcelain pavers are manufactured to order.
Customization and Options
Paver Colors
For the deck surface, we can supply over 30 different colors and styles of porcelain pavers including wood look, concrete look and stone look. StreetDeck kits are specifically designed to use  24" x 24" pavers, but we can also supply 16" x 48" pavers in a limited color range for decks which are not supplied with our integrated planters.
If the longer 48" pavers are used to make an 8' wide deck, it would not be necessary to use concrete curbs on the outer side, but instead vertical face panels can be cut from a standard porcelain paver and attached with special clips.
Naturally this is more complicated to install as it requires a wet saw to cut the pavers for the face panels, but it does result in a more attractive and neatly finished deck for street seating and outdoor dining. Note that the height of the step down should not exceed 6" if end panels are used.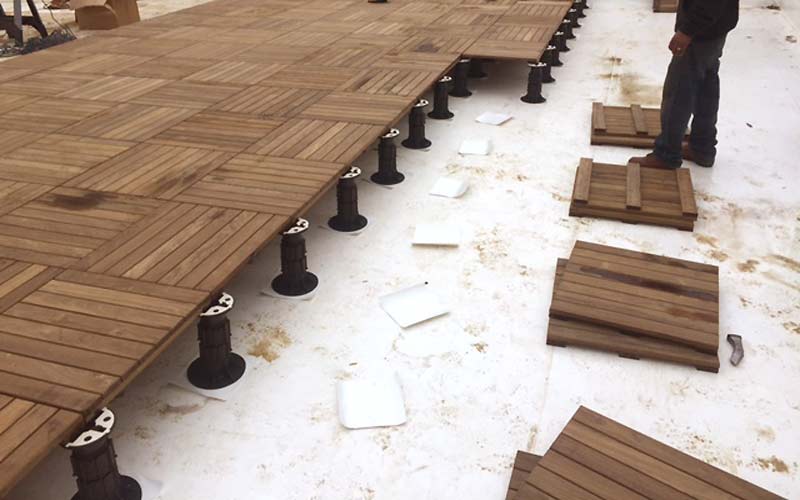 Ipe Wood Tiles
If you prefer a natural wood surface for the deck, we can also supply 24" x 24" or 24"x 48" Ipe wood tiles. Ipe is one of the hardest and dense durable wood species commercially available, so is ideal for modular wood tiles in high traffic applications.
These tiles are again laid over adjustable height pedestals as with the porcelain pavers, although they can also be secured to the pedestals with a hold down screw and washer if needed.
Our Ipe wood tiles are supplied with a natural smooth finish without any oil coating. We strongly recommend a protective oil is applied as soon as convenient after installation to help maintain their appearance and to minimize staining from oil or grease, which could be an issue in an outdoor street dining location.
Generally speaking, if you prefer a wood look surface, our wood look porcelain pavers could be a better option since their maintenance needs are considerably less – no staining, fading, no oiling needed.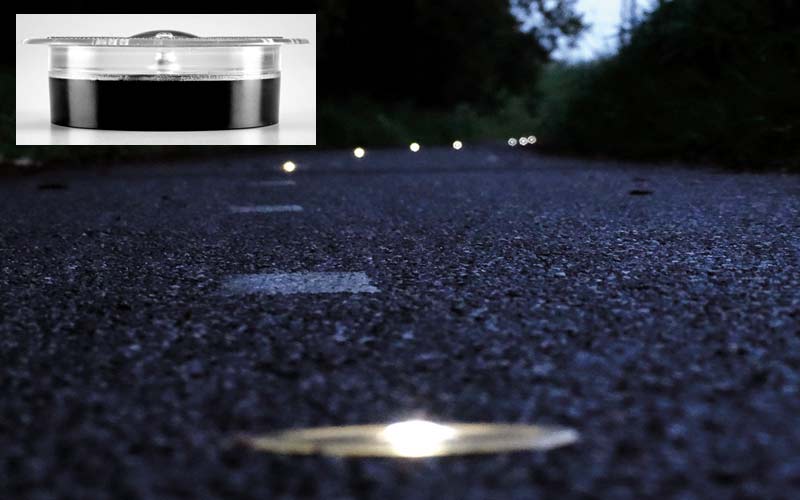 LED Deck Lighting
For ambient mood lighting or to simply to define the area occupied by the deck, we can supply 2 ½" diam. solar lights which are designed for insertion in the body of the pavers.
The lights are simply installed by drilling holes in the pavers at the required locations and sit virtually flush with the top surface of the pavers.
Since these lights have built-in solar cells, no main electrical connection is required and no wiring is required between each light.
These lights can typically supply illumination for more than 12hrs on full charge if installed where they are in direct sunlight for most of the day.  If the lights are likely to be in shade for a major portion of the day, then LED lights which are wired to a small solar panel can be a better option, as the solar panel can then be oriented for maximum exposure to the sun for each month of the year.
Solar Bollards
Bollards can be used to define the boundary of the street seating or dining area at night and also provide added safety for pedestrians.
Solar bollards are particularly useful for this application because they don't require any connection to mains electric supply, but are totally self-contained.
We supply 39" tall aluminum bollards which are essentially square posts with inbuilt solar cells. These bollards can be set to provide illumination for either 6 or 12 hrs. and are designed to increase in brightness on approach by pedestrians.
All bollards need to be securely bolted to a solid concrete base, which of course can be an issue in most roadways, so generally speaking bollards like this are more useful on the pavement edge.
Solar Street Seating with Inbuilt Phone Charging
Closed off roadways can look particularly dark at nighttime. Adding some ambient illumination on or around street seating areas is usually the best way to brighten a dark street and provide a feeling of greater security. But installing mains electric cables to power lights is not normally viable, especially with temporary street closures.
The best solution is generally to incorporate solar-powered lighting. For example, bench seating with solar panels on top that charge batteries during the day, not only provide additional seating but are capable of supplying ambient mood lighting, as well as offering charging facilities for mobile phones. Even WiFi access can be provided.
For more information on solar bench seating options, just call or email us.
Planters
Planters are a great way to define the boundary of street seating areas and are included in our standard StreetDeck modules together with railings.
Of course there is a huge range of planters available from many suppliers in all shapes, sizes, materials and prices and these can be easily installed on the basic StreetDeck as required.
If a continuous 'wall' of planters is required to create a solid barrier, our 'Mixy' range of planters which use porcelain pavers for the front and back face and steel panels on the ends can be very useful, as these can be extended lengthwise up to any distance in modules of  24″.  Standard depth is either 12″, 18″ or 24″.
Illustrated at left is an example of a single planter as well as interconnected planters with two and three  cement look 'Cenere ' pavers on the facing panels. These 'Mixy' planters can be supplied in any of the 40+ porcelain paver colors we hold in stock.