'StreetDeck' Accessories
A range of add-on components including planters, benches, panels and bicycle racks are available, all designed to specifically complement our modular StreetDeck, but offering considerable scope for customization.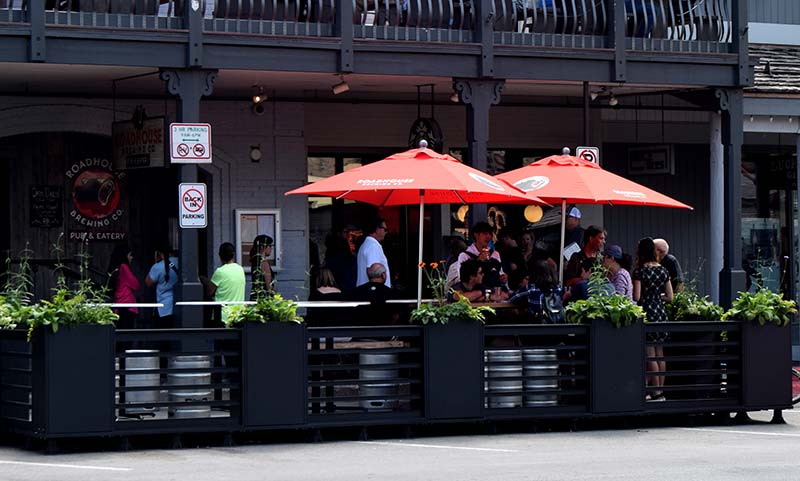 Most street Parklets include fixed planter boxes for landscaping as well as seating, access ramps and fencing or railings for safety and containment. Although we supply planters, ramps, railings and bench seating specifically designed for the 'StreetDeck' system, these items could also be locally sourced and with a little ingenuity, the basic structure of 'StreetDeck' should accommodate the installation of such accessories.
When considering how to secure items to the frame, be aware that pavers are 24″ wide (nominal) and the gap between pavers is 1/8″. These dimensions are important if custom brackets fixed to the frame below the deck surface need to extend through the gap between pavers and attach to accessories.
Our current range of add-on components includes powder coated, galvanized steel planters, railings, benches and access ramps, together with all necessary brackets and hardware, designed to seamlessly integrate with basic deck. These components are supplied as ready-to-assemble 'kit' items.
For a bright pop of color on your parklet, take a look at our 'Busy' range of compact, lightweight and stackable café style chairs with steel frame and powder coated aluminum seats with a whimsical polka dot pattern. These can be combined with our matching 'Moon' tables, either 32″ x 32″ or 32″ x 55″.
For nighttime use we can now offer solar-powered umbrellas via our Archasol solar products division, which not only incorporate LED strip light on the spokes of the umbrella, but offer the facility to charge phones while you're seated at a table.
Custom sized components can also be supplied, subject to the constraints of the modular dimensions of the deck.
Powder coated, galvanized steel planters are comprised of four side walls that bolt together, an interior adjustable platform for setting soil container height, rubber bumper feet to allow drainage and mounting brackets that securely connect the planters to the deck frame.
Our standard planters measure 24″ W x 12″ D X 36″ H when assembled. Taller planters can be supplied to accommodate railings up to 42″ high, where required by local regulations. Width and depth cannot be altered as this would interfere with bracket positioning for fixing planters to the deck frame.
Planters are supplied as a flat pack which can be assembled on site. This can be a significant benefit where modular decks must be removed over the winter period.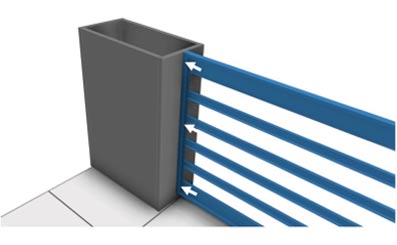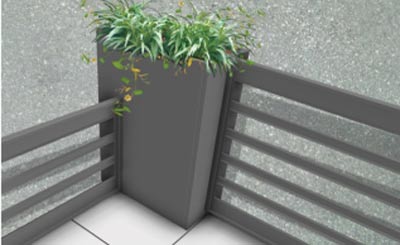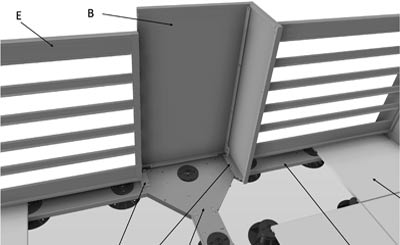 Powder coated, galvanized steel fence panels span two adjacent planters and are supplied with bolts for attaching to planter sidewalls. Standard panels/railings are 48″ wide.
The standard top-of-railing height is 36″ from the paver deck surface. If local regulations require a higher railing, we can supply 42″ high planter kits which permit the standard railings to be fixed at heights up to 42″ from the paver surface.
Panels are also available in prefabricated powder coated aluminum with vertical rails as a lower cost option or stainless steel with vertical wires (higher cost option).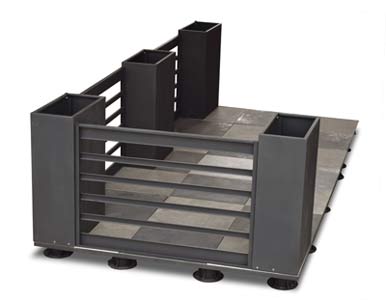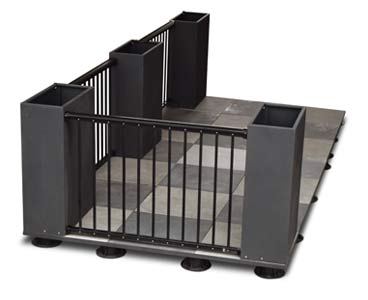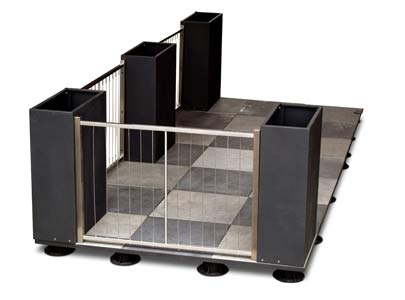 The standard StreetDeck is supplied with one 48″W x 12″D aluminum ramp together with mounting brackets to minimize trip hazard when entering and exiting a Parklet by spanning the gap between the sidewalk and deck.
The access ramps do not require fastening to the sidewalk or street. Additional ramps can be supplied as needed to comply with specific city requirements.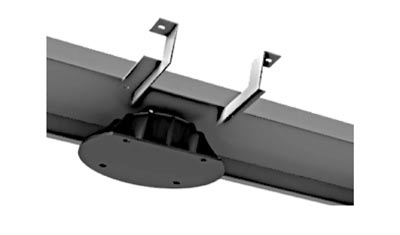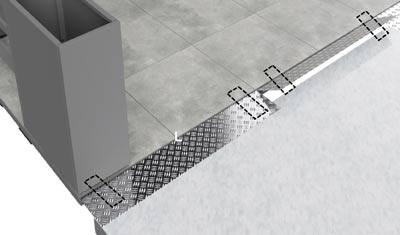 At each end of the deck, 12″ wide Ipe wood benches can be used to span the gap between the planters. To construct the benches, we supply a single 48″ x 24″ Ipe wood tile and powder coated steel mounting brackets.
The tile needs to be cut in two pieces simply by cutting the four 3″ wide x 3/4″thick bearers on the underside of the tile.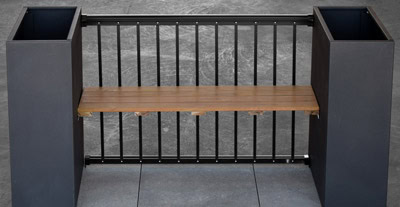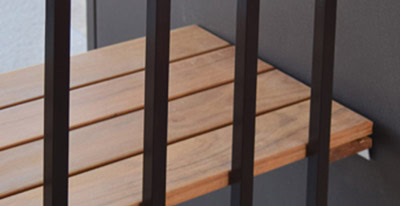 For any general inquiries about StreetDeck, please call 406 551 4098 or send us an email.