'StreetDeck' Accessories
A range of add-on components including planters, benches, panels and bicycle racks are available, all designed to specifically complement our modular StreetDeck, but offering considerable scope for customization.
Most street Parklets include fixed planter boxes for landscaping as well as seating, access ramps and fencing or railings for safety and containment. Although we supply planters, ramps, railings and bench seating specifically designed for the 'StreetDeck' system, these items could also be locally sourced and with a little ingenuity, the basic structure of 'StreetDeck' should accommodate the installation of such accessories.
When considering how to secure items to the frame, be aware that pavers are 24″ wide (nominal) and the gap between pavers is 1/8″. These dimensions are important if custom brackets fixed to the frame below the deck surface need to extend through the gap between pavers and attach to accessories.
Our current range of add-on components includes galvanized steel planters, railings, benches and access ramps, together with all necessary brackets and hardware, designed to seamlessly integrate with basic deck. These components are supplied as ready-to-assemble 'kit' items.
Custom sized components can also be supplied if required.
Galvanized steel planters are comprised of sidewalls that bolt together, an interior adjustable platform for setting soil container height, soil container with drain hose, feet which slightly elevate planter off the deck surface, and brackets to secure planter to deck frame.
While the standard kit size is 24″W x 12″D x 36″H, custom heights can be ordered to accommodate local regulations and design preferences. Width and depth cannot be altered as this would interfere with bracket positioning for fixing planters to the deck frame.
Planters are supplied as a flat pack which can be assembled on site. This can be a significant benefit where modular decks must be removed over the Winter period.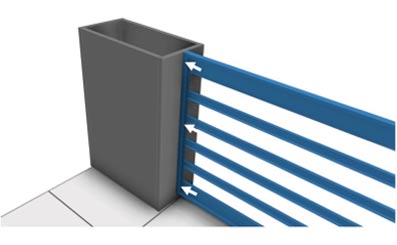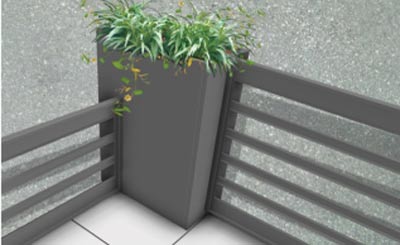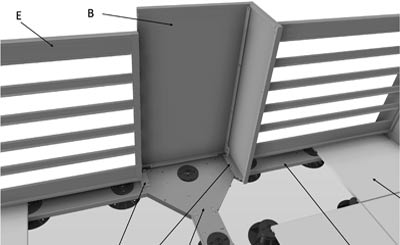 Like planters, galvanized steel fence railing modules span two adjacent planters and are supplied with bolts for attaching to planter sidewalls.
Fence modules are 36″ wide for connecting the end planters and 48″ wide for connecting planters along the outer traffic edge. The standard top-of-railing height is 36″ from the paver deck surface but be custom ordered to suit regulations and design preferences.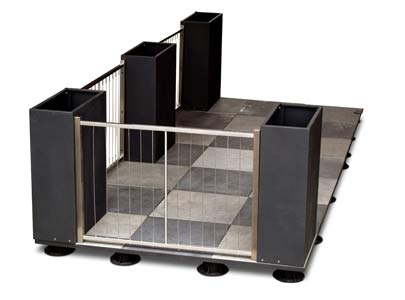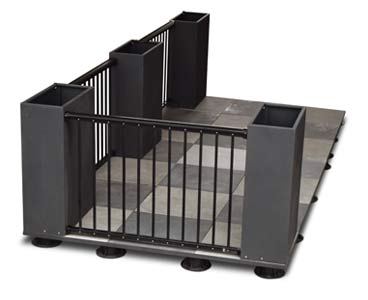 48″W x 16″D galvanized steel ramps supplied with brackets to bolt to the 'StreetDeck' frame minimize trip hazard when entering and exiting a Parklet by spanning the gap between the sidewalk and deck.
The access ramps do not require fastening to the sidewalk or street and are available in 48″ modules, allowing for multiple ramps to be attached to 'StreetDeck' in accordance with any specific city requirements or as needed.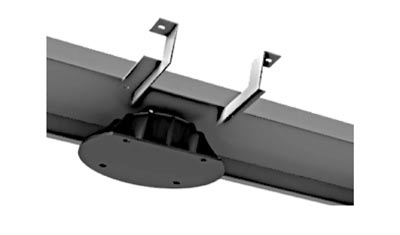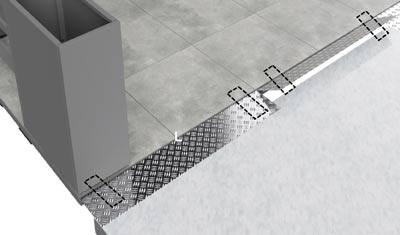 Galvanized steel, flat packed benches span the distance between two planters and are supplied with brackets for attaching to planter sidewalls and front edge legs for added support.
Benches for a traditional 6′ wide roadside Parklet are 36″W x 12″D for connecting the end planters and 48″W x 12″D for connecting planters along the outer edge facing traffic.