Elevated Green Roof Systems
Green roofs have become increasingly popular in recent years, and in some locations have become mandatory, with rooftop plantings reducing energy costs, improving air quality, increasing biodiversity and reducing storm water runoff. One of the easiest methods of creating an instant green roof is to use plastic planter trays pre-filled with growing medium and plants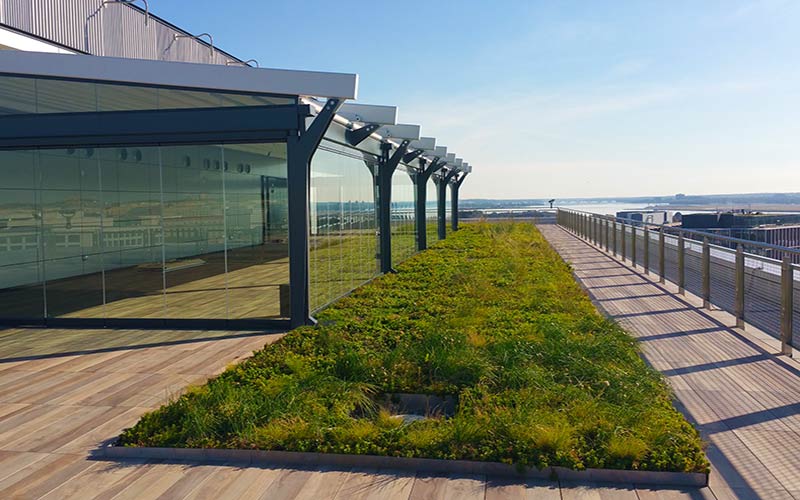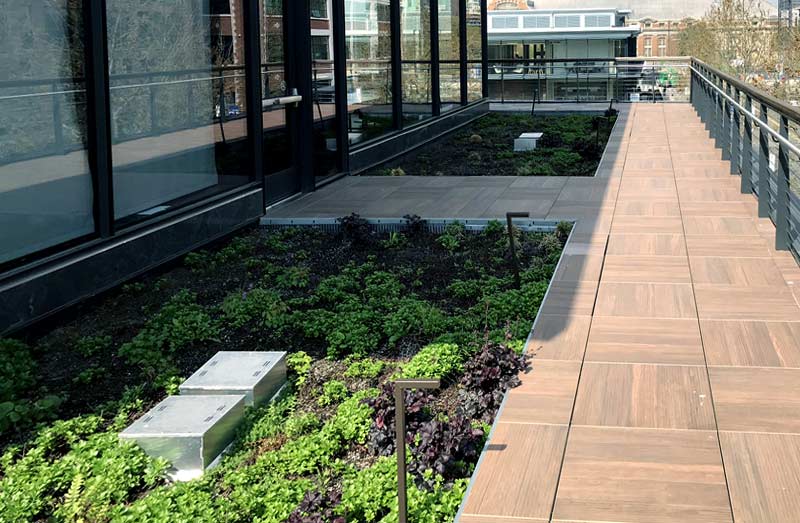 'Extensive' green roofs are typically defined as having growing media less than 8″ deep, use small, low-growing plant species such as succulents, and require minimal maintenance with relatively low water needs.
A modular tray system filled with 4″-6" of growing media and plantings is generally the simplest and most versatile means of creating an 'extensive' green roof. But in many cases, there's a need to elevate the planter trays to cover service pipes, electrical conduits and surface irregularities, to raise the plantings to match the height of paved areas, or to correct for the slope on the rooftop.
Fiberglass grating panels supported by adjustable height pedestals undoubtedly offer the most effective and versatile means of supporting raised planter trays. The fiberglass panels not only provide a solid base for the planter trays but can provide support for pavers set among the plantings – porcelain, stone or concrete. Expanded polystyrene (EPS) foam is combustible and labor-intensive to install while concrete pavers are extremely heavy and may exceed roof loadings with filled planter trays.
Some of the other benefits of using fiberglass grating panels to elevate and support an extensive green roof tray system include:
less pedestals needed c.f. concrete pavers
large panel size (typically 4′ x 8′) ensures much faster installation
superior wind uplift protection – interconnected panels create a continuous surface
allows space for irrigation pipes under the plantings
water drains freely via the open grid structure
minimizes weight loading – just 2.5 – 4 lb/sq.ft. (depending on panel thickness)
Archatrak Extensive Green Roof System
The complete, elevated extensive green roof system uses patented interlocking and overlapping green planter trays that are supported by a fiberglass grid laid over adjustable height pedestals, allowing porcelain, concrete or stone pavers to be easily incorporated in the overall design and set to any desired height relative to the planter trays.
Both planted-in-place and pre-grown options are available with these green roof supplies. Pre-grown trays are pre-filled with media and established sedum plantings appropriately/ regionally sourced to ensure quick adaptation to the project climate zone. Planted trays arrive onsite palletized, are easily hoisted to the roof with a crane, ready to install and irrigate. If preferred, plant trays can be delivered empty with super sacks of growing media and with tiles or rolls of sedum (plantings) shipped separately, to be filled on site.
Each function of a layered green roof system is incorporated into the tray system, eliminating the need for separate drainage mats, water retention mats, root barriers, and filter fabric, but ensuring superior stormwater management and ease of installation.
Stormwater management. Ridges and troughs at the base, capture and slowly release peak stormwater flows via a specific pattern of small drain orifices.
Healthy, thriving plants. The ridge and trough design promotes the airflow necessary for plant growth and root health by preventing overly saturated media. The metered release of water allows plants ample time to uptake water and nutrients from the growing media without sitting in standing water.
Interlocking edges. Tray edges overlap, linking the individual trays, which are further secured with pins to create a fully interlocking system. This tray design delaminates lateral wind pressures, thus reducing wind uplift across the entire installation. It also prevents trays from shifting apart, and allows trays to be overfilled with soil for invisible tray lines and a flexible soil depth.
Environmentally friendly. The tray is made from 88% post-industrial recycled polypropylene.
Integrated high-efficiency drip irrigation. Can be installed in planted-in-place systems.
Green roof tray and interlocking pins. Manufactured in the USA from 88% recycled, 100 mil high molecular weight polypropylene.
Integral irrigation (optional). Includes the header and components inside the perimeter of the tray layout, including; drip tape, tape ell's, drip tee's, compression barb fittings, threaded male point of connection for the header and a capped fitting for the opposing end of the header. All valving, backflow prevention, controls, and valve boxes are supplied by the installer, including getting the water source to the edge of the header/edger.
Aluminum or stainless steel edger. The green roof tray edger protects and hides tray edges as well as irrigation supply headers when integral irrigation is specified. It beautifully delineates design and layout features while mitigating system wind uplift and UV degradation.
Growing media. Project specific, FLL approved, lightweight blends of inorganic and organic components are regionally sourced and available for delivery in bulk, small bag or super sacks/totes.
Plant material. Custom matched and most often regionally-sourced to meet each project's design and installation parameters. Green roof trays can be planted in place with un-rooting sedum cuttings, plugs, pre-grown sedum tiles (15" x 20") and pre-grown sedum mats (4' x 6'). Trays can pre-grown with any of the above plant material, but extra lead time and freight charges may apply. Please contact us for guidance.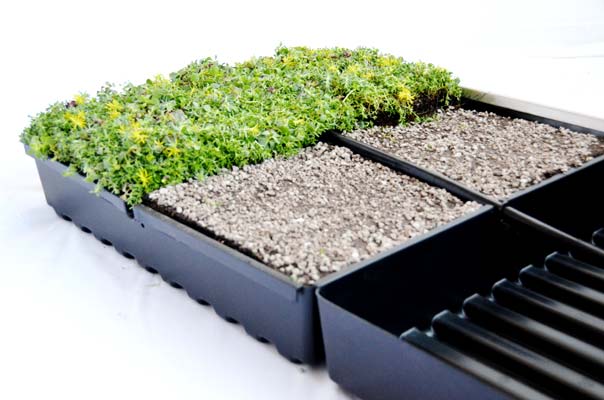 Fiberglass Composition:  Archatrak fiberglass grating panels are manufactured exclusively with pure isophthalic resins – lower cost polyester resins do not offer sufficient long-term durability in harsh exterior conditions.
Grating panels use only aluminum hydroxide filler (not calcium carbonate) for maximum fire resistance (flame retardant and smoke suppression) and contain UV stabilizers.
Thickness: typically 1″ (1 1/2″ thick may be required for walkways)
Load bars: 1 1/2″ x 1 1/2″ on center
Mesh aperture: 1 1/4″ x 1 1/4″
Surface: gritted slip resistant surface
Weight: 2.5 lb/sq.ft. (1″ thick)
Installation: Archatrak supplies Eterno 'NM' adjustable height pedestals for supporting fiberglass grating panels which offer support from as low as 1″ to more than 24″.
Panels can be joined together with stainless steel 'C' clips to form a continuous grid across the entire area.
Where pavers are being used in conjunction with green roof plantings, pavers should be supported independently of fiberglass gratings, with an additional row of pedestals placed along the transition of grating to pavers, so paver heights can be adjusted to bring their surface level with the top of the planter tray (if required).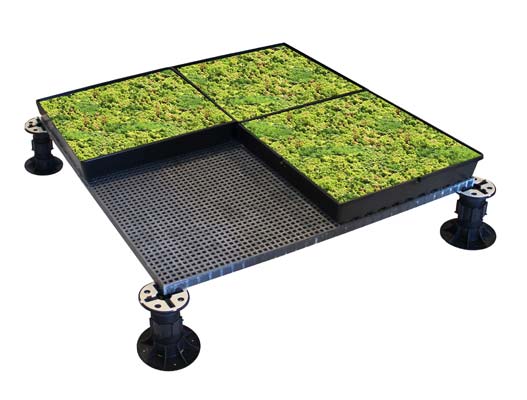 Related Items