'Heatizon' Snow Melt System
The most economical, flexible and easy to install solution for a snow free surface on pedestal supported pavers laid on elevated rooftop decks, terraces, patios or walkways – commercial or residential.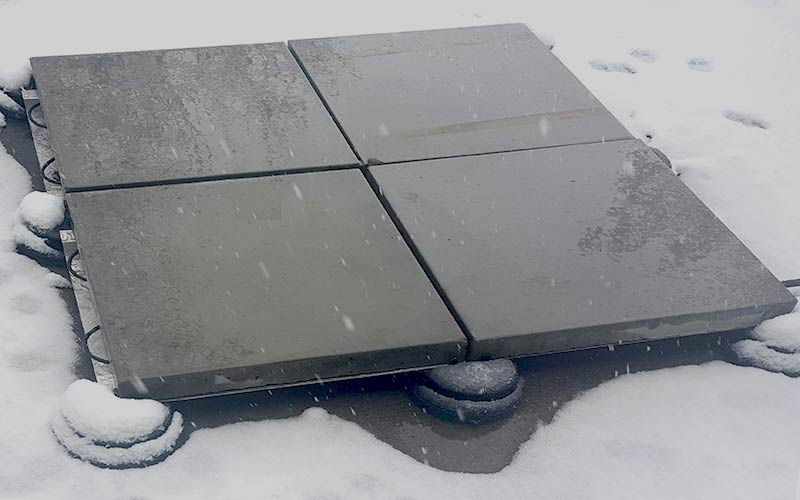 No boilers, pumps, gas connections or complicated networks of pipes, valves and manifolds required. No engineers needed to design the layout, piping and system specs. and no certified installers needed for installation. The 'Heatizon' electric snow and ice melt system for pavers simply runs insulated electrical heating cables along channels in aluminum panels laid under the paving slabs.
The 'Heatizon' electric snow melt system can efficiently snow melt practically any pedestal supported paver installation. It can be installed under most porcelain, concrete or stone pavers on terraces, patios, roof decks, walkways or exterior paved areas. This electric snow melt system just requires a minimum 1 3/4" clearance under the pavers to accommodate the aluminum tray and polyurethane insulation and allow for adequate drainage under the pavers.
There are no restrictions on the minimum or maximum area for installation (other than electrical supply considerations) and the heated paver area can easily be confined to specific zones within a paved area or just a section of a 24×24 paver if required. It just requires access to the electrical supply and a location to mount the electrical control box.
Key Benefits of the 'Heatizon' Snow Melt System

Quick and easy to install

Much lower installation costs than fluid circulation systems

No pipes, valves, manifolds, boilers, pumps or tanks required

Can be used on any size area, small or large

Can create zones with greater or lesser heating capacity

Can add or remove heating panels any time

Can be retrofitted to an existing paved area

Requires only 1.75" clearance under the pavers

Doesn't increase the overall height of the deck

Aluminum panels can be cut to suit any size paver

No certified tradespersons required except for final hookup to the control box

Minimal ongoing maintenance costs
Panel size:  23.5" x 23.5" (other sizes on request)
Profile height:  1 5/16" including insulation
Material:  Aluminum sheet with polyurethane insulation
Heating element:  Mineral insulated resistance cable
Power consumption (typical):  40W per sq. ft.
All systems are custom designed for the specific application and requirements.
Simply send us a sketch of your elevated deck indicating the dimensions and designating all pavers or regions on the deck you want to be snow free.
Let us know also the location and load capacity of your electrical connection(s).
We will then email you a quote with the total cost of the system including shipping.
All components are shipped direct from the factory in Utah.
The basic installation of this electic snow melt system including placing the brackets, foam insulation, aluminum trays and laying the heating cable does not require specialized contractors. Only the final connection of the heating cable to the PVC jacketed copper sheath cold leads and connecting to the control box require a certified electrical contractor.
To install, aluminum support brackets 4" wide are firstly positioned on the pedestal heads to span adjacent pedestals. A polyurethane foam sheet is laid over the support brackets and an aluminum tray with V shaped channels for the heating element is then placed over the foam sheet. The heating cable is laid in the channels, run the full length of area to be heated and returned to a common electrical connection point.
Finally, the heating cable is connected to a control box with timer for manual activation or aerial snow switch to activate heating when moisture is detected and the ambient temperature is below a selectable set point in the range 34°.
Full installation details can be seen here.
Related Items