'StreetDeck' Components
The basic StreetDeck structure comprises a galvanized steel perimeter and cross beams enclosing a deck surface of modular porcelain pavers or wood tiles. The structure and pavers are elevated on adjustable height pedestals which enable a level deck to be constructed irrespective of the slope of the roadway or underlying surface.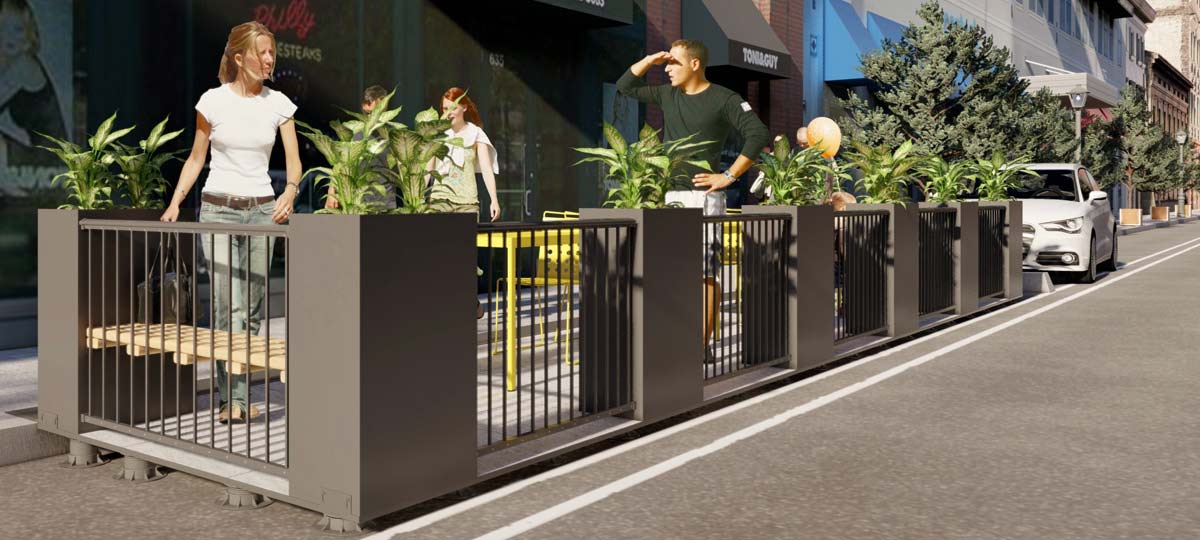 Perimeter Components
The perimeter structure has five main components made of galvanized steel:

Straight perimeter beams in 24″, 36″ and 48″ lengths

Perimeter corners

Internal cross beams

Cross bean connectors

Connecting links and bolts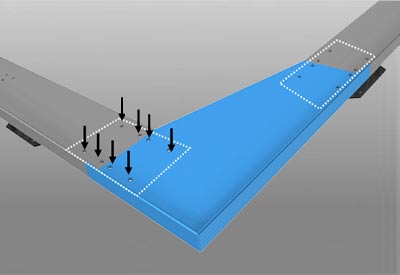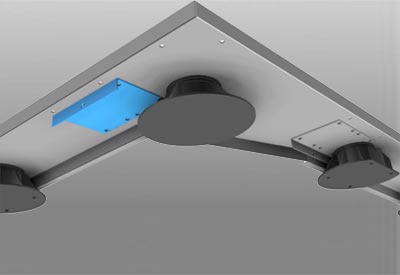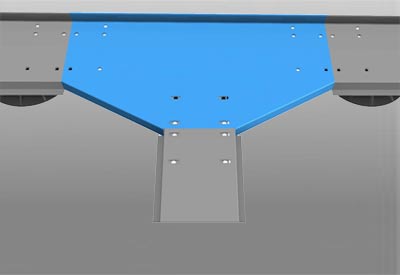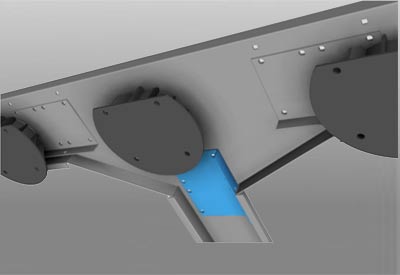 Using connecting links, the perimeter beams and corners are bolted together to form the StreetDeck outer perimeter.
Pedestals positioned every 24″ are placed under the perimeter beams and adjusted as required to level the deck frame.
Cross beams are used to help square and structurally support the deck and to attach planter mounting brackets.
Pedestal Supports
With the perimeter components connected, elevated and leveled on pedestals, and squared, the porcelain deck pavers or wood tiles can be laid on adjustable pedestals.
We normally supply Eterno 'Prime" self-leveling pedestal supports, primarily due to their ease of installation and ability to make adjustments to the height of the deck after installation via a special tool inserted in the head of the pedestals.
The pedestal head automatically tilts to accommodate a substrate sloping up to 5% and features a sound-absorbing rubber layer and inbuilt spacer tabs which ensure accurate spacing of pavers across the deck.
Just two models of Eterno 'Prime" pedestals (PR1 and PR2) are required  to cover the most common height range of 1 1/4" to 6".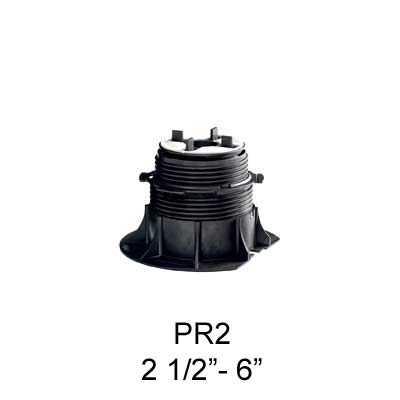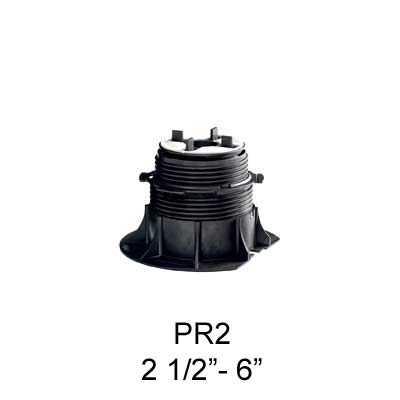 Deck Surface
StreetDeck is designed to use 24″ x 24″ pavers or tiles for the deck surface. We recommend 3/4″  thick porcelain pavers, which are stain-resistant, scratch resistant, exceptionally low maintenance and available in over 60 colors (see color options here) from the Archatrak range, in styles including wood, stone, cement, terrazzo and rustic.
Alternately, for a natural wood look, we can supply 24″ x 24″ South American Ipe hardwood tiles.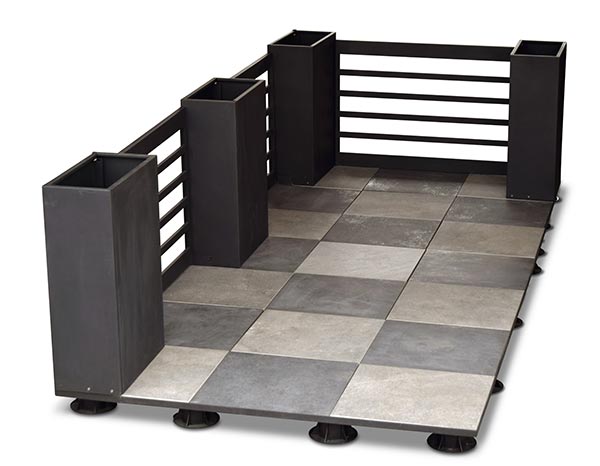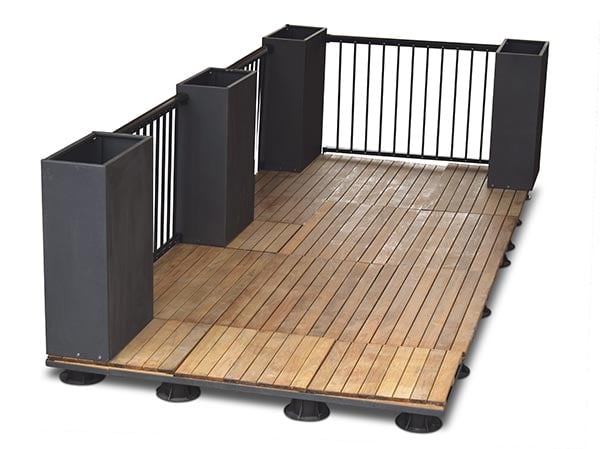 Planters Ramps Railings and Seating
We offer a range of integrated modular decking components for a totally co-ordinated design including access ramps, planters, railings and wood bench seating.  Options for railings/fence panels include powder coated steel, aluminum, laser cut steel or stainless steel wire.
And we now supply a range of solar seating which incorporates phone charging, WiFi connectivity, and ambient lighting, such as the Steora City solar bench. Or for a bright, cheerful option, take a look at our 'Busy' range of café style chairs with their whimsical polka dot pattern and matching 'Moon' tables.
You can of course use other 3rd party components for greater customization and individualization, subject to any regulations or requirements on heights, materials and resistance to sideways force, in particular.
For any general inquiries about StreetDeck, please call 406 551 4098 or send us an email .