Boardwalk Decking & Pathways
In any sensitive natural landscape, the ideal boardwalk or nature viewing platform should unobtrusively blend into the existing landscape, avoid detracting from the view but invite you to enjoy and explore the distant surrounds. It should be exceptionally durable, highly impact resistant, fire resistant, provide safe and secure footing, offer maximum resistance to all weather conditions and require minimal ongoing maintenance over an extended lifespan.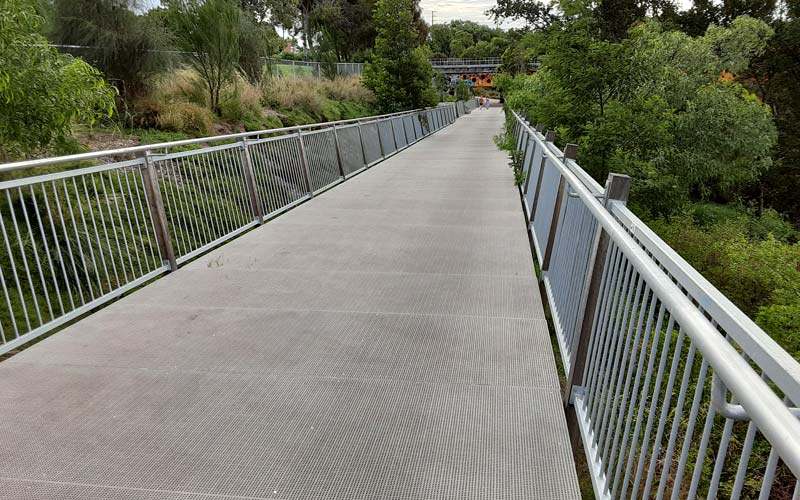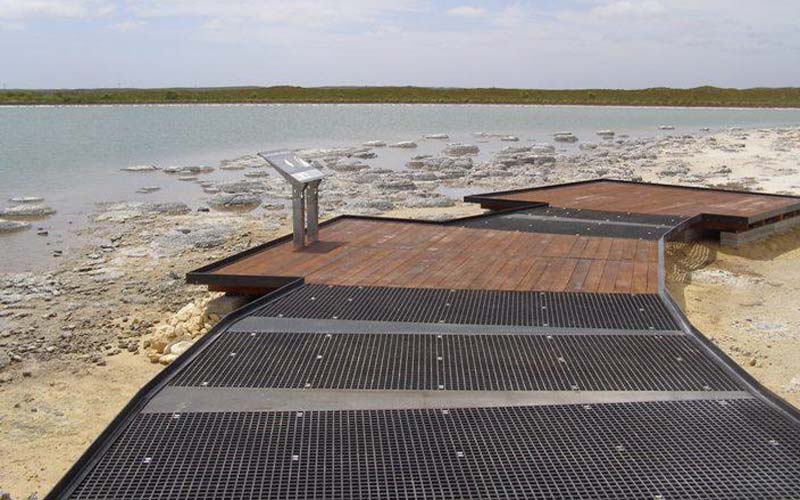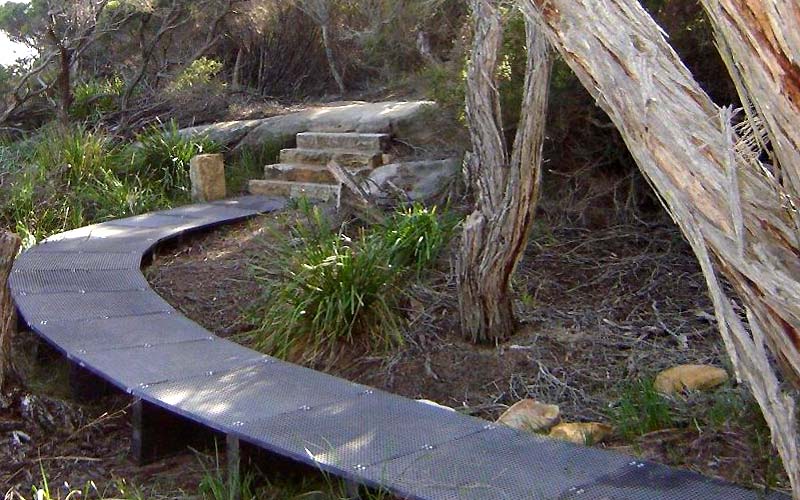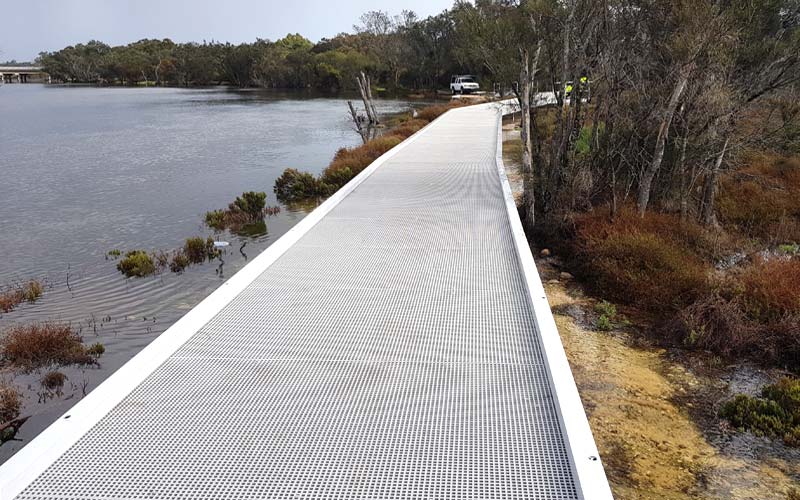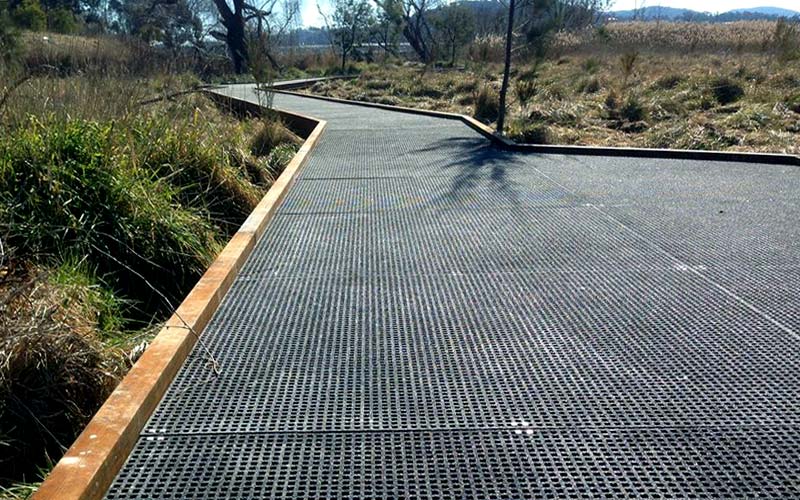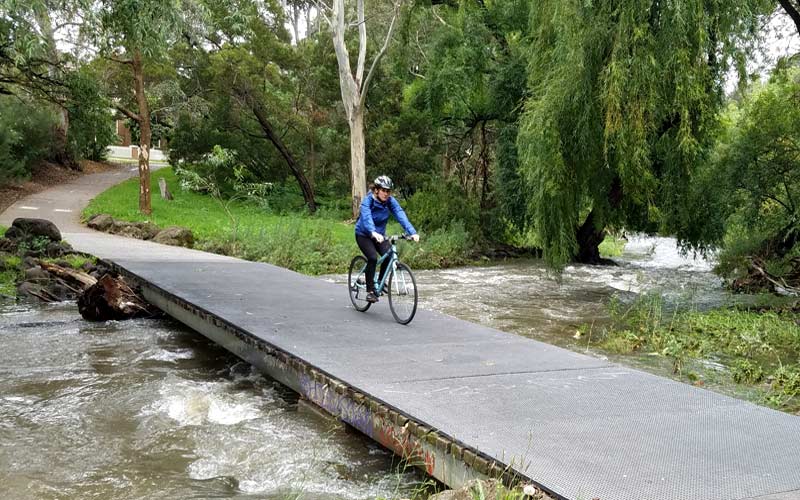 Fiberglass grating meets all the basic requirements for high traffic boardwalk decking, especially in more remote locations where ease of installation, exceptionally low maintenance and long lifespan are critical selection criteria.
Apart from elevated pathways over environmentally sensitive locations, fiberglass grating panels are frequently used on small bridges on bike paths and hiking trails especially where the bridge may be subject to inundation at times throughout the year.
Bridges with deteriorating wood planking can often be upgraded simply by fixing fiberglass panels over the existing deck, giving the bridge a new lease of life with a superior slip resistant surface.
Compared with the more traditional boardwalk decking materials including softwood, hardwood, steel, composite wood and precast concrete, heavy-duty FRP gratings for walkways tick all the boxes in terms of a durable, low maintenance, unobtrusive boardwalk surface.
no rotting, twisting, warping, splintering, splitting
no loose, dangerous nails or screws
no rusting or corrosion
excellent slip resistance in wet or dry conditions
suitable for marine environments
highly resistant to moss and mildew growth
practically zero maintenance
allows light to reach vegetation below
fire resistant
no leaching of preservative chemicals
lightweight and easily cut in field
can be colored to blend unobtrusively into the landscape
Archatrak Fiberglass Gratings
Archatrak supplies fiberglass grating for walkway and boardwalk applications in sizes, surface finish, color and material composition that meet the specific requirements of high durability, excellent slip resistance, low deflection rating, mesh size and fire resistance rating. Typically, dark grey colored 'MiniMesh' grating with gritted anti-slip finish, an aperture size of 1/2″ and thickness of 1 1/4″ is used for boardwalks and pedestrian pathways, but other sizes can be supplied on request. For maximum durability in exterior conditions, we only supply grating manufactured with pure isophthalic resins, aluminum hydroxide filler and UV-9 UV protection additives.
'MidiMesh' grating with 1 1/2″ x 1 1/2″ spacing between load bars and a secondary load bar ½" deep between the primary load bars is typically specified for boardwalks since this specification provides very good foot coverage, safety for high heel shoe traffic and a smooth rolling surface for wheelchairs, carts, bicycles, scooters etc.  The slightly higher cost 'MiniMesh' grating which incorporates two additional secondary load bars between the primary load bars may be used where an exceptionally smooth rolling surface is desired. 'MidiMesh' has an aperture size of  1/2″ x 1/2 compared with 1/4″ x 1/4″ for the 'MiniMesh' option.
Typically 1 1/4″ thick gratings are used for boardwalks where bearers do not exceed 24″ on center, but for resurfacing existing wood pedestrian bridges or elevated walkways, 1″ thick grating may be used. A slight spongy feeling may be noticeable with thinner panels and where support bearers are placed further apart.
Grating panels are generally 4′ long x 8′ wide.
A grit surface is normally specified for boardwalks since this provides excellent slip resistance even in wet weather, although for beach front applications, the grit finish can be rather harsh on bare feet, so grating panels with a meniscus surface finish may be preferable in such locations.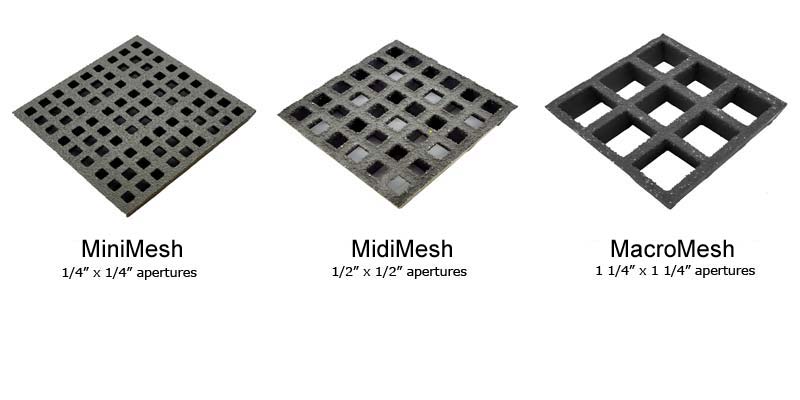 For boardwalk applications Archatrak only supplies gratings manufactured with pure isophthalic resins and not lower cost polyester resins which do not offer sufficient long term durability in harsh exterior conditions.
All our grating panels use aluminum hydroxide filler (not calcium carbonate) for maximum fire resistance (flame retardant and smoke suppression) and contain UV stabilizers.
Archatrak 'MidiMesh'
Thickness:  1 1/4″
Primary load bars: 1 1/2″ x 1 1/2″ on center
Secondary load bars: single bar between primary bars – 1/2″ deep
Mesh aperture: 1/2″ x 1/2″
Surface: anti-slip grit embedded in resin
Weight: 3.5 lb/sq.ft. (1″ thick), 3.7 lb/sq.ft. (1 1/4″ thick)
Archatrak 'MiniMesh'
Thickness: 1 1/4″
Primary load bars: 1 1/2″ x 1 1/2″ on center
Secondary load bars: two bars between primary bars – 1/2″ deep
Mesh aperture: 1/4″ x 1/4″
Surface: anti-slip grit embedded in resin
Weight: 4.5 lb/sq.ft.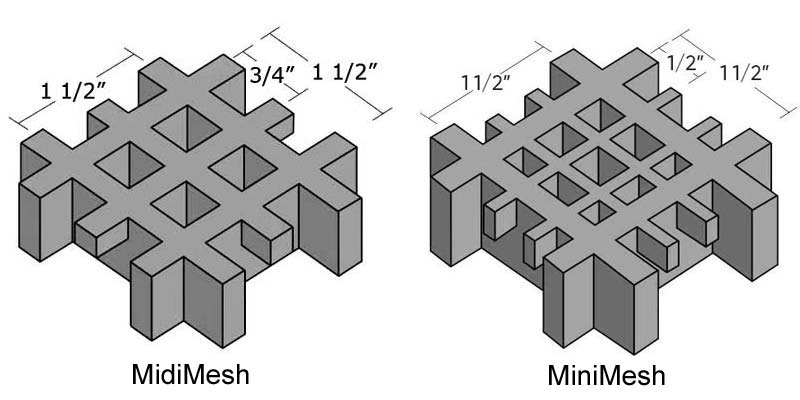 Fiberglass grating panels are normally fixed to support bearers with max. span of 48″ (depending on the thickness of the fiberglass panel and anticipated loadings) using stainless steel 'M' clips inserted in the grating apertures, with a minimum of four clips per panel. 'L' clips are generally not recommended as they don't have the same strength as 'M' clips.
Where necessary, adjacent panels can be joined at the edges by means of stainless steel 'C' clips.
Since the aperture size of 'MicroMesh' panels is only 1/4″ x 1/4″, these panels are typically fixed to bearers with stainless steel screws or bolts with a 1/2″ diam.(min) head and a 6-lobe (Torx or equiv.) drive. A diamond cone drill with no pilot drill can be used to countersink the screws so the screw heads sit flush with the surface of the panels.
Where panels are installed over steel 'I' or 'H' beams and it is difficult to drill through the beams, hold down clips with an extended base plate may be used.
Where a change in direction is required on a boardwalk, panels can be cut at an angle, taking care to ensure adjacent panels are cut at the same angle so the load bars match up when panels are joined.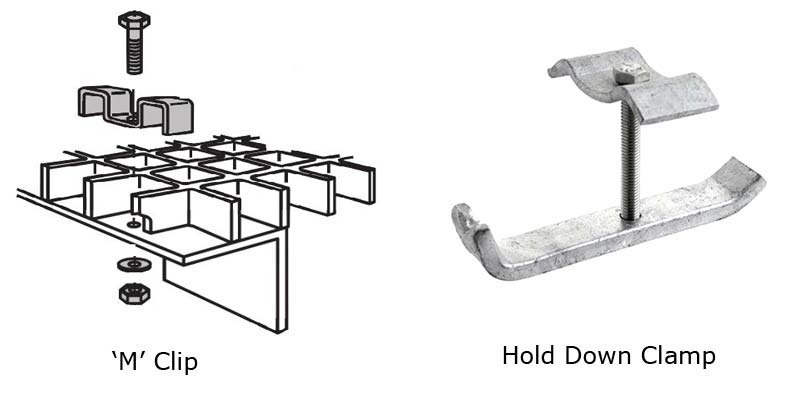 Other Applications