Patio Pavers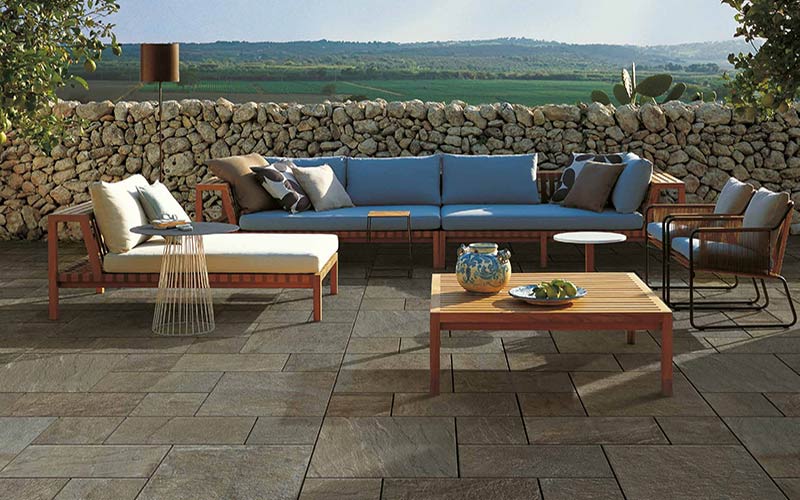 Porcelain Pavers
The most elegant, low-maintenance solution for covering concrete.
Although these ¾" thick interlocking patio pavers can be laid over existing concrete with traditional thin-set and grout, (necessary for vehicular applications) they are specifically designed to be laid with thin rubber pads placed under each corner of the pavers, acting essentially as a 'floating' paver surface. You can use leveling shims to make slight height adjustments, and since the rubber pads have inbuilt spacer tabs, alignment and spacing are automatically taken care of.
Generally, a cracked patio isn't a problem. Just make sure the rubber pads are not placed across any cracks.
Most patios will slope slightly to allow water run-off. But if you want a perfectly level patio deck, just stack the rubber pads on top of each other, increasing the height of the stack as you move down the slope. Small adjustments can be made with rubber shims.
We currently offer over 50 colors of porcelain patio tiles including styles that resemble wood, stone, and cement plus modern urban styles, so generally you'll have no problem in matching these interlocking patio pavers with your existing indoor flooring or outdoor landscaping.
Unlike concrete patio pavers, porcelain pavers are extremely resistant to staining, are scratch-resistant, fade-resistant, and frost resistant, so you can use them even in the most severe climates. 24" x 24" is the most common size but we also supply plank-style 16" x 48" or 12"x 48" pavers as well as 8″ x 8″ or 8″ x 12″ cobblestone tiles.
See more about Archatrak porcelain pavers here or our guidelines on how to lay patio pavers.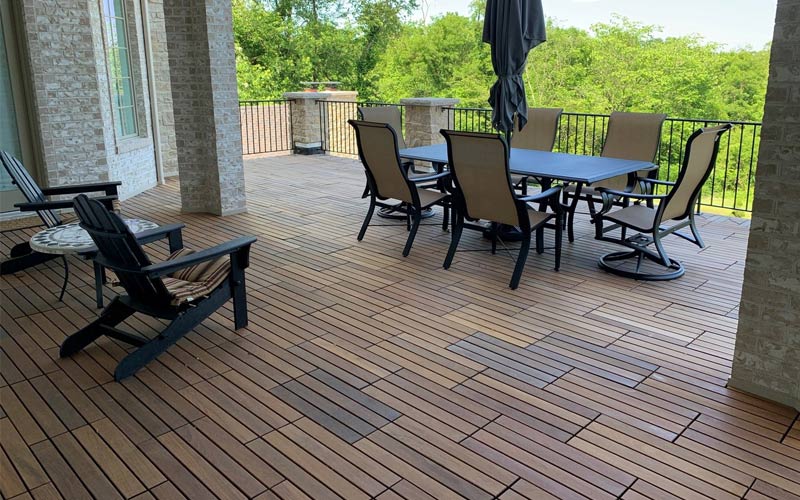 Interlocking Ipe Wood Patio Tiles
The easiest, do-it-yourself patio flooring solution for covering an existing patio.
These 12" x 12" or 12" x 24" Ipe wood tiles are constructed with an integral plastic mesh base with inbuilt connecting tabs and are simply snapped in place right over the top of the existing patio surface – no adhesives, no nails, no screws or any other fixing devices needed. The only significant requirement is that the surface is relatively smooth with no large cracks and no significant height mismatch on either side of any cracks, so the tiles don't rock on the surface.
Clip-on transition pieces are available to provide a neat finish to the outside edge of the patio deck as well as providing a sloping transition to the concrete base.
Our interlocking outdoor patio tiles are made exclusively with ¾" thick Ipe hardwood, one of the hardest and most durable wood species commercially available. Watch out for cheap wood deck tiles promoted as exterior interlocking patio pavers which use non-durable or only moderately durable wood species – such tiles might only last 12 months or so before you need to throw them out. Check the length of the warranty offered before you buy.
See more about Archatrak interlocking deck tiles here.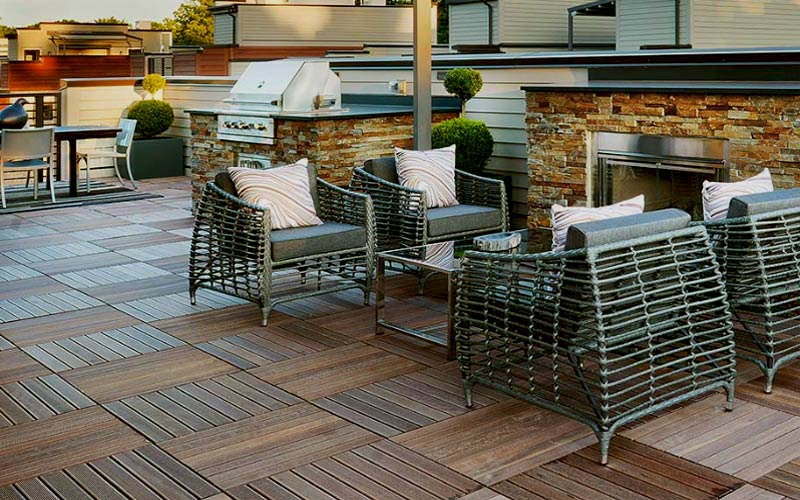 Structural Wood Deck Tiles
An excellent option if you prefer a natural wood look and want a perfectly level patio deck.
These 24" x 24" solid Ipe wood deck tiles are not interlocking but are laid over rubber support pads just like the porcelain patio pavers. This lifts the wood off the concrete surface to promote both good drainage and air circulation under the tiles. The rubber pads can be stacked up to a height of approx. 1 1/2″, thus enabling the 'floating' patio floor to be made perfectly level, irrespective of the slope of the underlying concrete. For large deck areas requiring a greater height adjustment to compensate for a sloping concrete base, adjustable height deck supports can be used under the Ipe wood tiles.
We use Ipe wood for construction of these wood pavers for patios since this wood species is exceptionally dense, strong, durable and scratch resistant. Ipe wood is used extensively for decks and boardwalks in high traffic commercial locations as well as rooftop decks.
Just remember that wood needs ongoing maintenance. These wood deck tiles are supplied raw finished with only some natural wax applied at the ends of the wood slats to reduce end cracking. They should always be coated with a good quality decking oil or sealant as soon as practical after installation. We also strongly recommend you coat the tiles every 12 months or so with a good-quality decking oil to slow the rate of natural fading and prolong the life of the tiles.
See more about Archatrak structural wood deck tiles here.