T30 Porcelain Pavers
Heavy duty 3cm thick porcelain pavers for demanding commercial applications - elevated roof decks, paving for driveways or on-grade landscaping.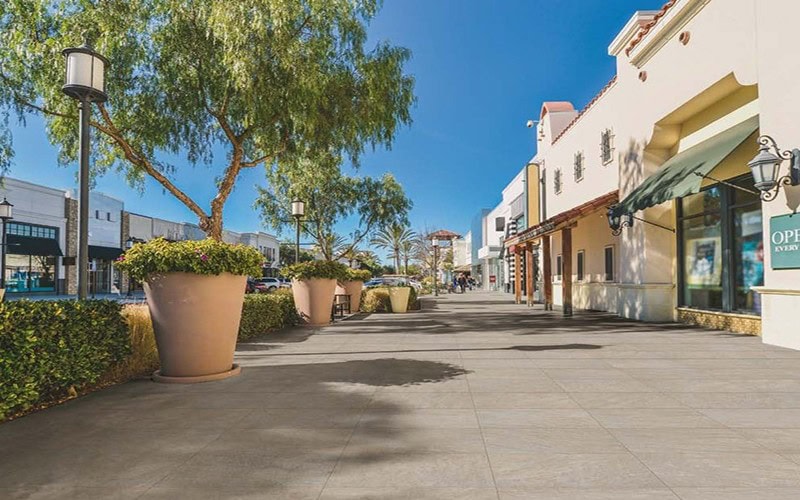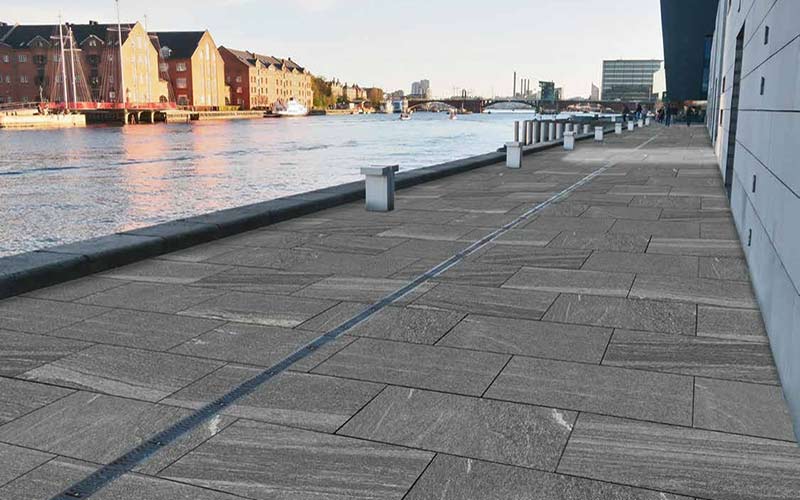 With almost three times the breaking strength of 2cm porcelain pavers, but just 1/2″ thicker, Archatrak T30 (30mm thick) porcelain pavers enable exceptionally attractive and stylish outdoor paved areas to be laid in high traffic, commercial environments.
These heavy-duty commercial pavers feature the same stain resistance, wear resistance, fade resistance and frost resistance as 2cm porcelain pavers, but offer much superior resistance to breakage.
For pedestal supported elevated decks in high traffic commercial spaces such as rooftop bars and restaurants, roof terraces, patios, and other communal areas where maximum safety and resistance to break-through is paramount, T30 pavers are generally our preferred recommendation, especially if the extra cost of steel protection plates for T20 pavers may be an issue. To show you what we mean, we created this short youtube video to demonstrate all the challenges these heavy-duty pavers can withstand in a busy restaurant environment.
In locations where wind uplift mitigation must be considered, not only is the extra weight of T30 3cm porcelain pavers an advantage, but the extra thickness enables a strong hold-down system to be used. See here for further details.
For on-grade applications, including areas with vehicular traffic, T30 commercial pavers are capable of supporting wheel loadings of over six tons, so can be used on driveways and other areas with light to medium traffic, either mortar set or laid over a well-compacted sand/gravel foundation.
With this unique combination of excellent technical characteristics, a range of different sizes, and elegant color options, Archatrak T30 porcelain pavers offer an unmatched alternative to concrete or brick paving in public plazas, pedestrian walkways, shopping precincts, pavements, sidewalks, driveways, and other broad areas landscape paver projects.
All our T30 commercial pavers are currently imported from Italy. We stock a limited range in our MD warehouse. Apart from the colors shown below and on our paver colors page, we can supply T30 pavers in additional colors, typically with 8-12 weeks delivery time.
Key Benefits of T30 Porcelain Pavers

High load bearing capacity

Breaking strength of over 4700 lbf

Excellent durability and wear resistance

Rich, fade resistant colors

Resistant to oil, grease and rust stains

Frost and freeze/thaw resistant

Resistant to moss and mildew

Precise size and thickness

Exceptionally low maintenance

Best solution for resolving wind uplift concerns
Archatrak T30 porcelain pavers are available in a broad range of colors and styles including wood, stone, modern urban, rustic, and cement styles.
Our most popular colors are shown opposite.
Over 30 additional colors can be supplied on request.
Small samples are available of listed colors.
Although T30 pavers are available in a variety of colors and sizes with smooth, rectified edges which you can explore here, we recently introduced a select few 3cm thick paver options with inbuilt spacer tabs on the sides. These tabs ensure perfect paver spacing and significantly reduce installation costs.
Our 3cm thick tabbed pavers include 4 colors, Basalto, Porfido, Scori Grey Blue and Lavica Sand, all with 6″ x 12″ dimensions.
Size:The majority of our T30 porcelain pavers are 24″ x 24″ (nom.).
Selected colors are available in 16″ x 32″, 36″ x 36″ and 16″ x 24″.
Weight: 52 lb./paver
Packing: 1 pce./carton (40 or 44 pcs./pallet)
Special shapes such as bullnose, 'L' shaped stair profiles and pool edge accessories are also available on special order.
Installation guidelines for the most common applications can be accessed by clicking on the following links.
Archatrak Inc. warrants that porcelain pavers sold by Archatrak are manufactured in accordance with ISO 13006 and will meet or exceed the performance specifications outlined in these standards.
If it is established that any paver has a manufacturing defect resulting from it not being manufactured in accordance with the said standards, we will replace the defective paver(s) free of charge with paver(s) of compatible color and shade as determined by us.
The complete warranty document can be downloaded here.
Related Items