Synthetic Turf Roof Decks
Give rooftops a lush green look with synthetic turf. Easily installed over pedestal supported fiberglass gratings, perfectly level, rapid draining, low maintenance.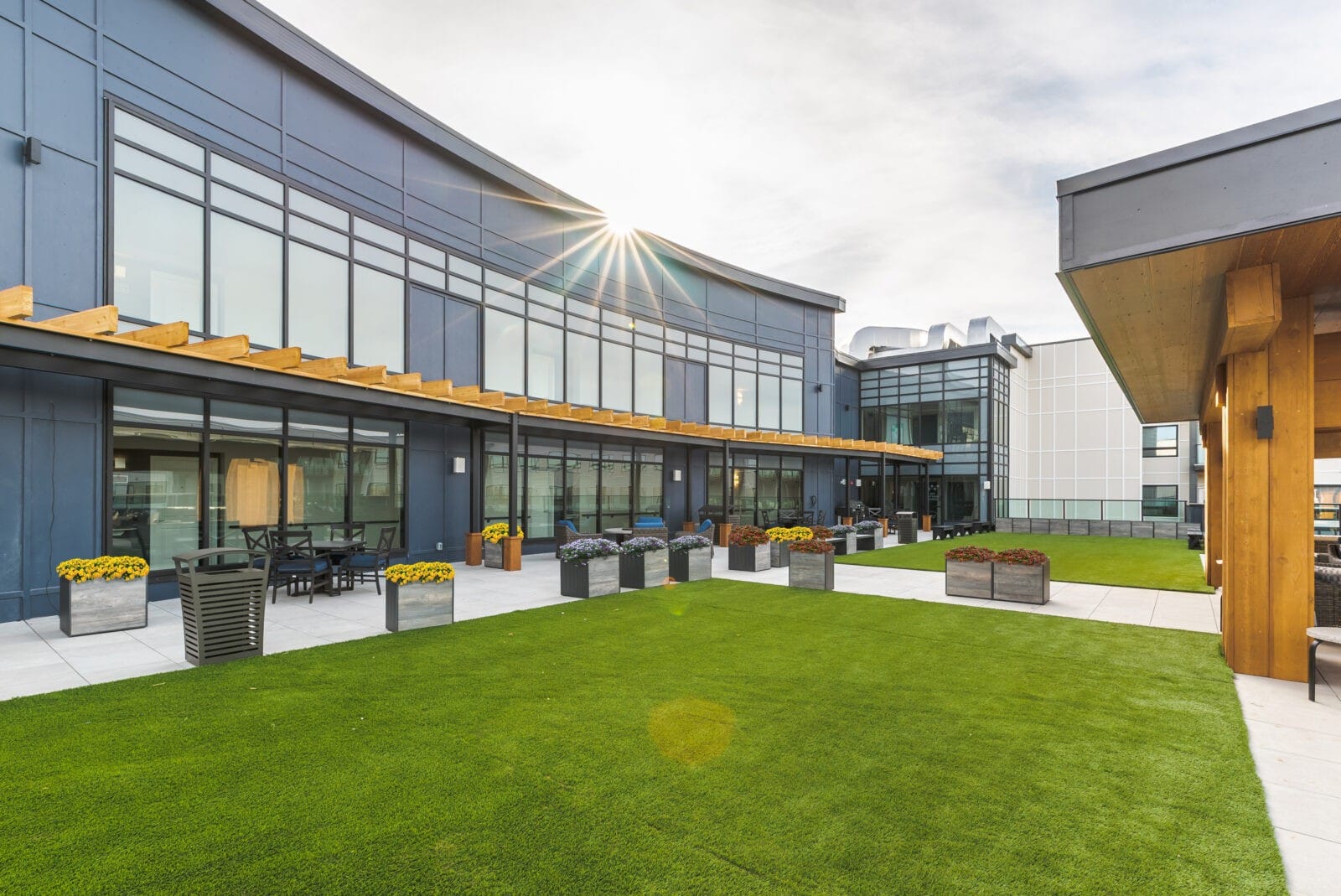 Archatrak fiberglass grating panels offer the most cost effective and technically advanced support system for all types of synthetic turf – stable, perfectly level, fire resistant, free draining, easy to install.
The top surface of these large, but relatively lightweight 4' x 8' 'MicroMesh' grating panels have apertures of just ¼", which ensures rapid drainage of water and totally eliminates any pooling,  both of which are critical factors in any synthetic turf installation.  The fiberglass panels also provide a firm base for the flexible grass surface and the slight 'give' characteristic of fiberglass gratings offers a more comfortable and natural feeling underfoot compared with installations over a totally hard surface like concrete.
The large 4' x 8' panels can also be securely locked together with stainless steel clips, essentially offering a totally connected surface that is highly resistant to wind uplift, especially if the panels are also secured around the perimeter to a solid parapet.
And weighing only 3.5-4.0 lb. per sq.ft., fiberglass gratings are much lighter than concrete or porcelain pavers. Even when synthetic turf is filled with sand to stabilize the surface, the total weight of the grating plus turf will be less than 7 lb. per sq.ft.
Benefits of fiberglass grating turf support:
creates a perfectly level turf surface
grids lock together securely for high wind locations
1/4″ apertures on grids allow rapid drainage of water
much lighter than concrete or stone pavers
covers pipes, electrical wiring and surface irregularities
eliminates the need for a drainage cell system under the turf
easily combines with porcelain pavers or other paving materials
Archatrak Fiberglass Grating
Most rooftop applications combine areas of synthetic turf with paved areas. With fiberglass grating panels, the entire roof surface can be covered with grating as 3/4″ thick porcelain pavers can also be laid over the grating. Alternatively pavers can be laid independently of the turf area, using adjustable height pedestals to bring the surface of the pavers flush with the level of the turf.
Archatrak supplies all components necessary for roof decks combining synthetic turf and pavers – synthetic turf, fiberglass grating panels, adjustable height pedestals, porcelain pavers or Ipe wood structural deck tiles.
Archatrak 'MicroMesh' fiberglass grating panels have primary load bars at 1 1/2″ on center and a two secondary load bars which extend 1″ from the top surface positioned between the primary load bars. This gives an aperture size of just 1/4″, providing a smooth surface for the turf with a maximized surface area for secure fixing with adhesives, yet still ensuring excellent drainage.
For artificial turf support applications Archatrak only supplies gratings manufactured with pure isophthalic resins and not lower cost polyester resins which do not offer sufficient long term durability in harsh exterior conditions.
All our grating panels use aluminum hydroxide filler (not calcium carbonate) for maximum fire resistance (flame retardant and smoke suppression) and contain UV stabilizers.
Archatrak 'MicroMesh'
Thickness: 1 1/4″
Primary load bars: 1 1/2″ x 1 1/2″ on center
Secondary load bars: two bars between primary bars – 1/2″ deep
Mesh aperture: 1/4″ x 1/4″
Open area: 30%
Weight: 4.5 lb/sq.ft.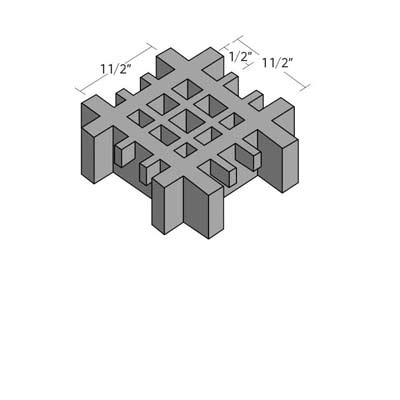 For rooftop applications, particularly in areas with very stringent fire regulations, we recommend SYNLawn RoofDeck Platinum synthetic turf which has a certified ASTM E108 Class A fire rating. Its nylon fibers offer high melt resistance and the highest safety rating in the industry.
Alternatively, SYNLawn RoofDeck Premium is another excellent synthetic turf product, safe, extremely durable and suitable for the most demanding applications as typically experience on rooftops
For rooftop applications, synthetic turf needs to be securely attached to a solid base to prevent blowoff. Typically this is achieved by a combination adhesives, screws and infill with sand.
The 'MicroMesh' FRP grating with apertures of only ¼" has an open area of just 30% which permits good adhesion with adhesives. We recommend Nordot adhesives and to avoid adhesives dripping through the apertures to the rooftop membrane, a sacrificial protection should be placed under the base of the pedestals.
After laying the turf, sand is brushed into the turf at an application rate of approx. 1.5 – 2.5 lb/sq.ft. The sand provides the foundation for the synthetic turf, adding weight and giving the grass the spring to return to upright after being walked upon.
Related Items