Synthetic Turf Roof Decks
Install artificial grass on roof decks to give rooftops a lush green look with synthetic turf. Easily installed over pedestal supported fiberglass gratings, perfectly level, rapid draining, low maintenance.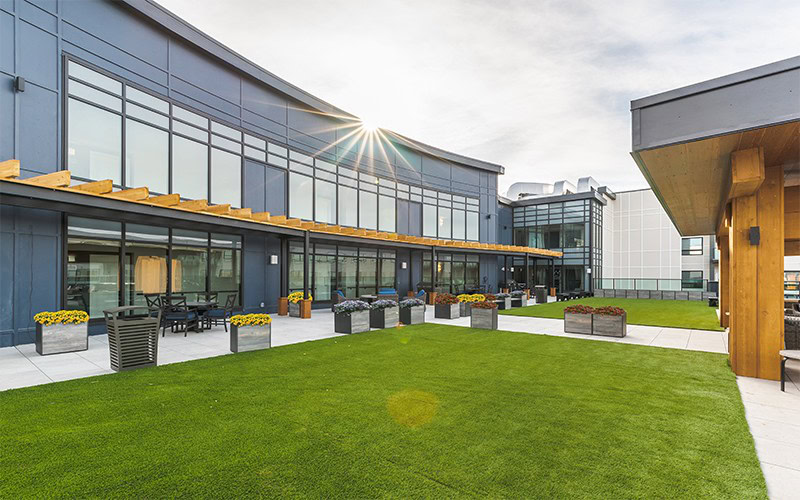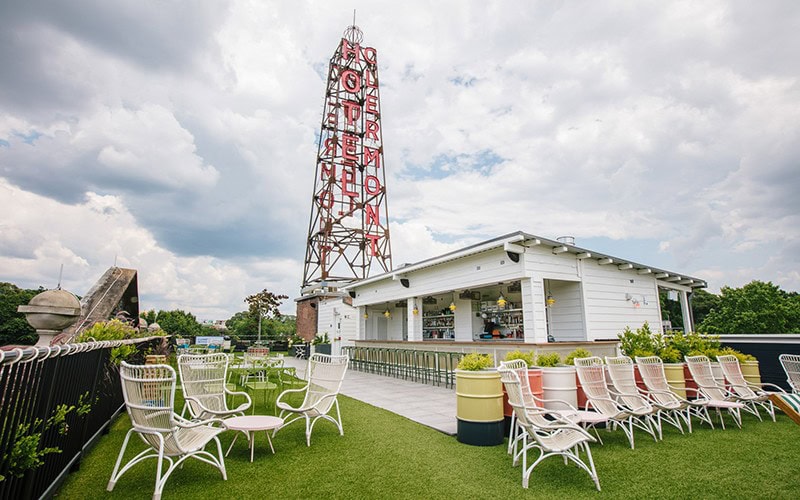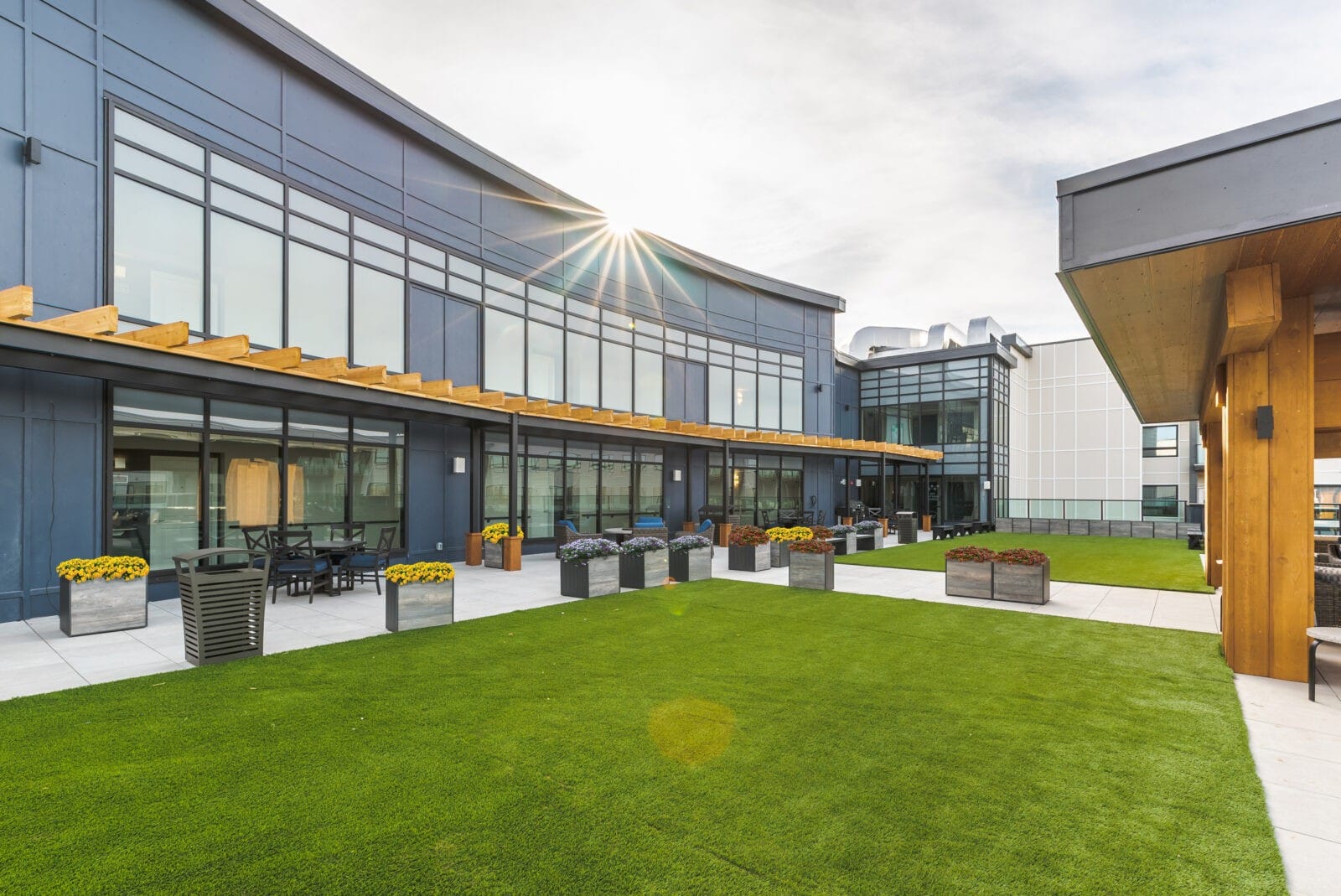 At first glance, laying synthetic turf on a rooftop might seem problematic.  It can't be laid directly on the roof membrane,  it needs good drainage, normally you want a perfectly level surface and it must not blow away. And that's why 'MiniMesh' fiberglass grating panels provide the ideal base for artificial turf pedestal systems.
Archatrak fiberglass grating panels offer the most cost-effective and technically advanced support system for all types of synthetic turf – they are stable, perfectly level, fire-resistant, free-draining, easy to install. The top surface of our 4' x 8' 'MiniMesh' grating panels have apertures of just ¼", ensuring rapid drainage of water and eliminating pooling,  both critical factors in synthetic turf installations.  The slight 'give' characteristic of fiberglass gratings also offers a more comfortable and natural feeling underfoot compared with installations over a totally hard surface like concrete.
The large 4' x 8' panels can be securely locked together with stainless steel clips and secured to the parapet surrounding the deck area, offering a totally connected surface that is highly resistant to wind uplift. The turf itself can be secured to the grate by adhesive and also by mechanically fixing it to battens under the grate, or more simply by using 1/4″ diam. aluminum rivets.
In addition, fiberglass panels do not add significantly to the weight loading on a roof deck. At only 3.5-4.0 lb. per sq.ft., they are much lighter than concrete or porcelain pavers. Even when filled with sand to stabilize the artificial turf pedestal system, the total weight of the grating plus turf will be less than 7 lb. per sq.ft.
Creating Rooftop Environments with Archatrak Fiberglass Grating
Most rooftop applications combine areas of synthetic turf with some paved areas.  Where paving is limited to small areas or access walkways, the simplest solution is generally to install fiberglass grating supported by adjustable height pedestals over the entire roof surface.  In this case, 3/4″ thick porcelain pavers can be simply placed on top of the grating using 1/4″ high rubber support pads. These pads have inbuilt spacer tabs to ensure precise spacing, accurate alignment and minimized noise transmission.  For large paved areas, it is probably more cost-effective to lay pavers outside the turf area directly on adjustable height pedestals and raise the surface of the pavers to the level of the turf.
Archatrak supplies all base components needed for constructing roof decks combining artificial grass and porcelain pavers (fiberglass grating panels, adjustable height pedestals, rubber support pads, porcelain pavers or Ipe wood structural deck tiles). However, we normally do not supply synthetic turf. There are many suppliers of artificial turf out there, each with its specific product range. Fortunately, with our fiberglass grating, there is no restriction on which exact turf product needs to be used.
Artificial grass on roof decks must always be secured to the fiberglass grating so it cannot blow off. Typically this is achieved by using a combination of adhesives and mechanical fixings (depending on the specific installation) and finished with an infill of sand. The sand provides the foundation for the turf, adding weight and giving the grass the spring to return to upright after being walked upon.
Where adhesives are used to hold down the turf, we recommend Nordot adhesives, although you should always confirm any adhesive recommendation from the turf supplier directly to avoid negating any product warranty. To avoid adhesives dripping through the apertures onto the rooftop membrane, a sacrificial protection sheet should be placed under pedestals before they are placed in position.
To secure the turf by mechanical means, it is possible to use 1/4″ diam. aluminum rivets pushed through the 1/4″ grid spacing. The mandrel should be cut off as close to the head of the rivet as possible with end-cutting nippers.
We generally do not recommend the Do-It-Yourself installation of artificial turf on rooftops unless it is a small area.  Instead, we suggest engaging a professional installer recommended by the turf supplier.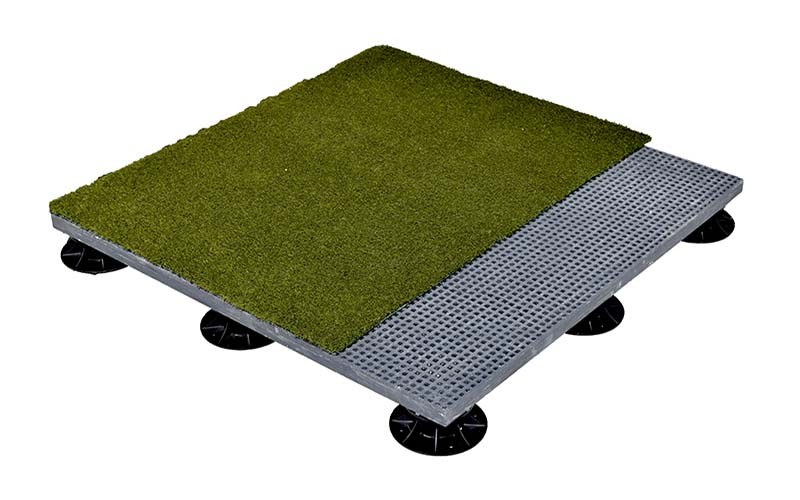 Archatrak 'MidiMesh' fiberglass grating panels have primary load bars at 1 1/2″ on center and a two secondary load bars which extend 1″ from the top surface positioned between the primary load bars. This gives an aperture size of just 1/4″, providing a smooth surface for the turf with a maximized surface area for secure fixing with adhesives or hold down screws, yet still ensuring excellent drainage.
For artificial turf support applications Archatrak only supplies gratings manufactured with pure isophthalic resins and not lower cost polyester resins which do not offer sufficient long term durability in harsh exterior conditions.
All our grating panels use aluminum hydroxide filler (not calcium carbonate) for maximum fire resistance (flame retardant and smoke suppression) and contain UV stabilizers.
Archatrak 'MidiMesh'
Thickness: 1 1/4″
Primary load bars: 1 1/2″ x 1 1/2″ on center
Secondary load bars: two bars between primary bars – 1/2″ deep
Mesh aperture: 1/4″ x 1/4″
Open area: 30%
Weight: 4.5 lb/sq.ft.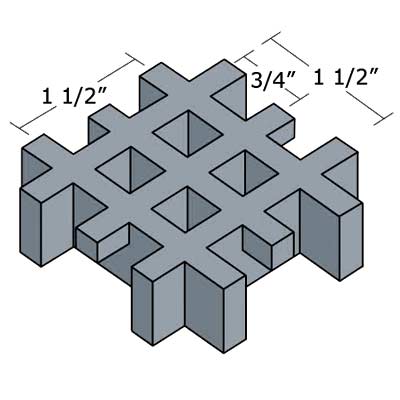 There are many manufacturers of artificial turf and all products should normally be suitable for laying over small mesh size FRP grating. However you should always check with your selected supplier, not just their approved substrates, but the technical specification of the products including length of warranty, test data on weight and denier, grab, tear and dimensional stability, PILL flammability according to ASTM D-2859, water permeability, tuft bind and breaking strength, UV stability, water/heat/frost resistance and fire resistance.
Most manufacturers offer a number of turf options depending on the intended use. For example, Turfscape currently offer at least eight turf options in total, but the following three products would generally be regarded as most suitable for roof deck applications, based on appearance, intended use and feel.r
Leisure Estate
Features ultra-soft grass yarn technology, resulting in the softest and most comfortable feel of any artificial turf products we have evaluated. It actually feels like grass!
Primary & secondary yarn polymer: Polyethylene
Color: Field/olive green with tan/green thatch
Face weight: 75 oz/sq.yd.
Total Weight: 102 oz/sq.yd.
Pile height: 1 3/4"
Fabric width: 15′
Natural Estate
Features a W-shaped grass yarn with thatch that is stunning, comfortable, and resilient.
The Estate is Turfscape's premier product for luxury buyers.
Primary & secondary yarn polymer: Polyethylene
Color: Field/olive green with tan/green thatch
Face weight: 75 oz/sq.yd.
Total Weight: 102 oz/sq.yd.
Pile height: 1 3/4"
Fabric width: 15′
Highland
Highland consists of a four-color primary yarn combination with two W-Blade colors and two diamond blade colors.  This is a lighter weight turf with slightly shorter blades, but has more color variation than the Leisure Estate or Natural Estate and a more visible light tan thatch.
Primary & secondary yarn polymer: Polyethylene
Color: Field/Olive W-Blade, Field/Lime Diamond Blade with tan/green thatch
Face weight: 48 oz/sq.yd.
Total Weight: 75 oz/sq.yd.
Pile height: 1 1/2"
Fabric width: 15′
Other Applications for Fiberglass Grating