Adjustable Deck Supports – Eterno 'Prime'
The simplest and most cost-effective adjustable deck support to specify, estimate and install.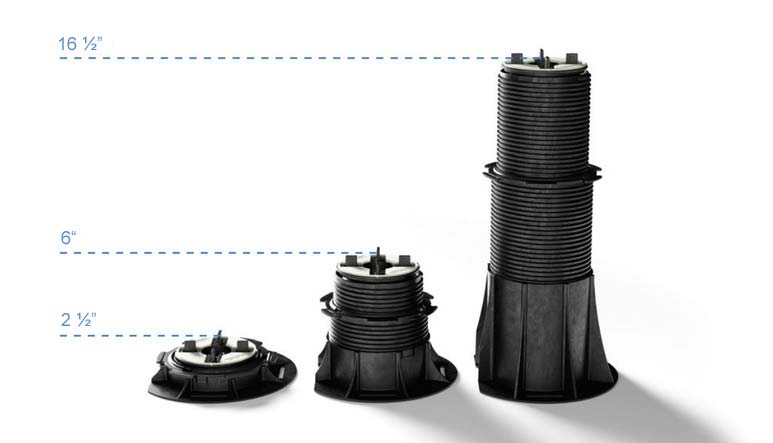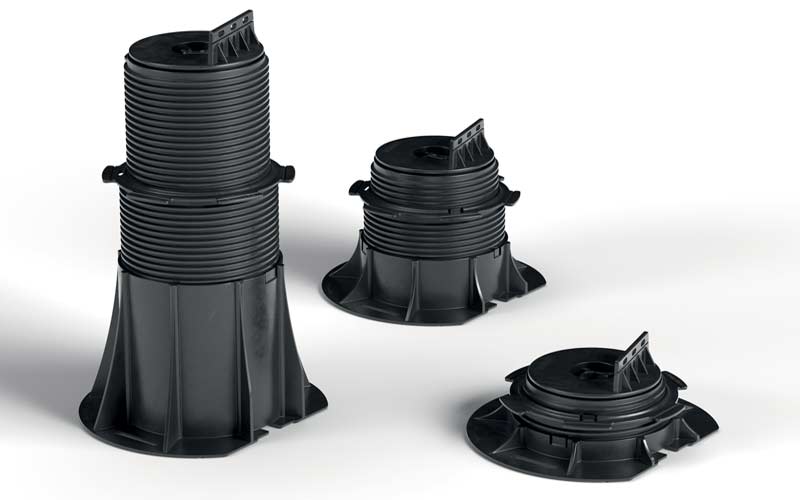 Just three pedestals cover the height range from 1 1/4″ to 16 1/2″. This unique design feature of Eterno 'Prime' adjustable deck pedestals not only minimizes installation time, but more importantly, resolves the frustrating and costly issue common with most multi-component pedestal systems in accurately estimating pedestal height requirements pre-installation and subsequently dealing with unexpected height variations of the substrate on site.
Model PR1 covers the low elevations from 1 1/4″ – 2 1/2″ which typically requires two pedestal sizes, PR2 covers the range 2 1/2″ – 6″ which typically needs 2 or 3 pedestal sizes, while model PR3 extends from 6″ – 16 1/2″ where a minimum of 3 pedestals sizes are normally required.
For even higher elevations, simply add on extension elements to the PR3 paver supports to build up the height.  Add one extension to reach 24″, two extensions to reach 30″ or three extensions to reach 37″.
Self-leveling heads offer automatic slope adjustment up to 5° – no extension rings or add in slope adjustors required. Switch to fixed heads if required with just a simple add-in headlock.
Pedestal heads are rubber faced for superior noise absorption and incorporate inbuilt spacer tabs which can be easily snapped off when not required.
Key Benefits of Eterno 'Prime' Adjustable Height Deck Supports

Only three pedestal supports cover heights from 1 1/4" to 16 1/2"

Self-leveling heads provide automatic slope compensation up to 5%

Wide 4 1/2″ diam. column ensures excellent stability at high elevations

Base is scored to enable quick cuts when laid in corners and pre-cut on one side for easy installation at walls

Large, 46 sq.in. circular base distributes load and avoids membrane damage

Screwed columns provide continuous incremental height adjustment

Anti-twist safety lock

Bi-material head provides superior sound deadening and shock protection

Top entry tool enables post installation height adjustments
Technical Details
Continuously adjustable from 1 1/4″ to 16 1/2″ with just three paver support sizes.
PR1    1 1/4″ – 2 1/2″
PR2    2 1/2″ – 6″
PR3    6″ – 16 1/2″
Extension elements 7 ½" tall can be added to the PR3 pedestals for higher elevations.
One extension – max height 24″
Two extensions – max height 30″
Three extensions – max height 37″
At high elevations, pedestal supports should be stabilized with guy wires.
A data sheet for the Eterno 'Prime' adjustable deck support range including the extension element can be downloaded from the link below.
Installation guides for building elevated decks with porcelain, wood or concrete pavers laid over Eterno adjustable deck pedestal supports can be seen here together with a short video illustrating the various stages of installation.
Archatrak Inc. warrants that adjustable paver supports sold by us under the brand name 'Eterno' will remain free from defects for a period of three (3) years from date of purchase.
Archatrak is proud to support the UNHCR (United Nations High Commissioner for Refugees) in their efforts to assist the millions of people who have been forced to flee Ukraine, leaving behind everything they've ever known. UNHCR is on the ground scaling its response to provide assistance and ensure those displaced find safety in welcoming arms in this moment of crisis.
For every Eterno adjustable deck support sold, Archatrak is donating $0.15 to the UNHCR fund.
Related Items