Rail Support System
Secure, level and stable support system for narrow plank style porcelain pavers on elevated roof decks and raised platforms
¾" thick porcelain pavers used on elevated decks require support at each corner and at intervals no greater than 24" along any side. With pavers less than 16" wide, a rail support system is generally preferred for lower pedestal cost and faster installation.
Eterno NM pedestals are placed over the substrate at 24" intervals in both directions.
Hollow steel rails are positioned on the head of the pedestals and locked in place with head caps.
Sliding head caps are placed along the steel rails to provide support and correct spacing at each corner of all porcelain planks not located on top of pedestal heads.
Key Benefits of Rail Support Systems

increased stability

greater resistance to sideways movement of pavers

more flexibility to use pavers of different widths and lengths

less pedestals required with narrower plank style pavers

may avoid the need for perimeter containment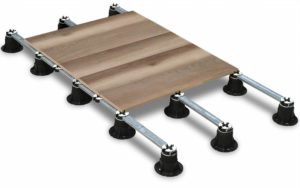 Components
The Eterno/Kronos rail support system uses just three basic components for maximum simplicity and speed of installation.
Galvanized steel support rails
Tubular steel provides the basic support due to its high load capacity, excellent resistance to flexing and comparatively low cost. Rails are supplied in 8′ long sections.
Eterno NM pedestals with rail support heads
Two downward facing prongs in the upper rail support caps hold the rail tightly and clip into the lower rail support head, preventing sideways movement of the rail on the pedestal. SBR rubber surfaces minimize noise transmission through the pedestals and offer superior slip resistance.
Upper rail mounted sliding heads
Upper rubber surfaced rail head caps slide freely along the rail, enabling pavers of any width to be installed. Inbuilt tabs ensure accurate and consistent paver spacing.