Marina, Dock & Jetty Decks
In marine environments, for jetties, pontoons, piers, walkways, platforms, staircases and landings, fiberglass gratings outperform other materials in almost all respects.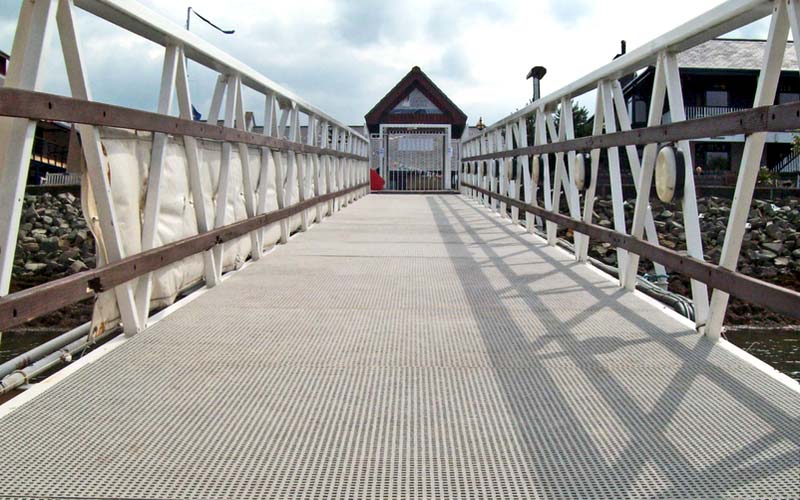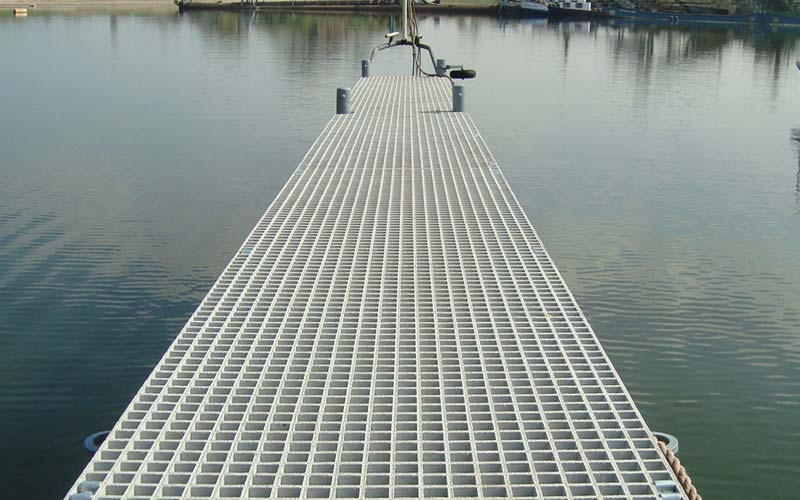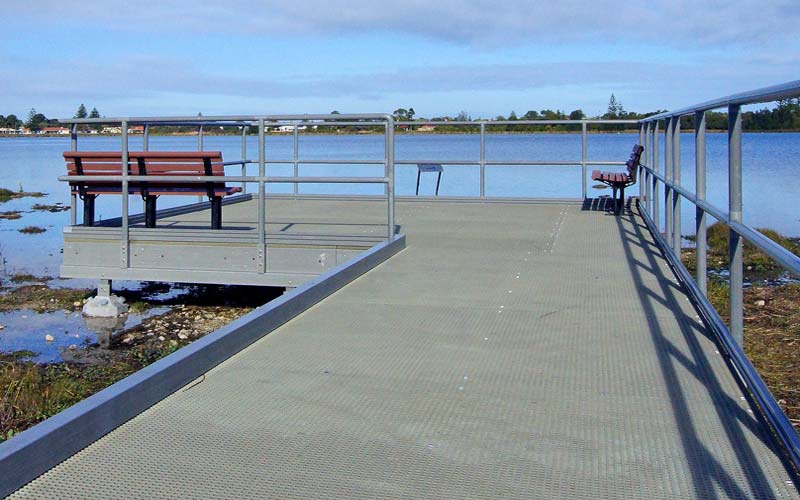 Fiberglass gratings from Archatrak offer an excellent opportunity to build, renew or repair walkway surfaces on docks, piers, marinas, pontoons and other waterfront facilities. In recent years, fiberglass gratings have developed an enviable reputation in the marine industry because of their ability to withstand the wettest, oiliest and iciest marine conditions. They will not rust or corrode like steel gratings, and easily outperform wood which soon degrades, cracks or warps in wet environments. Fiberglass is salt resistant, algae resistant and essentially maintenance free.
Fiberglass gratings have excellent structural strength and impact resistance, are not subject to sagging like composite wood and weigh considerably less than steel.
For marine applications, a gritted anti-slip surface is normally specified which offers exceptional traction in all weather conditions, making fiberglass grating not only one of the safest, but also the most attractive and cost-effective decking surfaces available.
Archatrak fiberglass grating is typically supplied in 4′ x 8′ panels. The large panels can be easily cut on site as required with a power saw fitted with a diamond blade. The panels are normally fixed to bearers with stainless steel hold down clips, positioned at max. 48″ intervals around the perimeter.
Archatrak Fiberglass Grating
For marine applications, Archatrak typically recommends the more open 1 ½" x 1 ½" 'MacroMesh' panels with a grit surface, ensuring that water drains away most rapidly. However 'MidiMesh' grating with ½" x ½" aperture is frequently used in high pedestrian traffic locations as it prevents smaller objects from falling through the mesh. The smaller holes also offer smooth movement for small wheeled trolleys, wheelchairs, prams, delivery trolleys etc. The smaller mesh size still allows plenty of sunlight to reach marine plants where the need to maintain a sound ecological marine system may be an important requirement.
The typical grating used for marine applications  is our 'MacroMesh' with spacing of 1 1/2″ x 1 1/2″ between load bars, giving an aperture size of 1 1/4″ x 1 1/4″.
Where a closer mesh is required, our 'MidiMesh' grating with 1 1/2″ x 1 1/2″ spacing between load bars and a secondary load bar ½" deep between the primary load bars is typically specified. This grating option where the apertures are only 1/2″ x 1/2″, offers a smoother rolling surface for wheelchairs, carts, bicycles, scooters etc.
Grating panels are typically 4′ long x 8′ wide.
A grit surface is normally supplied for all marine applications, ensuring excellent slip resistance in all weather conditions.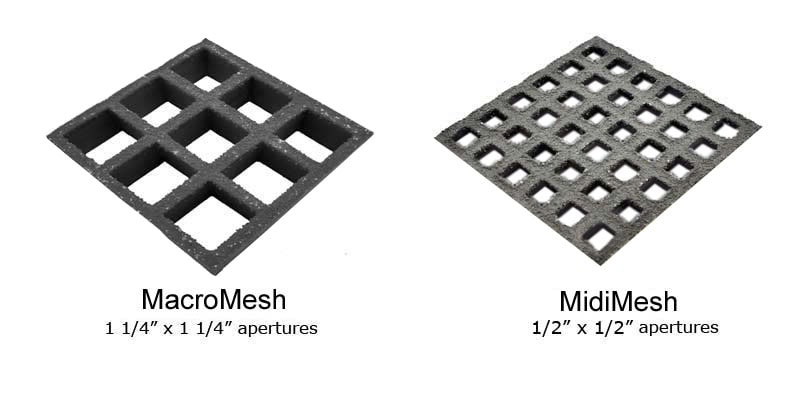 Fiberglass Composition:  Archatrak  fiberglass grating panels are manufactured exclusively with pure isophthalic resins – lower cost polyester resins do not offer sufficient long term durability in harsh exterior conditions.
Grating panels use only aluminum hydroxide filler (not calcium carbonate) for maximum fire resistance (flame retardant and smoke suppression) and contain UV stabilizers.
Archatrak 'MacroMesh'
Thickness:  1 1/4″
Primary load bars: 1 1/2″ x 1 1/2″ on center
Mesh aperture: 1 1/4″ x 1 1/4″
Surface: anti-slip grit embedded in resin
Weight: 3.0 lb/sq.ft.
Archatrak 'MidiMesh'
Thickness: 1″ or 1 1/4″ depending on the application
Primary load bars: 1 1/2″ x 1 1/2″ on center
Secondary load bars: single bar between primary bars – 1/2″ deep
Mesh aperture: 1/2″ x 1/2″
Surface: anti-slip grit embedded in resin
Weight: 3.5 lb/sq.ft. (1″ thick), 3.7 lb/sq.ft. (1 1/4″ thick)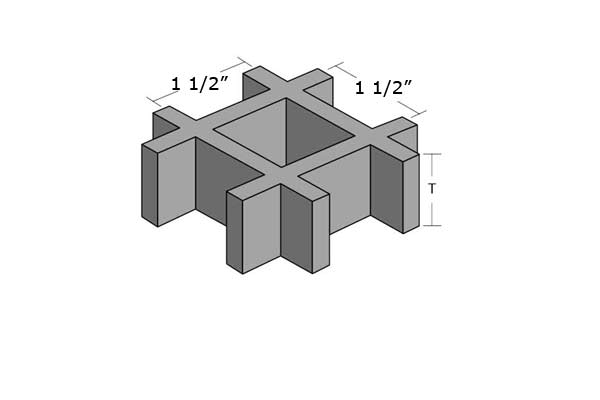 Fiberglass grating panels are normally fixed to support bearers with max. span of 48″ (depending on the thickness of the fiberglass panel and anticipated loading) using stainless steel 'M' clips inserted in the grating apertures, with a minimum of four clips per panel. 'L' clips are generally not recommended as they don't have the same strength as 'M' clips.
Where necessary, adjacent panels can be joined at the edges by means of stainless steel 'C' clips.
Where panels are installed over steel 'I' or 'H' beams and it is difficult to drill through the beams, hold down clips with an extended base plate may be used.
Where a change in direction is required, panels can be cut at an angle, taking care to ensure adjacent panels are cut at the same angle so the load bars match up when panels are joined.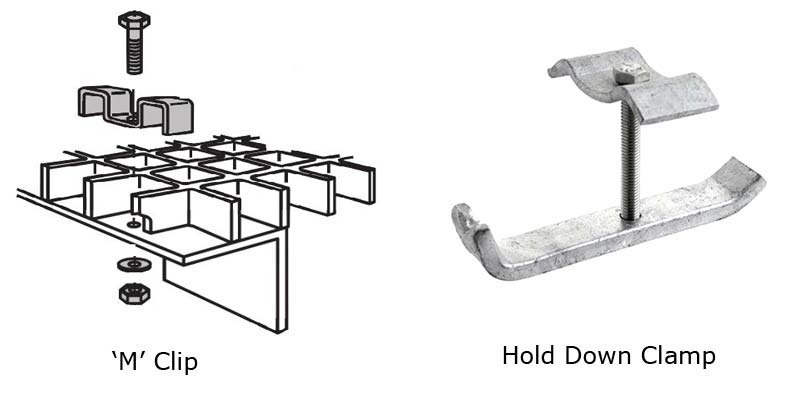 Other Applications