Non-Combustible Paver Supports
Archatrak steel paver support pedestals permit the construction of totally non-combustible elevated decks on rooftops or other locations where strict fire regulations are enforced.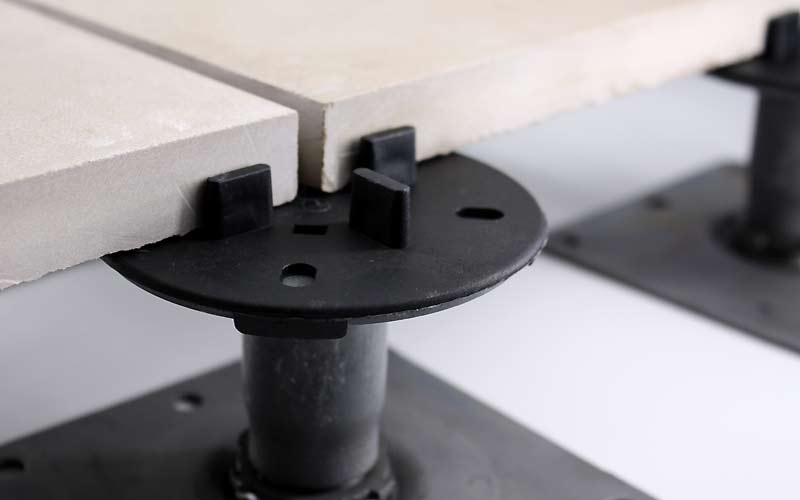 With fire regulations in many cities becoming increasingly strict, polypropylene paver supports can no longer be used in some locations, even if fire retardant additives are included in the plastic resin.  Archatrak steel pedestals are specifically designed to overcome this problem, and most importantly, this has been achieved without any significant increase in cost over conventional, non-fire rated plastic pedestals.
The solid steel fireproof pedestals can provide incremental height adjustment from as low as 1″ to a maximum of 20″. The 6 1/4″ x 6 1/4″ totally flat steel base distributes the load evenly over roofing membranes, but an optional 9″ x 9″ buffer pad can be supplied if required. A locking ring on the screwed column prevents any movement and ensures excellent stability.
Key Benefits of Steel Non-Combustible Paver Supports

will not catch fire, create smoke, or spread flames

high load bearing - over 2200lb

will not crack, split or warp

zinc-nickel finish offers excellent corrosion resistance

easy to install and adjust height

externally threaded tube with locking ring for absolute stability

cost effective - comparable in price with non-fireproof pedestals made of plastic

only 3 components - base with column, header, head cap
Technical Details
Continuously adjustable from 1″ to 20″.
RP-FR-1    1″ – 1 3/8″
RP-FR-2    1 3/8″ – 2″
RP-FR-3    2″ – 2 3/4″
RP-FR-4    2 3/4″ – 4 1/2″
RP-FR-5    4 1/2″ – 8″
RP-FR-6    8″ – 12″
RP-FR-7    12″ – 16″
RP-FR-8    16″ – 20″
Drawings of the pedestals can be downloaded here:
PDF format
DWG format
Material:         Mild steel
Finish:             Zinc-nickel anti-corrosion
Head diam.:   3 3/4″
Base size:       6 1/4″  x 6 1/4″
Loading:         2200lb +
Head tabs:     1/8″ thick, 1/2″ high
Fire rating:     (EN13501-1): A1 – Afl
Click to enlarge drawings.
Installation guides for building elevated decks with porcelain, wood or concrete pavers laid over our standard Eterno NM paver support pedestals can be seen here together with a short video illustrating the various stages of installation.
The installation procedure with steel non-combustible steel pedestals is similar, with the notable exception that the base of the steel pedestals cannot be cut to bring the pedestals closer to any perimeter wall or parapet.
Related Items