Resurfacing Wood Decks
Any structurally sound deck without decayed, warped or otherwise unsafe planks can normally be given an amazing makeover simply by laying modular wood tiles or structural porcelain pavers right over the top of the existing deck.  And it's a much simpler and more cost-effective option than a total deck rebuild or even just replacing the planks.
Here's three wood deck resurfacing options you could consider: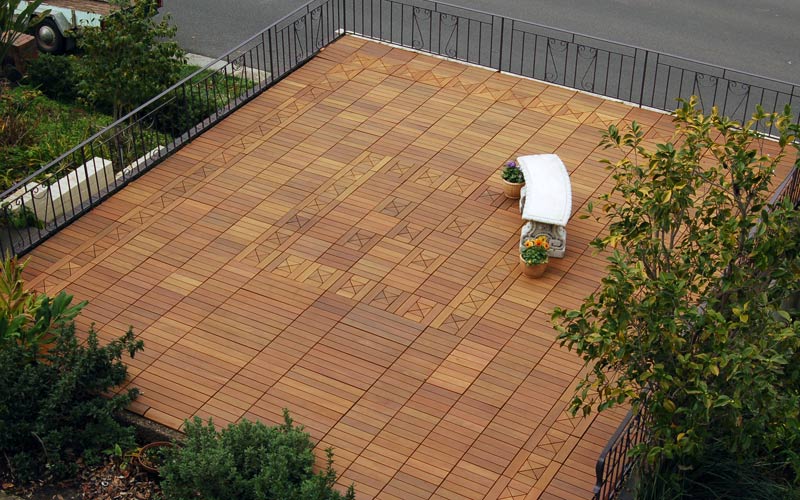 Interlocking Wood Deck Tiles
Typically the easiest option since these modular wood deck tiles just click together over the existing surface. The attached plastic base not only allows water to drain freely under the tiles, but inbuilt connecting tabs keep the tiles correctly spaced and aligned.
Our 'SwiftDeck' Ipe wood tiles are supplied in two sizes – 12" x 12" Colorado or Sierra styles or 12" x 24" Double-C style. All sizes and styles can be interlocked with each other to create custom designs.
With interlocking tiles however, it's very important the existing deck boards are not uneven or warped as otherwise the tiles could 'rock' on the surface and maybe create a tripping hazard.
For further information, check out our interlocking Ipe wood deck tiles page.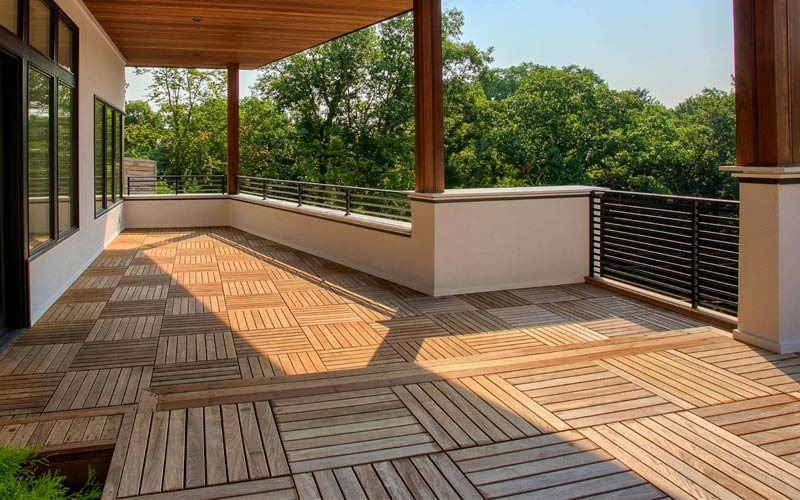 Structural Wood Deck Tiles
A somewhat more forgiving option if your existing deck boards are uneven or warped. There's no interlocking plastic base, but instead the solid wood slats are screwed to wooden support bearers.
These thicker (1 11/16") and larger (24" x 24" or 24" x 48") tiles are laid with 3/8" high rubber support pads placed under each corner. Inbuilt tabs on the pads ensure correct alignment and spacing of the tiles. If the existing deck surface is slightly uneven, 1/16" rubber shims can be used to make minor height adjustments.
Just like interlocking wood tiles, structural wood tiles will fade and turn to a silvery grey over time.
For more information about structural wood deck tiles, see here.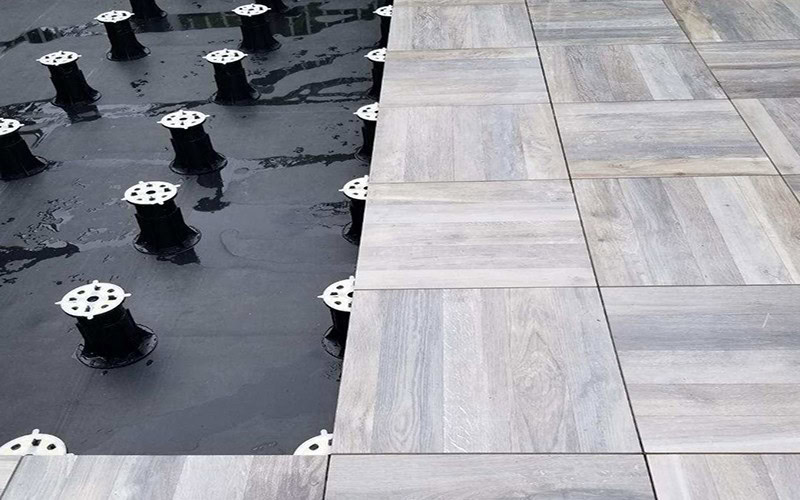 Porcelain Pavers
A more modern option offering an exceptionally wide range of colors, styles and sizes. Not only can you maintain a traditional wood look by choosing a 12" x 48" or 16" x 48" plank style paver which emulates the color, grain and texture of wood, but you can also opt for a totally different look, such as slate, travertine, flagstone, basalt or even a cement look or more rustic style.
Unlike thin ceramic tiles, ¾" thick porcelain pavers are specifically designed to be supported under each of the corners only. Simply place 3/8" thick rubber support pads under the pavers, no adhesives or grout required. The gaps between pavers are left open, so surface water drains away quickly.
Porcelain pavers won't stain, fade or collect mold and mildew. They're unaffected by frost, are totally fire resistant and resist scuffs and scratches.
Just one thing to watch. Since they are somewhat dense and brittle, take care not to drop any heavy objects like a hammer from a significant height, as it's possible they could be damaged.
For more information about porcelain pavers, see here.
Waterproofing the Underside of an Elevated Deck
Depending on the height of your deck off the ground below, resurfacing a deck with tiles or pavers gives you the opportunity to create a dry area underneath, at very little added expense. Here's how.
First, lay down an EPDM sheet to completely cover the existing deck.  You can buy EPDM in different widths with lengths up to 50′ wide from specialist suppliers such Best Materials or Resource Conservation Technology who can also custom fabricate a single sheet to avoid seams. Cut the EPDM sheet to fit the area you want to keep dry and try to avoid seams in the EPDM sheet if possible. Make sure there are no protruding nails or screws that could puncture the membrane.  If you need to seal around pipes or posts etc., use a sealer made specifically for EPDM such as M-1 Sealant. Then just lay the deck tiles or pavers over the top of the membrane.
There's not a vast difference in cost between any of the above deck resurfacing options. You could typically expect to pay around $10-14 per sq.ft. for the materials, depending on the size of the project and the product selected.