Elevated Stone Decks
Resurface existing elevated decks or build new decks with a surface of natural stone, porcelain pavers, cobblestones or clay pavers over high load bearing, fiberglass grating panels.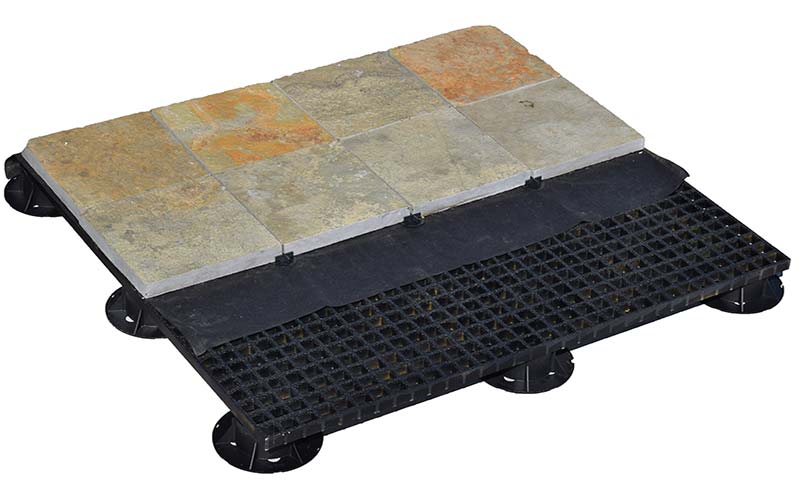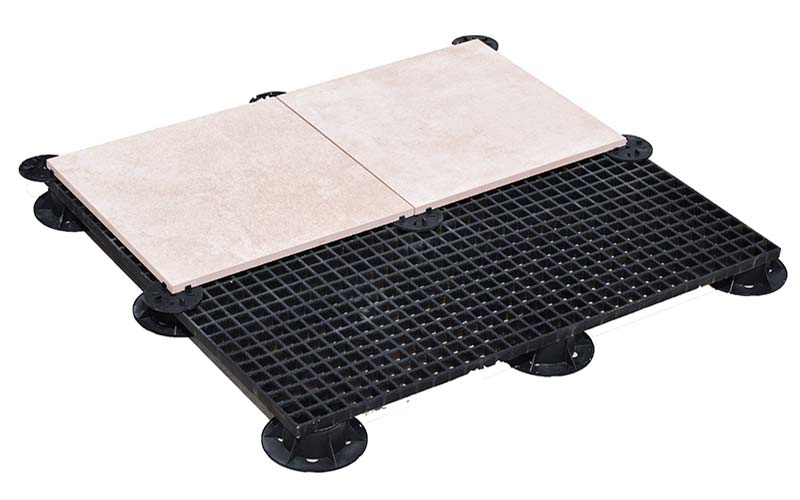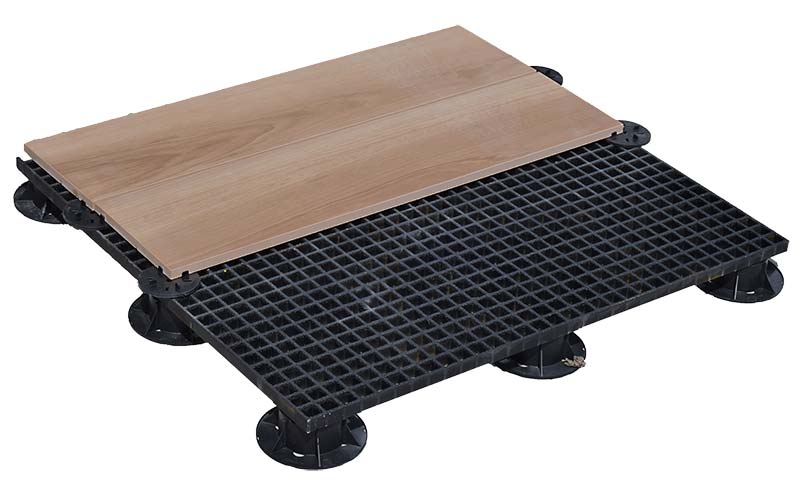 Elevated decks don't need to be just wood or composite wood. You can refurbish or build new elevated decks with exactly the same surface as a paved ground level patio – natural stone, clay pavers, cobblestones or porcelain pavers. In most cases it's very simple; no structural changes, no complicated components to install, no particular expertise required.  If you still prefer the look of a classic wood deck, but don't want the ongoing maintenance issues, or have a problem with increasingly restrictive fire codes, that's really no problem either. These days, there's an ever increasing range of wood look, plank style porcelain pavers available in 8″, 12″ and 16″ wide planks.
On rooftop decks, simply lay the stone, clay or porcelain pavers over Archatrak's structural fiberglass grating panels, supported by adjustable pedestals. On decks with wood or metal joists, just place the fiberglass panels over the joists, secured by stainless steel fastenings and lay the pavers on top. No need for cement based mortars, grouts or adhesives – pavers are loose laid with conventional spacers, just like a sand set, on-grade installation.
And with these large (8′ x 4′), exceptionally strong support panels, you can easily lay irregular sized pavers, other pavers not strong enough to be supported by pedestals alone or on surfaces where it's not permitted to lay pavers directly or permanently.
Archatrak Fiberglass Grating Panels
Archatrak fiberglass grating panels are made in individual molds using thermoset resins reinforced with interwoven high-strength glass rovings.
All resins and fillers are specifically designed for maximum exterior durability and fire resistance.
Panel size:  4′ x 8′
Thickness: 1″
Mesh size: 1 1/2″ x 1 1/2″ (1 1/4″ x 1 1/4″ openings)
Weight: 2.5 lb/sq.ft.
Surface finish: Gritted anti-slip finish (top surface)
Materials: Pure isophthalic resins, aluminum hydroxide filler (for flame retardancy and smoke suppression), UV-9 stabilizers.
Color: Charcoal grey
Panels with different mesh size and thickness can be supplied on request.
Brief notes on how to build decks with various paver options are given under the respective tabs below.
Rooftop Deck Installations:
There are two methods for installing Archatrak fiberglass panels on rooftop decks.
1. Directly over Eterno adjustable height pedestals:
Place pedestals at 24″ spacing in both directions. Lay fiberglass panels directly over the pedestals. To avoid any sideways movement of the panels, adjacent panels can be joined at the edges with stainless steel 'C' clips.
2. Over wood bearers placed on pedestals:
Bearers of treated lumber are laid on top of the pedestals which are fitted with specially designed pedestal head brackets. The bearers are secured to the brackets with screws. The fiberglass panels are then laid on top of the bearers and secured in place with stainless steel 'M' clips.
This method permits the pedestals to be placed further apart, so may be more economical for high elevation decks where the cost of the required taller pedestals is typically higher.
Installation Over Wood Bearers: 
It's important that the surface of the bearers is flat to avoid any rocking of the fiberglass panels. Any raised sections must be leveled with a hand planer or electric planer before laying any panels.  Then lay the panels directly over the bearers. Panels can be cut to length with any power saw or hand saw as required. Panels are typically fixed to bearers using stainless steel 'M' clips inserted through the grating apertures.
If a railing system is installed on the deck, it is recommended to cut the fiberglass panels and the pavers to fit around the posts, rather than attempting to secure the posts over the top of the panel and paver assembly.
Further installation guidelines and precautions that should be taken when cutting fiberglass can be seen here.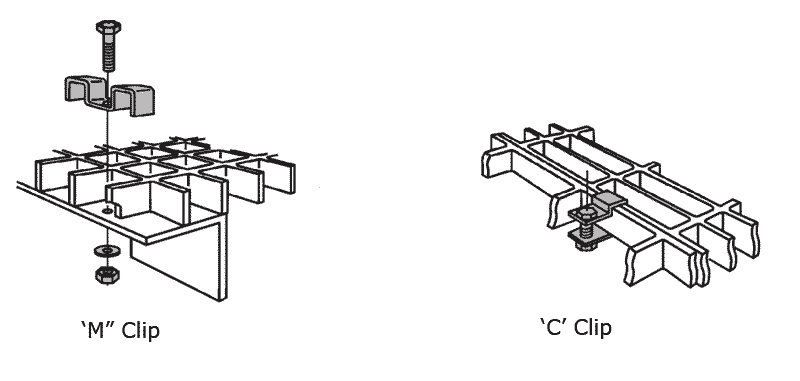 We generally do not recommend laying thin ceramic or porcelain tiles over fiberglass grating since these tiles do not have enough internal strength to support live loads when dry-laid over a hard surface. Micro movements over time can cause the material to fracture.
Instead we recommend using 3/4″ thick structural porcelain pavers. The thicker pavers are specifically designed for exterior use, have an anti-slip finish and are much less susceptible to impact damage and/or breakage than thin tiles. Normally 3/4″ porcelain pavers can be laid directly over adjustable height pedestals to build elevated decks, but in some circumstances e.g. if using small pavers like 8″ x 8″ porcelain cobblestones, a fiberglass base may be necessary.
Tile spacers should be used with all porcelain paver installations to prevent the possibility of chipping on the edges.
We recommend laying small porcelain pavers, such as 8″ x 8″ cobblestone tiles over a recycled rubber underlayment placed over the fiberglass panels and using small tile spacers to keep the cobblestones consistently spaced and aligned.  1/8″ thick recycled rubber underlayment is available in rolls 4' x 50'.
Normally the gaps between cobblestone pavers are left open. However, if preferred, gaps can be filled with polymeric sand.
For larger porcelain pavers, we recommend using rubber pads with inbuilt spacer tabs to raise the pavers slightly off the fiberglass panels. These pads ensure correct spacing and minimize noise transmission. This method of installing porcelain pavers can be especially useful with narrow plank style pavers (8″ or 12″ wide) instead of using a pedestal supported rail system, as it also provides fall through protection.
If sound deadening is not an issue, porcelain pavers can be laid over a geotextile mat using small tile spacers to ensure consistent tile spacing and alignment.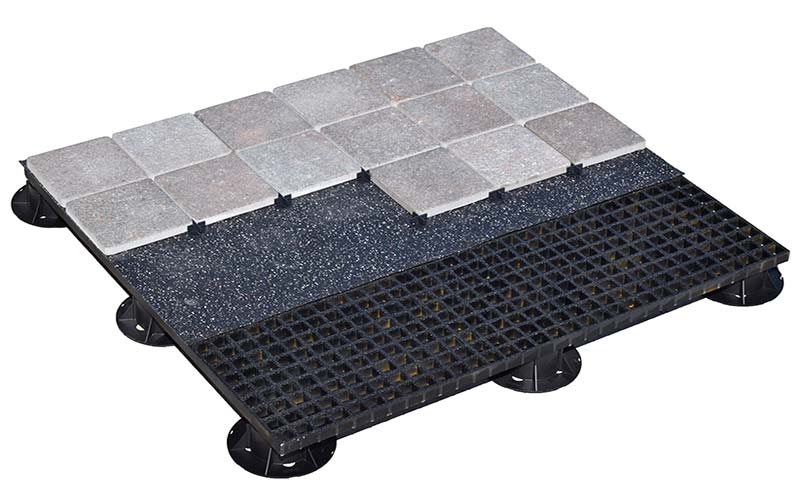 It is very important that natural stone be as uniform in height as possible to avoid any tripping hazard on the finished paver stone deck, since laying natural stone directly over a fiberglass grating does not allow for any thickness adjustment. With ungauged stone, you will need to lay the stone on a thin bed of sand.
Normally the gaps between the pavers will be left open, but it is possible to fill the gaps with sand provided a suitable underlayment is used between the grating and the stone pavers.
We typically recommend using a recycled rubber mat, 1/8" thick which also helps to reduce noise transmission and movement of the pavers, while still allowing moisture to drain. Rubber underlayment made of recycled rubber can often be sourced online in 4' x 50' rolls.
If using soft stone pavers such as sandstone or travertine, we recommended using either a thicker gauge stone or using an adhesive to bond the pavers to the grating, which stabilizes the pavers and prevents movement.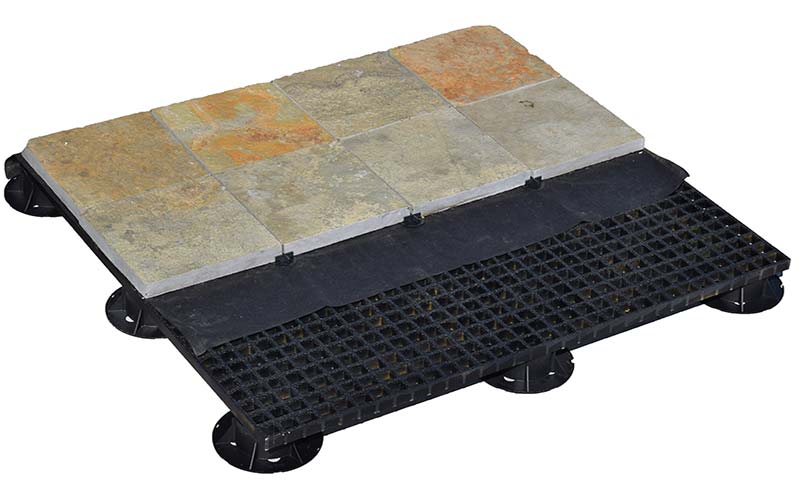 Since natural stone is often sized by splitting rather than cutting, the thickness is not always precise, so a sand bedding layer becomes necessary to ensure a more consistently level surface for your elevated deck.
First you need to install a containment barrier around the deck to retain the sand. Then lay down two layers of geotextile mat in an alternating pattern over the fiberglass grating followed by a  1/4″ to 1/2″ layer of sand spread evenly over the mat. As you lay each paver, lightly tamp them to bed the pavers in the sand and ensure they are as level as possible with adjacent pavers. Spacers can be used to ensure more accurate spacing.
When all pavers have been laid, brush polymeric sand into the gaps between the pavers and wet down as specified by the manufacturer.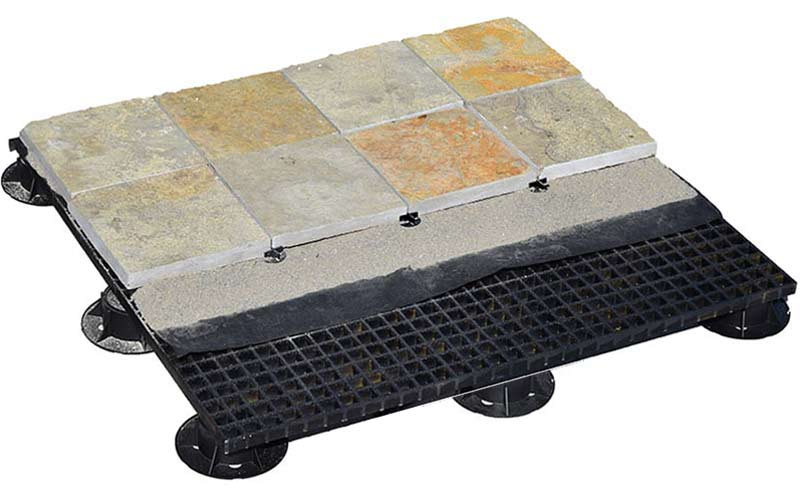 Clay pavers can easily be laid over Archatrak fiberglass grating panels.
First a geotextile fabric or 1/8" thick rubber underlayment should be over the grating to reduce noise transmission and help reduce movement. If the gaps between the pavers are to be subsequently filled with sand, make sure the geotextile mat will not allow sand to pass through. In some cases if may be necessary to lay down two layers of matting.
Clay pavers normally have nibs on the side to ensure correct spacing, so tile spacers are typically not required.
After laying the pavers in your preferred pattern, the gaps should be filled with sand, preferably polymeric sand and wetted down as specified by the manufacturer.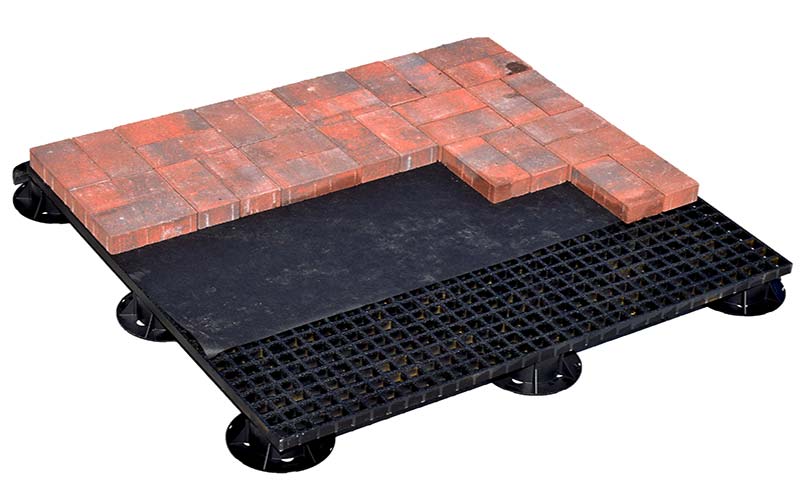 Other Applications