'StreetDeck' Parklets & Streateries
Modular Parklets and Streateries for curbside seating or dining - perfectly level, solid and stable, irrespective of the slope.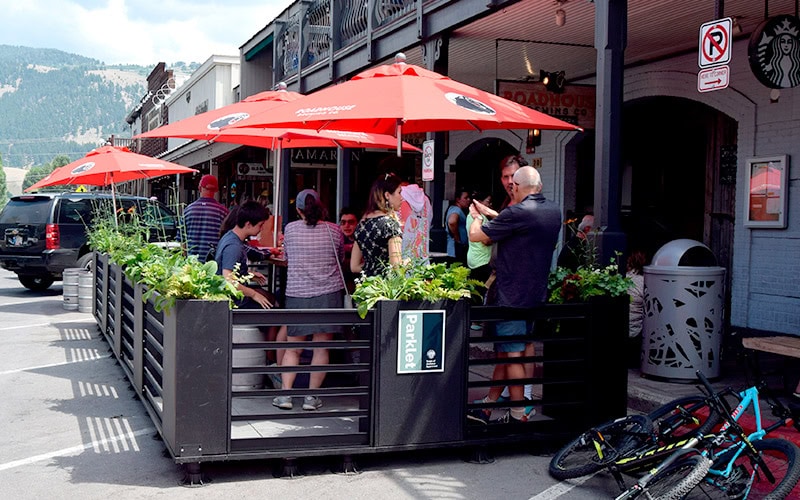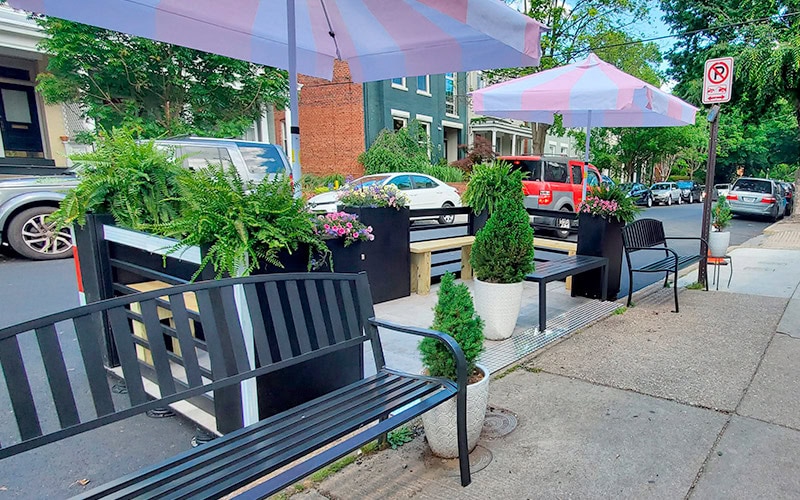 Archatrak 'StreetDeck' is a complete, ready-to-assemble, modular modular decking system for building contained street seating and outdoor dining – typically situated in place of one or two parking spot. It was specifically designed for quick and easy assembly and disassembly in any location – pavements, roadway parking spaces, outside retail establishments, trade events, etc., without needing any extra components or skilled labor. Each full outdoor deck kit includes all components needed to construct a small stand-alone platform, avoiding expensive design, fabrication and installation costs.
Modular decks like 'StreetDeck' can provide restaurants that have restricted dining space indoors, the opportunity for additional seating space outdoors, on the pavement or on closed-off streets. The porcelain paver surface does not only look elegant but is exceptionally easy to keep clean. Of course, any street or pavement seating must be approved by all relevant authorities, and if such seating is configured as a street 'Parklet' to take the space of one or more parking spots, the process of approval could be quite lengthy.
But 'StreetDeck' modular decks are not just useful for ready-made 'Parklets' or Streateries.  They are ideal for temporary or permanent display stages, event seating platforms, special event flooring, pop-up cafes, music stages – in fact anywhere a perfectly level, stable, and self-contained elevated floor is required, temporarily or permanently.
The complete prefab deck kit comprises bolt-together, powder-coated, galvanized steel perimeter modules, porcelain pavers or wood tiles for the deck surface, adjustable height pedestals to support the perimeter and pavers, plus all necessary brackets and hardware to assemble the modular deck. But many options are possible. Bring your own planters or fence panels or just use the base to make a raised, self-contained platform or deck.  And the modular design permits the deck to be easily extended at will, in increments of 24″, in both length and width.
For street Parklets, we have developed complete ready-to-go kits for both 1 car space (12′ x 6′) and 2 car spaces (32′ x 6′).  These kits include all necessary components to assemble a complete and fully integrated Parklet or Streatery- self-contained pedestal supported deck with pavers, access ramps, planters, and railings.  But due to the modular design, these prefab outdoor deck kits can be extended indefinitely in length and width. You can download a catalog here. Alternatively, we can supply just the self-contained deck structure with pavers, pedestals, and steel perimeter, for creating a level deck surface that fits flush with the pavement surface. All other components such as planters, railings, and seating can then be added according to specific needs.
Options & Customization
We totally understand the need for street Parklets to have unique features and appeal. But we also know that designing, building, and assembling a custom-made Parklet with perimeter containment is very expensive. And that's one of the key benefits of the Archatrak 'StreetDeck' system. Although we offer two basic modular decking system designs (12′ x 6′ and 32′ x 6′) which include fully integrated steel planters and railings, for the deck surface, you can choose from over 70 colors of porcelain pavers with styles resembling wood, stone, cement or rustic. But that's not all. You can use 3rd party components such as planters, bench seating, railings, etc. for further customization.  Or for a natural wood look, we also supply structural wood deck tiles.
Although 'StreetDeck' has been designed to conform with most specifications established by many cities for creating parklets, each city has its own set of rules and regulations, so if considering 'StreetDeck' as the base component for any city parklet, you must always check that 'StreetDeck' will indeed meet all local codes and regulations.
The images below show how the basic form of the 32′ and 12′ long 'StreetDeck' kits, complete with planters and fence panels, can be extended in both length and width (in 2′ x 2′ modules). 'StreetDeck' kits are designed for installation in place of either one or two 20′ roadside car spaces while accommodating the required 4′ safety buffer on either side. Upon request, additional dimensions can be configured and supplied.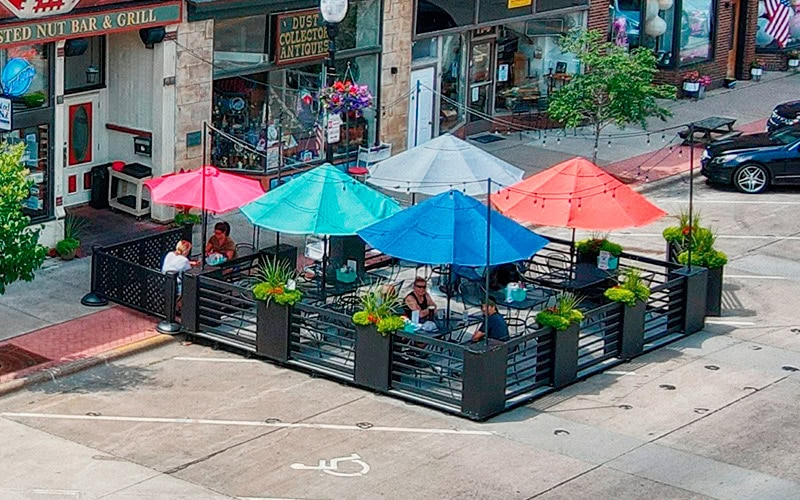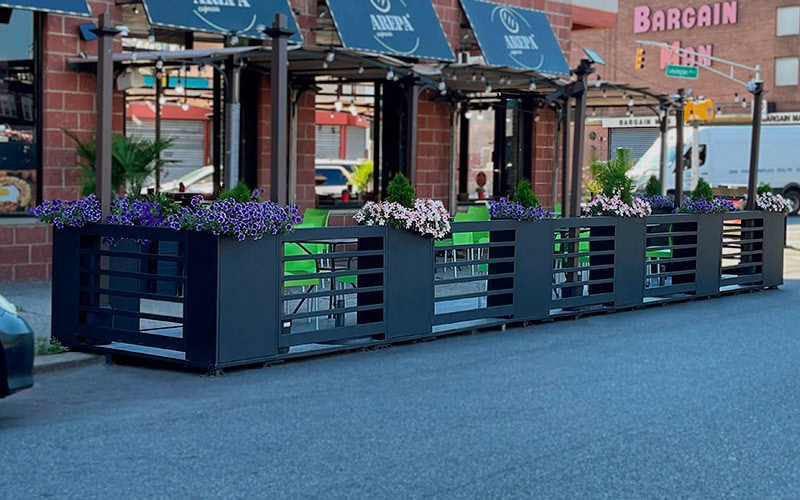 Key Benefits of 'StreetDeck'
StreetDeck was specifically designed to overcome the shortcomings of most custom designed parklets or modular decks.

More affordable than custom designed & fabricated decks

Avoids expensive architectural design work

No skilled labor and no special tools required for assembly

Uses a minimal number of pre-fabricated modular components

Avoids custom fabrication and cutting to size on site

Strong, damage resistant, stainless steel perimeter

Adjustable pedestal supports ensure level deck surface over sloping ground

Durable, stain and scratch resistant deck with over 50 color options

Exceptionally low maintenance

Easy to disassemble and reassemble multiple times without damage

Compact to store when not required

Readily scalable in length and width

Integrated planters, benches, railings and panels available if required

Completely customizable with 3rd party components and furniture
No limitation on size, subject to increments of 24″ in length or width.
For Parklet applications, we have standard kits available for the most commonly requested sizes, i.e:
1 car space : 12′ x 6′
2 car spaces: 32′ x 6′
Over 50 colors of porcelain pavers are available from Archatrak.
The full range of colors can be seen here.
The images opposite illustrate just a few of the options available.
Porcelain pavers
Thickness: 3/4″
Sizes: 24" x 24", 16" x 48"
Styles: simulated wood or stone, cement and rustic look.
Structural Ipe wood tiles
Thickness: 1 11/16″
Sizes: 24″ x 24″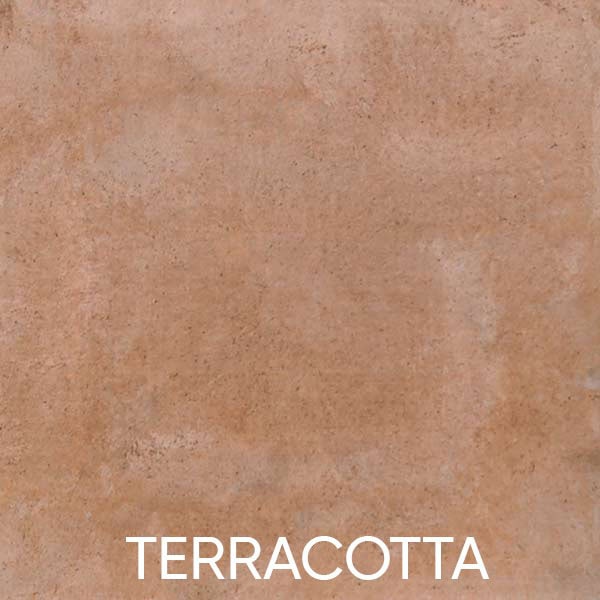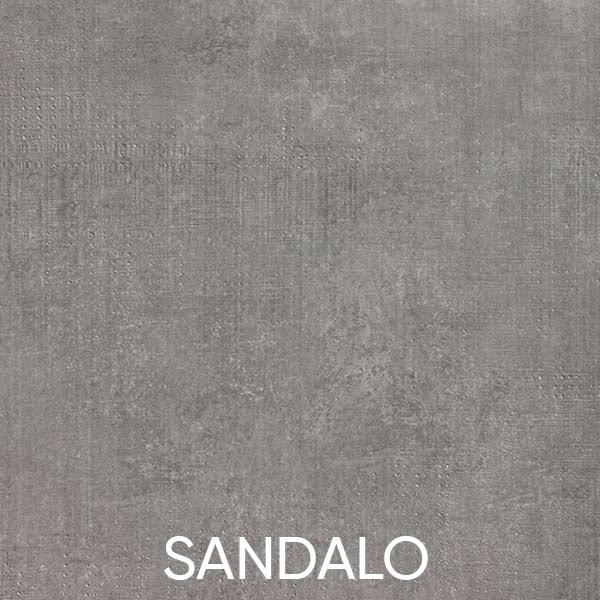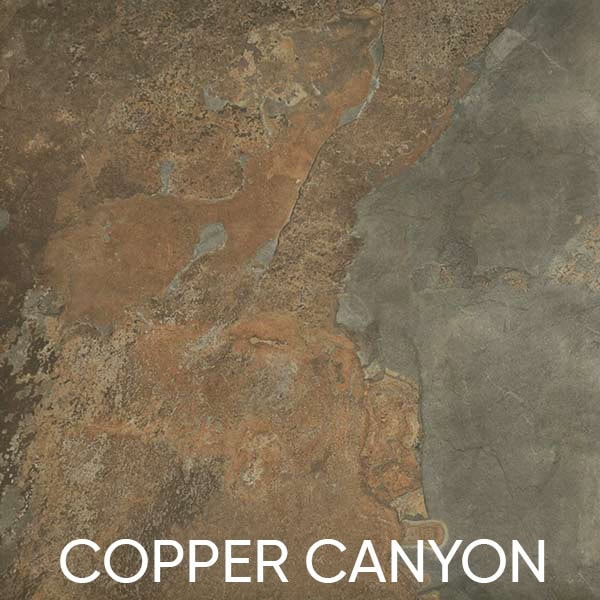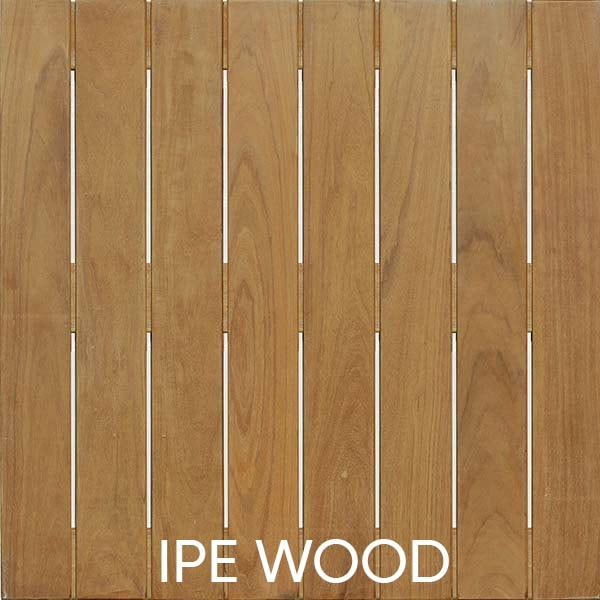 The perimeter and deck are supported by adjustable height pedestals to ensure a level surface is maintained over sloping roadways or other substrates with irregular heights.
'StreetDeck' uses adjustable height pedestals that are fitted with self-leveling heads that automatically keep the heads of the pedestal in a horizontal plane irrespective of the slope (up to max. 5%).
The pedestal height required will depend on the surface slope. However, the Uptec pedestals we supply with StreetDeck installations are capable of covering the height range from 1 1/8" to more than 6", as detailed below, by just using three components – the SUPAL model which covers the range from 1 1/8" to 1 11/16", and the SUPAS model which is used for higher elevations and is simply extended as necessary by adding in the required number of SUPAR extensions. Each extension adds 1 1/8" to the height. Turning the central column of either the SUPAL or SUPAS models permits additional height adjustment of up to ½".
Uptec pedestals feature the following height ranges:
SUPAL – 1 1/8" – 1 11/16"
SUPAS – 1 11/16" – 2 ¼"
SUPAR extension – 1 1/8"
SUPAS + 1 SUPAR – 2 ¼" – 3 ½"
SUPAS + 2 SUPAR – 3 ½" – 4 5/8"
SUPAS + 3 SUPAR – 4 5/8" – 5 ¾"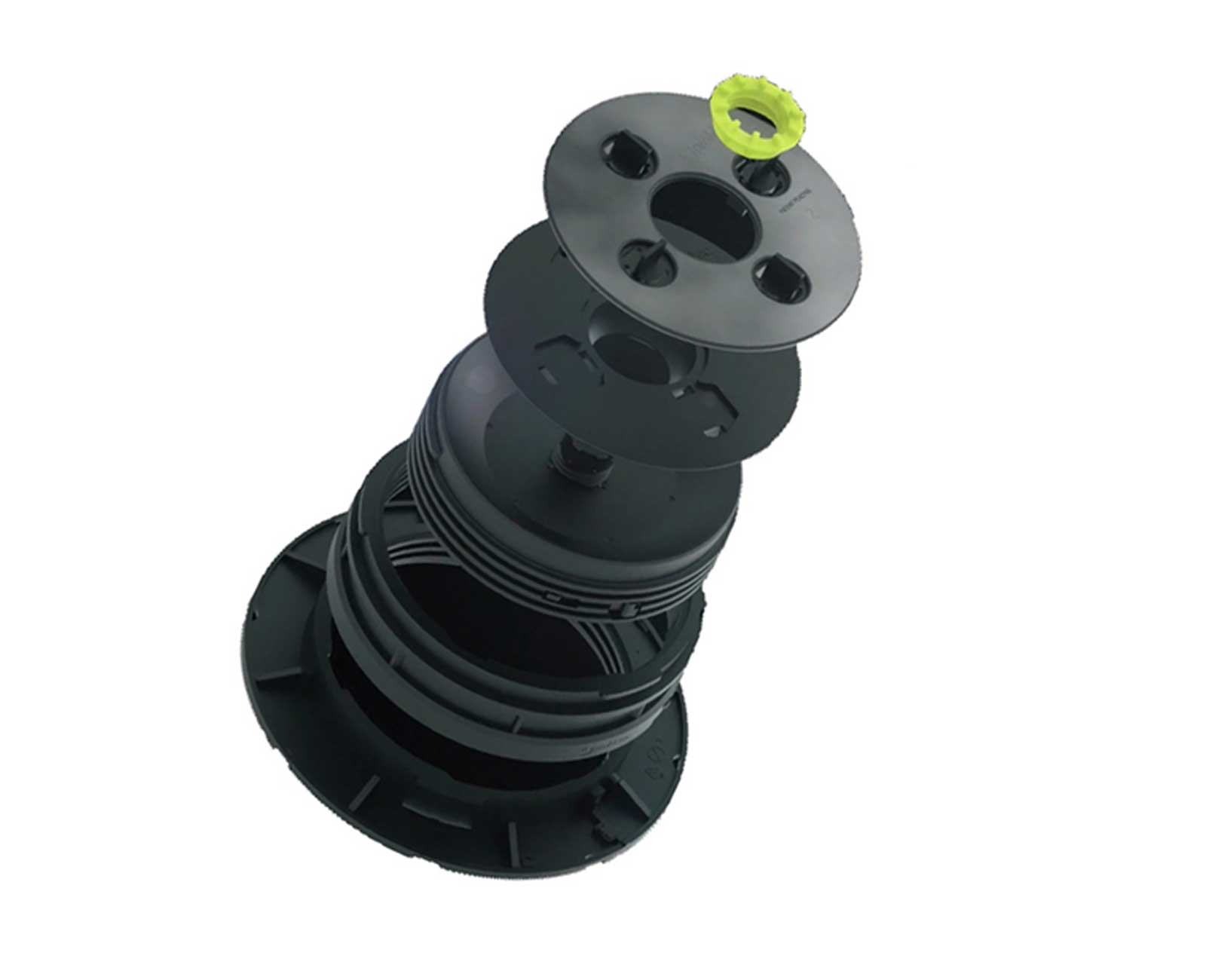 StreetDeck kits do not require any additional fabrication, cutting or modification, irrespective of the site conditions. The included adjustable height pedestals are capable of ensuring a level surface on all typical street surfaces.
Assembly simply requires bolting all components together, including the planters, which are supplied as a flat pack. StreetDeck components are delivered to site packed on a pallet. No crane or heavy lifting equipment is required. Assembly can easily be accomplished in less than a day with a team of 3 people min. and no particular skills are required.
Full assembly instructions for StreetDeck modular decks are provided with every order and additional assistance is always available on request from our technical staff.
Detailed instruction for our two standard Parklet kits can be downloaded below:
For more information about the use of 'StreetDeck' as city Parklets or Streateries, see our Parklet Resources Guide which includes links to websites and downloadable documents detailing the planning and approval process, design considerations and other pertinent information provided by major cities who have developed Parklet programs.
For any general inquiries,  please call 406 551 4098 or send us an email.