What is a Parklet?
Parklet: a small seating area or green space created as a public amenity on or alongside a pavement, especially in a former roadside parking space.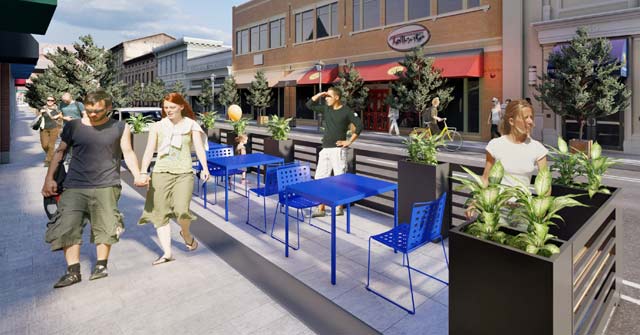 Photo credit: "Parklets", © 2012 Cidades para Pessoas, Flickr | CC-BY | via Wylio
The term 'Parklet' is generally attributed to San Francisco where it was first used to describe the process of converting one or more street parking spaces into a small public "park". Since that time, numerous cities have adopted alternative names including People Spots, Street Seats, Streateries, Pocket Parks, Street Patio and Spark.
Parklets are primarily intended as assets for the entire community by introducing new streetscape features such as plantings, bicycle parking and additional outdoor street seating for nearby shops. They typically encourage increased pedestrian activity and additional sales at nearby businesses by breaking the flow of foot traffic and giving passersby a reason to stop, socialize and relax.
The best designed parklets take into consideration amenities that would benefit the immediate surroundings, such as benches, lighting, planters, and landscaping. Bicycle racks are often incorporated into the parklet design as well.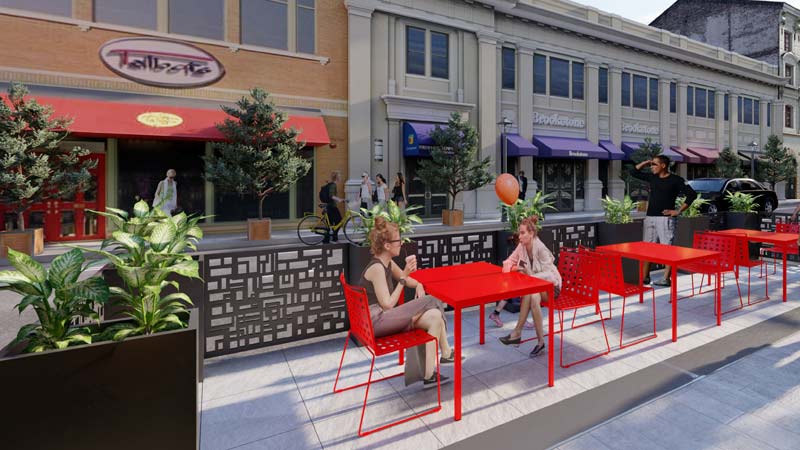 Photo credit: "Hot Tub Parklet 4", © 2012 Paul Krueger, Flickr | CC-BY | via Wylio
Establishing a local parklet normally begins as a proposal by an individual or group who commits to the process and expense of gaining community support for their vision, applying for a parklet permit, designing the parklet, submitting proposals and all required documentation to the relevant authorities, organizing the installation and taking responsibility for ongoing maintenance.
All parklets must comply with local regulations and design criteria for street seating which put user safety and functionality at the forefront. They are limited to where they can be positioned in relation to bus stops, utilities and street corners, are required to have a perimeter of a specific height while still providing vistas across the street and end buffer zones to safely separate the seating area from vehicle traffic. They must possess all required permits, meet ADA requirements, maintain roadway drainage, allow for access to any below-ground utilities, be properly insured, possess a maintenance plan and enhance the vibrancy of the area with seating and landscaping.
Parklets can be an outstanding addition to any neighborhood. Archatrak is committed to making more parklets and street seating a reality by offering a more affordable, modular, easy to build and disassemble, self-contained Parklet deck structure. Our 'StreetDeck' modular decks are specifically designed around the concept of Parklets and have the capability of adding integrated planters, benches and railings or serving as the base for totally customizable designs.