Ipe Wood Tiles
Construct solid wood decks over sloping or uneven surfaces with structural Ipe wood roof deck pavers supported by adjustable height pedestals.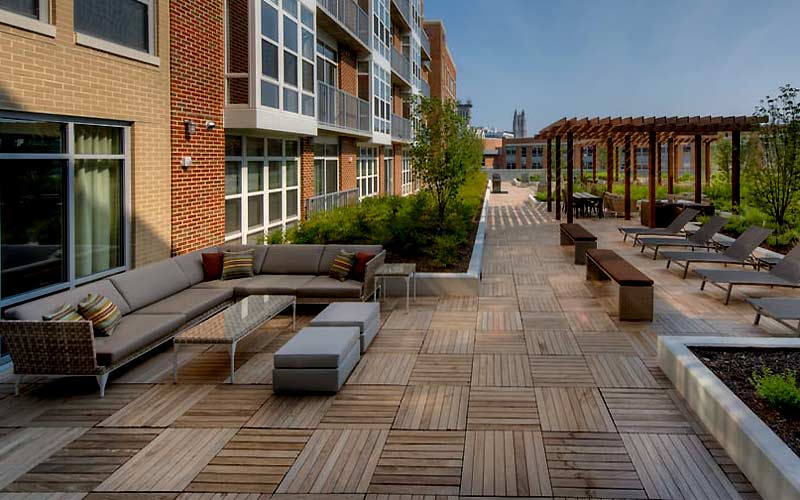 Ipe wood plaza deck pavers
Install wood decks without needing wood bearers or steel supporting structures. These exceptionally strong wood tiles only need supporting at each corner with our Eterno 'Prime' adjustable height deck supports, or for low height applications, can also be elevated off the surface with our fixed height rubber support pads.
Ipe wood tiles can be used to create elevated decks over most hard surfaces – rooftops, courtyards, terraces, pool surrounds, patios etc. for both residential and commercial applications. See our Ipe tile gallery pages for example of installations on raised decks.
The heavyweight, prefabricated wood tile panels are constructed with 13/16″ Ipe wood slats screwed to three solid wood support battens with stainless steel screws, creating a tile with outstanding strength, durability and resistance to flexing.
We currently offer structural decking tiles in Ipe wood only in two sizes – 24" x 24" and 24" x 48" (nom.).
Our Ipe wood tiles are manufactured in Bolivia using 'A' grade lumber which, in accordance with standard industry classification, permits some knots, color variation, dark streaks, pin holes, checking etc. Decking timber is not furniture grade.
Also, in accordance with normal industry practice, our Ipe wood tiles are treated with wax on the ends of the wood slats to reduce the possibility of end cracking. During handling and transport, some wax might be deposited on the surface of the slats. This is normal, but if it is perceived as a problem, it can be removed by scraping and use of an appropriate solvent. Under some circumstances, this wax can 'bleed' slightly along the end of the slats, resulting in a temporary difference in wood color where the wax has bled, giving the appearance that the ends of slats are wet. Again this is normal and over time, this color difference will normally disappear.
Be aware also that our hardwood deck tiles are not factory coated with any decking oil but are supplied in a natural unfinished state. It is highly recommended that a good quality decking oil is applied as soon as practical after installation, which not only assists in maintaining the color as long as possible, but provides some protection from airborne particles which can leave dark spots or markings on unfinished timber.
See our installation guidelines for further information.
Ipe Wood Tile Details
Key Benefits of Ipe

High resistance to termites, decay and mold

Very hard and dense

Wear resistant and scuff resistant

Class B fire rating

High bending and shearing strength

High resistance to warping and twisting

Weathers without splintering

Ipe Wood Deck Tile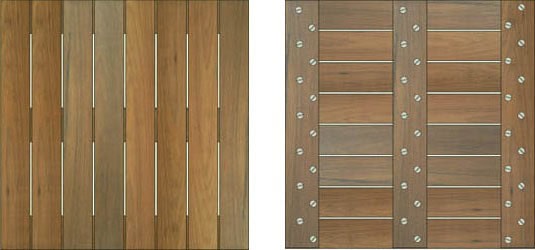 Property
Standard tile sizes
23 7/16" x 23 7/16", 23 7/8″ x 23 7/8″ or 23 7/16″ x 47"
Tile weight
23 lb
Tile height
1 11/16″
Wood thickness
13/16″
Slats per tile
8
Width of slats
2 7/8″
Slat spacing
3/16″ approx.
Ends & sides finish
S4S E4E (radius 1/8″)
End treatment
waxed with paraffin
Surface finish
not coated with oil
Fixing screws
stainless steel
Property
Botanical name
Tabebuia sp.
Color
Reddish brown, but can vary from olive brown to blackish
Grain
Interlocked grain, fine to medium texture
Density
64 lb/ft3
Durability
Class 1 (min. 25 years life)
Hardness (Janka)
3680 (very hard)
Decay resistance
1 (very resistant)
Fire resistance (ASTM E84‐16)
Class B
Flame spread index
35
Modulus of rupture
22,600 psi
Modulus of elasticity
21,600 MPa
Crushing strength
13,000 lbf/in2
Shrinkage
7% tangential, 6% radial
Tang./radial shrinkage
1.2
Use your mouse to drag the tile for a different view.
Archatrak Ipe wood tiles are specifically designed for installation on pedestal supports for constructing elevated decks. Any installation should ensure good air circulation can be maintained under the tiles and that the tiles will not be subject to prolonged contact with water.
For installation using adjustable height pedestals, see here.
For installation using rubber support pads, see here.
As supplied, our Ipe wood tiles do not have any sealer or decking oil applied to the surface. However a wax is applied at the ends of the slats to minimize any slight cracking or checking. We highly recommend coating these hardwood deck tiles with a good quality decking oil or sealant as soon as practical after installation.
If the tiles are not coated with any sealer or decking oil promptly after installation but left to fade naturally, slight 'bleeding' of the wax on the ends may give the appearance of water staining on the ends of the wood slats.
Archatrak Inc. warrants to the original purchaser that its structural Ipe wood tiles shall be free from material defects in workmanship and materials for a period of three (3) years from the date of original purchase, under normal use and service condition.
Defects are defined as imperfections that impair the utility of the product for its normally accepted purpose.
Download the full warranty document here.
Archatrak donates a portion of the proceeds from each Ipe wood deck tile sold, through our partnership with Trees for the Future. This donation facilitates the planting of 2 trees for every tile sold.
Trees for the Future (TREES) is an international development nonprofit that meets a triple bottom line by planting trees: poverty alleviation, hunger eradication, and healing the environment.  Working across 6 Sub-Sahara African countries TREES has planted over 150 million trees since 1989.
Related Items