Pool Decks, Pool Surrounds & Landscaping
Looking for creative decking ideas for your pool surrounds? Need to give a facelift to an existing pool installation, or just hoping to improve the landscaping around your pool? Take a look at the option of using porcelain pavers around pools supported by rubber pads or adjustable height deck supports. It's a much simpler installation, offers more color and style options and allows water to drain away much more quickly and readily.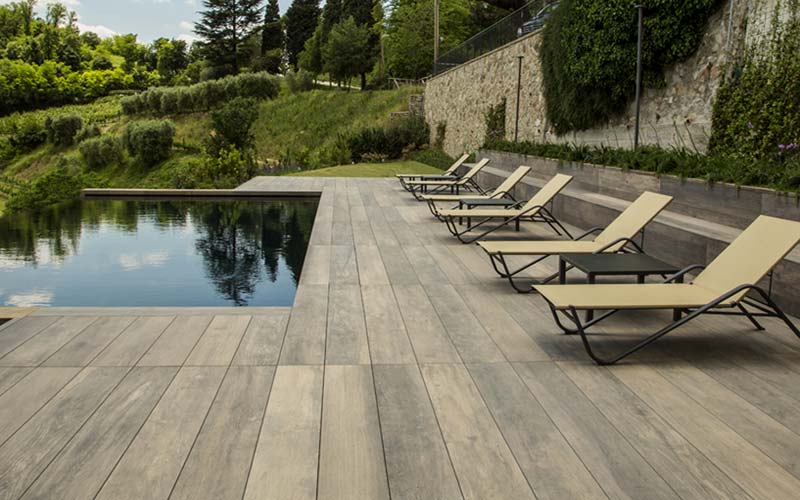 Porcelain Plank Decking
Plank style porcelain pavers offer the opportunity to create an attractive wood look deck around a swimming pool without the problems inherent in natural wood decking – no fading, no color change, no splinters, no twisting, no warping and no issues with mold, moss or mildew.
The 12″ or 16″ wide planks are typically laid over a rail system supported by adjustable height pedestals.  48″ long planks may also be laid over existing concrete, with low height rubber pads placed under each corner and at the mid point of the 48″ sides.
The unfilled gaps between planks allow any water to drain away rapidly, avoiding pooling on the deck surface.  As with any surfacing material used around swimming pools, we suggest choosing only light colors from our porcelain color range as dark colors could feel hot underfoot.
See more about porcelain planks here.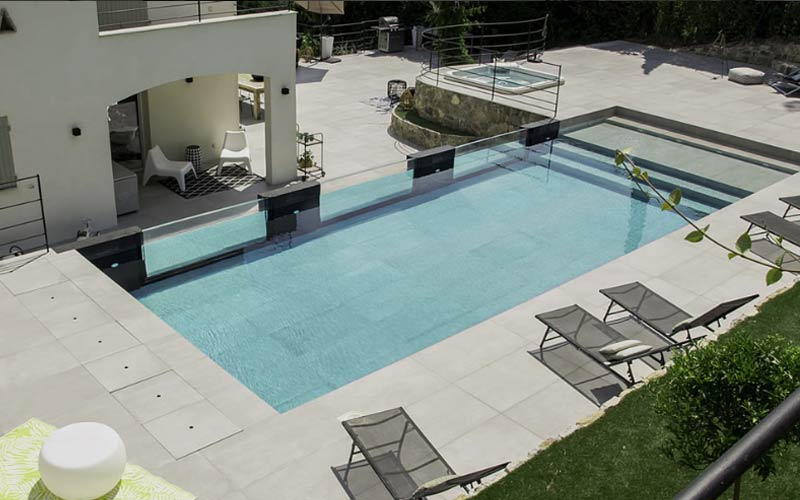 Porcelain Pavers
Square or rectangular porcelain pavers offer a much more attractive option than bland concrete surfaces due to their unmatched range of colors and styles, including stone like finishes that resemble sandstone, limestone, granite, marble and travertine pavers as well as wood-look options. Although the most common size paver for porcelain paver pool decks is 24″ x 24″, a wide range of other sizes are also available, including sizes as large as 48″ x 96″
As with our plank style porcelain pavers, these square or rectangular pavers are typically laid over rubber support pads or adjustable height pedestals, depending on height requirements. If preferred, they can also be laid in thin set and grouted.
It is most important with any pedestal-supported paver installation, and especially around pools, that sideways movement of the pavers is minimized.  Pavers should be pushed as tightly as possible against the inbuilt spacer tabs on the pedestal heads, a solid containment should be constructed around the perimeter and a gap of no more than 1/8″ should exist between the paver edge and the pool coping.
See more about porcelain pavers here.
Accessories and Trim Pieces
For a totally integrated look, a range of special trim pieces can be generally provided to match the paved area around pools. These accessories include square and bullnose pool coping, steps and slotted drains.
Note however that accessories are custom made to order and may not necessarily be available in all colors. Please contact Archatrak to confirm availability and delivery time of any desired trim pieces.