Waterproofing Under Decks
There's a large range of under deck ceiling products available, typically using ceiling or channeling systems installed on the underside of the deck to divert water to the sides. But generally, the major problem is the cost. Most often these products need to be installed by licensed contractors, so are not a cost saving DIY option.
Here's another solution – which also gives you the chance to upgrade your deck at the same time!
First, you need to purchase a continuous sheet of EPDM which will cover the entire deck area. This is used to provide a durable, long-lasting waterproof membrane on top of your existing deck. EPDM is available in widths up to about 50′ so you can generally lay down a continuous sheet without any seams. At the wall side, you need to ensure that water cannot run down the wall to the area below. The best way to do this is to run the EPDM sheet a short distance up the side of the wall as flashing and to use a special EPDM adhesive to provide a good seal between the wall and the EPDM sheet. Make sure also that the surface of the deck has no protruding nail or screw heads or splinters that could puncture the EPDM membrane.
After you have laid the EPDM sheet, simply lay a new deck surface using modular wood deck tiles or 3/4" thick porcelain pavers on top. Here's where you have a few options. And there's not a lot of difference in the cost. With all three options mentioned below, the cost of the tiles is typically in the range $10-14 per sq.ft.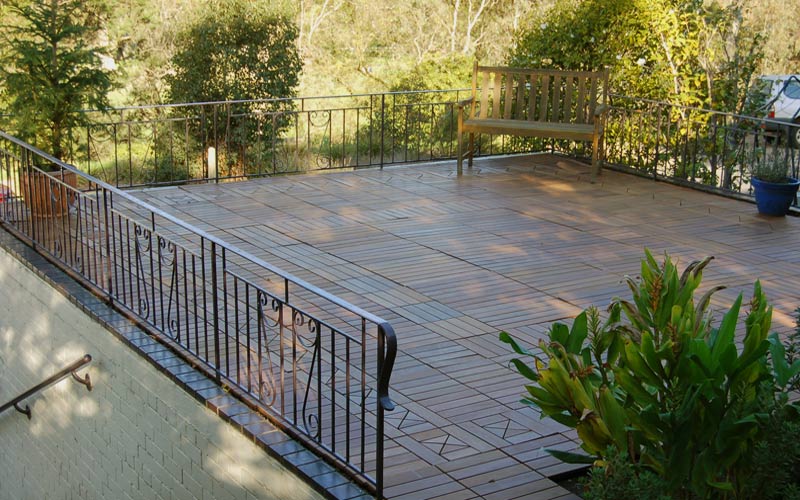 Interlocking Deck Tiles
Probably the quickest and easiest solution.
These solid Ipe wood tiles with integral plastic mesh base simply snap together, automatically aligning themselves accurately and precisely, with constant gaps between the tiles. So a typical deck waterproofing project could be completed in just a couple of hours, not days, even if you don't have any particular DIY skills.
We supply both 12" x 12" and 12" x 24" Ipe wood tiles in our 'SwiftDeck range" – the 12"x 24" tiles can be placed side by side to create a larger 24" x 24" module if a larger tile format is preferred.
Transition pieces are available for clipping to the outer edges to ensure a neat, professional finish.
For more information on interlocking wood deck tiles, see here.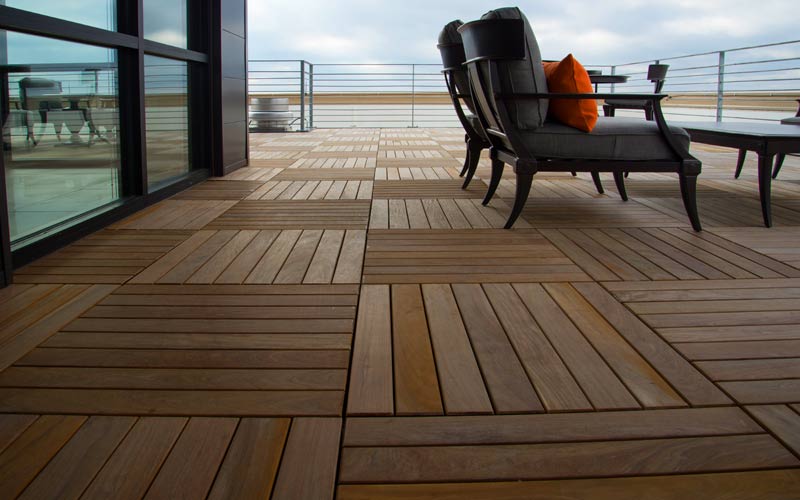 Structural Wood Tiles
Somewhat similar to the interlocking tile option above, but thicker (1 11/16") and not interlocking. Instead, 3/8" high rubber pads with inbuilt spacer tabs are placed under each corner of the tiles to lift them off the EPDM sheet and ensure water drains away freely.
We supply these tiles in Ipe wood (24" x 24" and 24 x 48") or in Black Locust (24" x 24" only).
The advantage of these thicker, non-interlocking tiles over the SwiftDeck interlocking tiles is firstly they are quieter to walk over (the thicker wood slats are screws to solid wood bearers rather than a somewhat flexible plastic base).
Secondly, the thicker wood slats are not subject to temporary cupping, which can occur with the thinner slats on interlocking tiles under certain weather conditions. And thirdly, for ease of cleaning accumulated debris on the underside, the non-interlocking tiles also offer some advantages, being somewhat easier to lift up.
For more information on structural wood tiles, see here.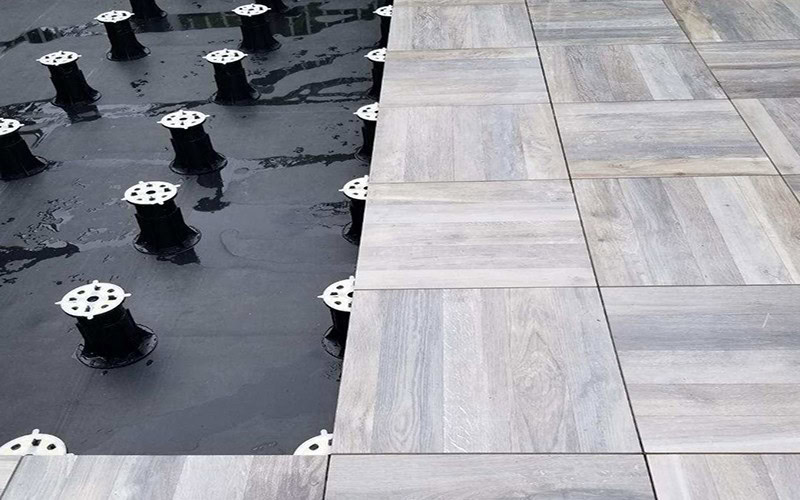 Porcelain Pavers
A more modern option offering an exceptionally wide range of colors, styles and sizes. Not only can you maintain a traditional wood look by choosing a 12" x 48" or 16" x 48" plank style paver which emulates the color, grain and texture of wood, but you can also opt for a totally different look, such as slate, travertine, flagstone, basalt or even a cement look or more rustic style.
Unlike thin ceramic tiles, ¾" thick porcelain pavers are specifically designed to be supported under each of the corners only. So for resurfacing an existing deck, simply place rubber support pads under the pavers, the same as used with structural wood tiles. No adhesive or grout is required. The gaps between pavers are left open, so surface water drains away quickly.
A few other benefits to keep in mind. Porcelain pavers won't stain, fade or collect mold and mildew. They're unaffected by frost, are totally fire resistant and resist scuffs and scratches.
Just one thing to watch. Since they are somewhat dense and brittle, take care not to drop any heavy objects like a hammer from a significant height, as it's possible they could be damaged.
For more information about porcelain pavers, see here.