Rooftop Bars & Restaurants
Apart from aesthetics, safety and security are undoubtedly the two major considerations in specifying materials for rooftop bars and restaurant decks in high-traffic commercial spaces. Not only should the deck withstand damage or breakage in typical conditions of use, but if any paver is damaged, the possibility of injury and/or other property damage must be minimized and replacement of the damaged paver must be accomplished quickly and easily.
In some locations, wind uplift can also be an issue, so any pedestal supported pavers must be sufficiently heavy or held securely to the substrate with an approved tie-down mechanism.
Finally, the deck surface should be fireproof, low maintenance, highly resistant to staining from grease, food and wine and in colder regions, frost resistant.
Here's how porcelain pavers and planks can successfully meet these challenging requirements.
Impact Resistance
Although porcelain pavers are exceptionally durable, they can nevertheless suffer damage or breakage if hard objects are dropped on the pavers from a significant height. This also includes impact from heavy glassware or bottles.
As might be expected, our T30 (1 1/8" thick) pavers offer significantly greater impact resistant than T20 (3/4" thick) pavers. As shown in the video, T30 porcelain will not normally suffer any damage when wine bottles or beer glasses are dropped on the T30 pavers from a height of 6'.
For this reason, T30 porcelain pavers are our primary recommendation for paving on elevated deck surfaces in high traffic restaurant and bar applications.
However, for maximum safety, Archatrak self-adhesive 'Shock Control' sheets should always be fixed to the underside of T30 pavers at deck heights above 6".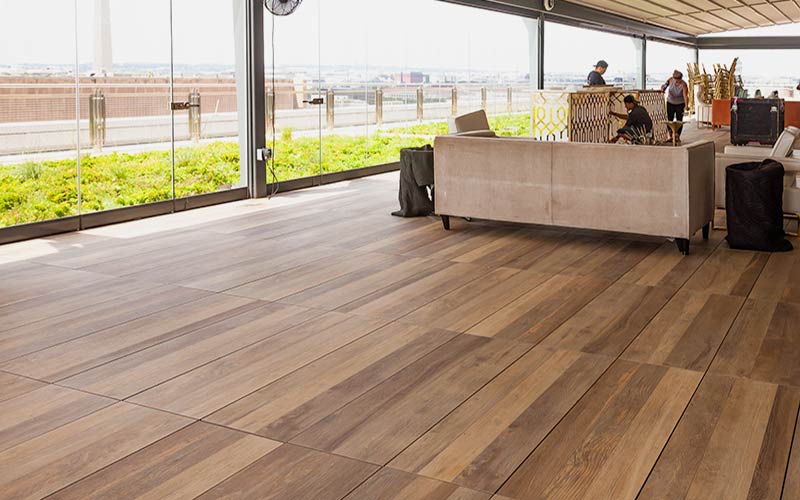 Color and Size Options
Archatrak stocks over 40 colors of porcelain pavers in our Jessup MD warehouse and is able to supply more than 200 additional colors from our Italian suppliers, giving designers and specifiers the freedom to express their personality and perfectly co-ordinate or integrate paved elements into a specific theme or design concept. From muted cement looks, through wood lookalike styles, to stone simulations that skillfully replicate the tones, sparkle, veins and depth of color of natural stone, exterior porcelain pavers essentially offer a similar range and variety of color and styles as interior porcelain tiles.
While the most common size of porcelain pavers is 24" x 24", many other sizes are now available including 24″ x 48″, 36″ x 36″, 32″ x 32″, 30″ x 30″, 24″ x 36″, 18″ x 36″, 16″ x 32″ and 18″ x 18″.  The critical consideration with these other sizes however, is ensuring adequate support, since spacing of any paver supports must not exceed 24".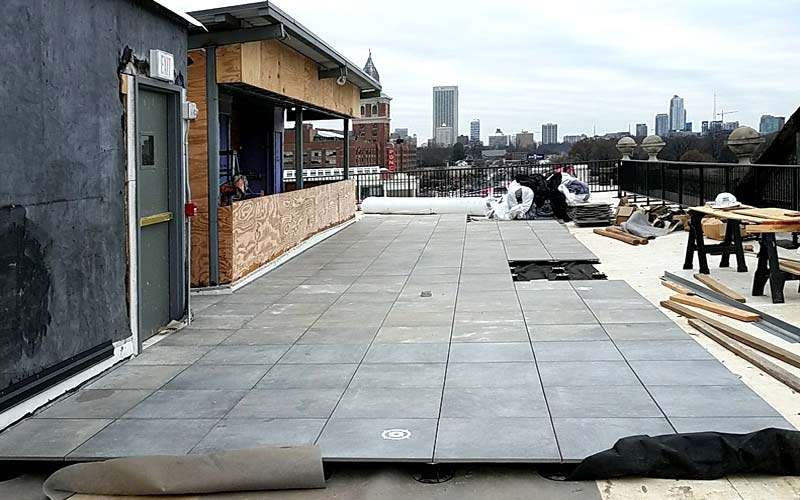 Installation Options
For rooftop bars and restaurants decks, pavers are typically laid over adjustable height supports to ensure a perfectly level deck surface over substrates which may slope in multiple directions for drainage. This also enables ready access to drains, permits pipework and cabling to be hidden, and ensures the surface membrane is readily accessible for inspection and maintenance.
For locations subject to strict fire codes, we now offer a range of totally non-combustible paver supports. These solid steel, fully height adjustable paver supports span a height range from 1″ to 20″.
At the lowest elevations, typically at door thresholds, fixed height rubber support pads can be used to support the pavers, permitting a clearance as low as 1 ¼" with ¾" thick pavers. Pads can be stacked to build the support height up to approx. 1 ½", after which adjustable height pedestals can be employed.
With plank style pavers 8", 12" or 16" wide, a pedestal supported rail system is used to provide the required support, offering the added benefit of more lateral stability for the pavers. Steel rails are supported by adjustable height pedestals with pavers placed over the rails, seated on pedestal heads slid into position along the rail.
Wind Uplift Mitigation
Measures that may need to be taken to prevent wind uplift of pavers on elevated decks will depend on a number of factors: location, building height and local regulations probably being the three major considerations.
This also influences the degree of uplift prevention required for a specific application. Archatrak offers two solutions depending on the uplift resistance required.
1. Galvanized steel sheets are placed over the pedestals and the sheets held to the pedestal with a central screw and washer. Pavers are adhered to the metal plates at each corner. Removal and replacement of a paver if necessary, can be somewhat difficult since the screw and washer cannot be easily moved out of position to lift the paver. The metal plate however offers the additional benefit of break-through protection.
2. T30 1 1/8" thick porcelain pavers permit a slot to be cut in each corner to accept a special stainless steel hold down washer due to their extra thickness compared with 3/4″ thick pavers. The design of the washer allows it to be moved out of the way to lift the pavers if required.  The washer is secured to the pedestal with a stainless steel screw.  The base of the pedestal can be adhered to the substrate for maximum uplift protection.
This solution offers the greatest protection against wind uplift, with the thicker T30 pavers also offering superior impact resistance. We nevertheless recommend applying self-adhesive 'Shock Control' sheets to the underside of the pavers  when deck heights are above 6".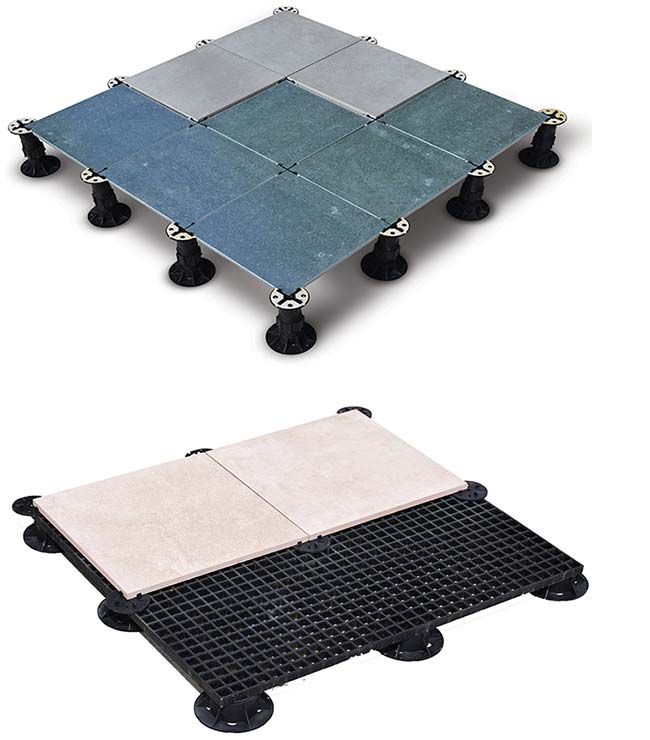 Breakthrough Protection
In addition to the enhanced impact resistance offered by T30 porcelain pavers compared with T20 pavers, Archatrak offers three additional solutions to minimize the possibility of injury should any porcelain paver suffer damage or breakage in service.
1. Shock Control 2.0 is a flexible, self-adhesive, fiberglass reinforced sheet, pre-cut to cover the underside of a 23.5″ x 23.5″ (nom.) paver. The sheet is attached to the paver by peeling off the protective backing and pressing the sheet onto the underside of a dry paver.
Be aware however that Shock Control is primarily designed to hold in place pieces of any broken paver and provide temporary support only. If any paver is broken while standing on, the person must promptly move off the damaged paver as prolonged heavy weight applied to a damaged paver fitted with Shock Control 2.0 will cause it to sag and eventually fall.
2. Archatrak 'Spansafe' Steel Protection Trays are constructed of 1mm thick galvanized steel sheet with ¾" high downturned edges on all four sides, folded to provide a double thickness edge for extra strength. The plates are placed with each corner resting on a pedestal head. The porcelain pavers are then laid directly over the trays and butted tightly against the tabs on the pedestals.
We recommend installing a rubber shim (e.g. Archatrak ETE-LGH2) over the plates at each pedestal location, or spread a bead of silicone adhesive on the plates to minimize noise transmission and/or rattling.
3. Archatrak Fiberglass Grating Panels provide a rigid structural surface on which to lay porcelain pavers. The 4′ x 8′ panels are laid over adjustable height pedestals and can be interconnected with stainless steel clips if required. The pavers are laid with 3/8″ thick rubber support pads at each corner which have inbuilt spacer tabs to ensure perfect alignment and precise spacing between the pavers.
Note that the fiberglass grating and rubber pads have a combined thickness of 1 5/8″.