With their superior technical characteristics and wide range of styles and colors, porcelain pavers are quickly becoming the preferred choice for both indoor and outdoor flooring solutions.
Archatrak porcelain pavers, planks and cobblestones are an exceptional choice for your next project. These three products can be used in a variety of spaces, and can be installed using several different techniques. Below are some of the most popular options for installing Archatrak porcelain pavers.
Paver laid Over Concrete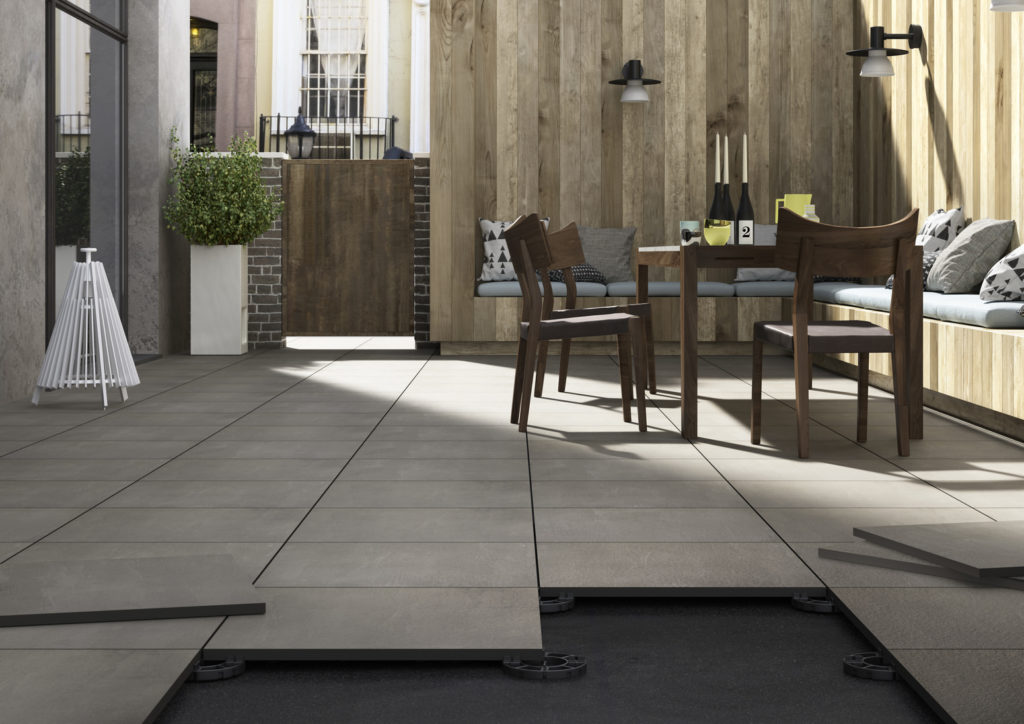 Directly laying Archatrak porcelain pavers over concrete surfaces is one of the best ways to transform a drab patio, terrace, porch or balcony or create new rooftop deck.  You don't need extensive surface preparation, no need to bed the pavers in thinset, and no need for grouting.
Assuming it's not a large area and the slope for drainage is around the typical 2-2.5%,  you can easily lay Archatrak porcelain pavers over concrete surfaces using our 1/4″ or 3/8″ high rubber support pads placed under each corner of the pavers. For more information on how to install porcelain pavers over rubber support pads, click here.
Over an Existing Roof Deck, Patio or Terrace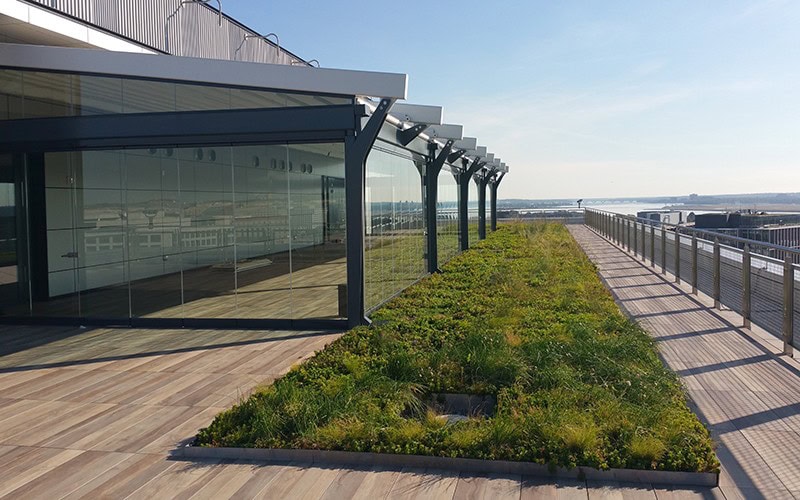 For elevated deck applications, adjustable height pedestal supports offer the easiest and quickest way to construct a perfectly horizontal deck or terrace over sloping or uneven surfaces, avoiding the need to construct extensive supporting substructures of wood or metal beams. Electrical cables and pipes can be hidden under the pavers but easily inspected at any time by simply lifting individual pavers.
Depending on the width of the pavers, pedestals are either placed directly under the pavers or are used to support an array of hollow steel beams, over which the pavers are laid.
For a step-by-step installation guide for pedestal supported application, click here.  
Pool Deck Paving

Most pool owners are familiar with the challenge of what to put on the area surrounding the pool. No one really wants to settle for boring concrete for pool paving, and many worry about slippery ceramic tiles.
You need a tile that stands up to heavy activity, food, grease and drink stains, has a high anti-slip R11 finish, and one that continues looking good throughout the year with very little maintenance. And of course, you want any surfacing material to be reasonable in cost but enhance your beautiful and relaxing pool space.
Fortunately, Archatrak porcelain pavers can easily meet this challenge. With Archatrak pavers, all that's required is a concrete slab, well compacted sand and gravel or grass surface around the pool.
If your pool is surrounded by concrete, Archatrak porcelain pavers can be easily and quickly installed on our fixed height rubber pads or bedded in thinset and grouted.
If your pool is surrounded by raw ground or grass, ideally you would lay the tiles a on bed of well compacted sand and gravel, but you can still lay the tiles over bare earth, provided a few precautions are taken. In particular you need to ensure the surface is very firm and quite smooth (not bumpy) and lay a weed control mat under the pavers. If laying the pavers on grass, for best results remove the grass where pavers will sit so that the paver remains stable and the surface is flush with the grass.
If your pool is curved, you can cut porcelain pavers to fit the curve of the pool wall with just a small hand grinder fitted with a proper blade, but for optimum results we suggest locating a tile shop that has a water jet saw. It's best to make a template with a piece of stiff cardboard to avoid making any cutting mistakes and ensure you have a snug fit against the pool wall.
Pool edging, ledges, steps, grids and other trim pieces are also available for achieving your exclusive design solutions.
Driveways and Walkways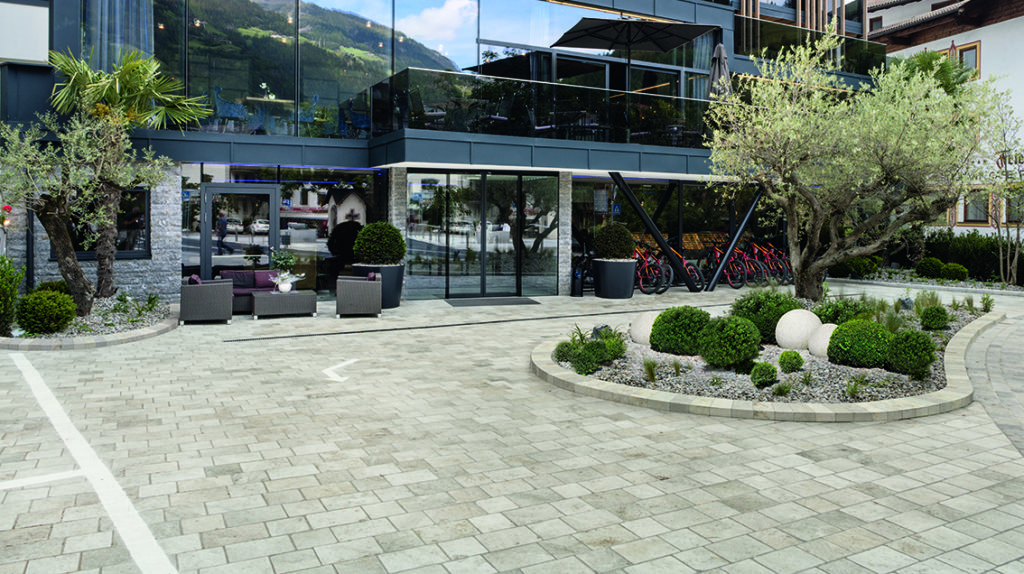 Archatrak 3cm porcelain pavers and cobblestone tiles, pavers and blocks can be used on outdoor driveways, car parks, garage ramps and other areas subject to vehicular traffic when laid with adhesive mortar over a reinforced concrete base, as the pavers are extremely resistant to both dynamic and concentrated loads.
It is essential that the reinforced concrete base is installed in accordance with relevant codes and standards with expansion joints provided as required.
If the concrete slab is not sufficiently large to require expansion joints, a minimum 1/8" grout joint is acceptable, but for larger concrete slabs that require expansion joints, the joint width should be 3 /8". It is also essential that pavers are not installed across any expansion joint.
For more information on motor set installations, click here.
Dry Laying on Sand or Gravel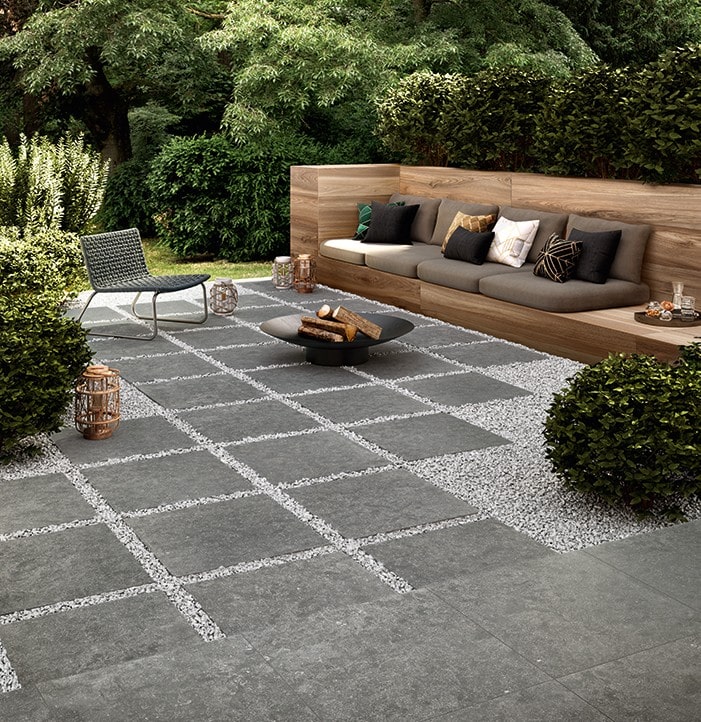 Dry laying Archatrak porcelain pavers on sand or gravel is recommended for applications such as landscape paving, large patios, courtyards, walkways and terraces subject to moderate levels of foot traffic. For an in-depth guide on how to install our porcelain pavers over sand or gravel, click here.
Over Grass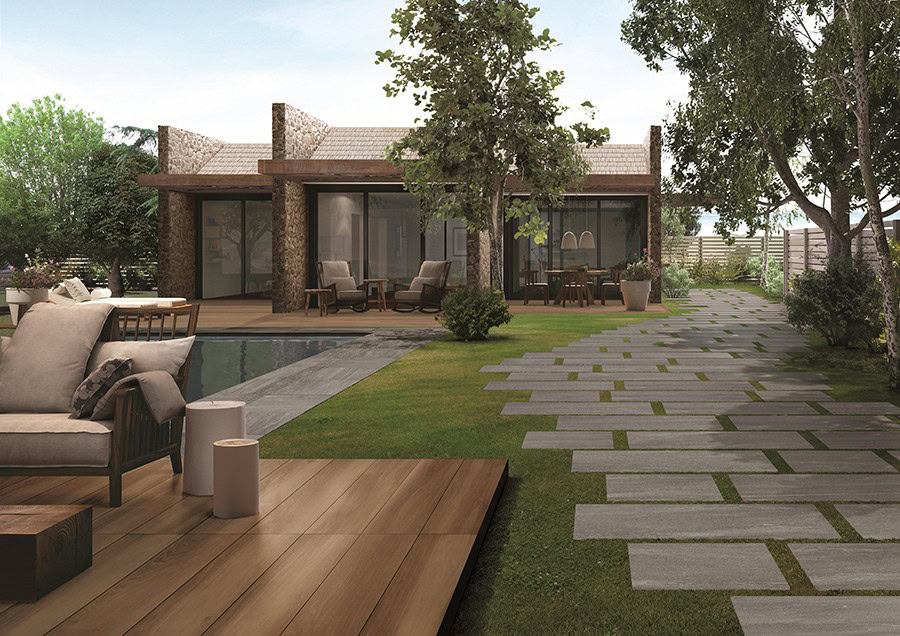 Although Archatrak porcelain pavers can be laid directly over existing grass or lawn such as many backyard paver installations, for a better result, the grass should be removed where the pavers are to be laid as well as removing a shallow layer of the topsoil. This will ensure better stability of the pavers. For an in-depth guide on how to install our porcelain pavers over sand or gravel,click here.
For further information on installing porcelain pavers, planks and cobblestone, or if you have a question about your particular situation, just give us a call on 866.206.8316 or send us an e-mail.