Parklets San Francisco
Expanding outdoor seating and dining in San Francisco  with self contained parklets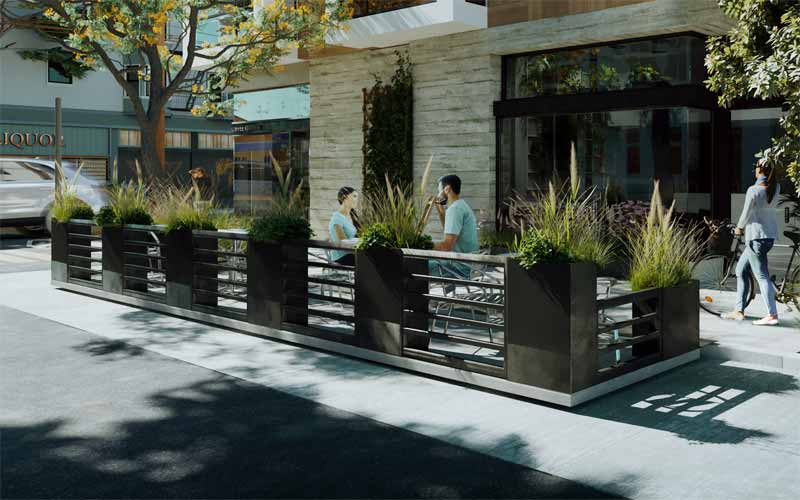 StreetDeck Parklet with integrated steel planters and raiings
It is generally accepted that the concept of parklets first came to life in San Francisco. Since that time they have spread to many cities and even smaller towns throughout the country. And as well as the parklets themselves becoming much more creative in design and appearance, even the names of these small public parks or enclosed seating areas have become more varied, with many cities deciding to put their own stamp on the name of their particular type of parklet. Hence we now see names such as People Spots, Street Seats, Streateries, Pocket Parks, Street Patio and Spark, all essentially describing the same concept.
In 2020 with the Covid 19 situation dominating urban life so prominently, many cities have not only expanded the opportunities for restaurants to establish outdoor street seating and dining facilities on pavements and onto roadways but a number of cities such as New York in particular have closed off many miles of existing road to permit outdoor dining on their existing roadways. And whilst these outdoor dining areas do not fit the name of parklet in the established sense as it was created in San Francisco, this is the name that is being used very often to describe these spaces in general terms.
But returning to San Francisco, the city itself is perhaps somewhat more ideal for the parklet concept because of the numerous urban shopping strips throughout the city, which are very active not only during the daytime, but also at night with their proliferation of restaurants. These types of locations are particularly ideal for the parklet concept, although in the case of San Francisco there is somewhat of a challenge in certain locations due to the sloping roadways which can make access somewhat restrictive if the intention is to have a perfectly level deck surface.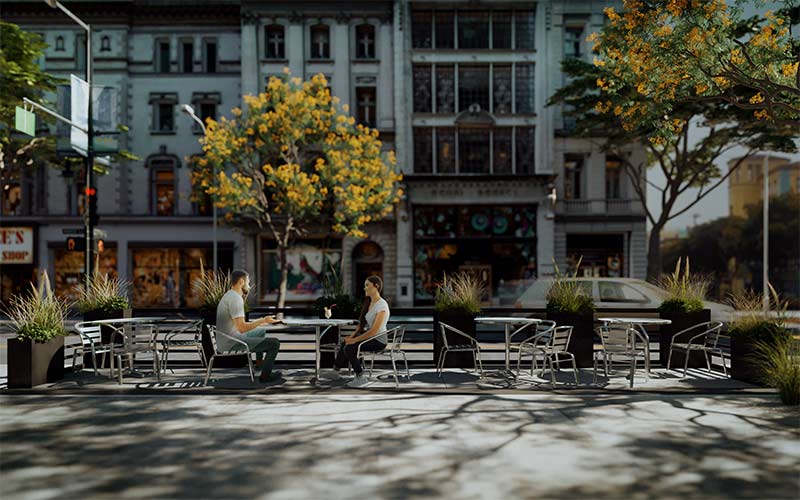 SteetDeck Parklet base with customized accessories
One of the main issues with the parklet concept is that since the parklets are normally owned by a community organization, the cost of building these is generally a major issue, especially when costs can easily exceed $20,000, taking into account the application fees, architects fees, materials, and construction costs.
For this reason, Archatrak decided to create a modular decking system specifically for parklet applications. We called this system StreetDeck, and in basic terms it consists of a deck surface of ¾" thick porcelain pavers or Ipe wood tiles contained within a galvanized steel structure. The deck itself is supported by adjustable height pedestals which means that even if the roadway is sloping to a certain extent, the pedestals can ensure that the deck surface is completely level.
The StreetDeck parklet also includes fully integrated planters and railings/fence panels which are connected to the substructure of the parklet for security and safety. Because it is a modular concept, is easy to extend the length of the deck from the smallest generally accepted size of 12' long x 6' wide up to the length of a two car parks space – generally accepted as 32'.
Need a larger deck? That's no problem since StreetDeck can easily be extended indefinitely in length and also in width. And customization? That's all perfectly possible too. We can simply supply the basic deck component with the pedestals and pavers (where by the way there is the choice of over 40 colors of porcelain pavers available at any time), and any planters, railings, benches etc. can be added which are consistent with local regulations, safety considerations etc.
And best of all, because it is a modular deck and does not require architectural fees, fabrication on-site, or any specialized trades persons to install, our StreetDeck is generally much more affordable than custom designs, not only for future San Francisco parklets but for parklets and street seating in any cities throughout the USA.