Parklets New York
Expanding outdoor seating and dining into New York streets with self contained modular decks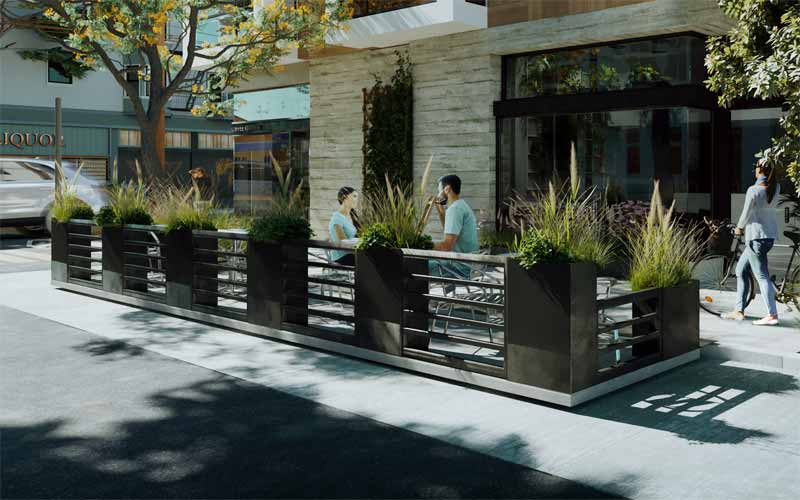 StreetDeck Parklet with integrated planters and railings
In response to the Covid 19 crisis, New York has closed off many miles of streets creating more opportunities for the public to enjoy the outdoors, to ride bikes, maintain greater social distancing and in particular to give restaurants the ability to set up tables and chairs for outside dining.
In the case of street seating, in most cases where the New York streets have been closed off, outside dining has been simply created by placing chairs and tables on the roadway. This works well for streets which do not require central access way to be retained for emergency vehicles. Where an emergency lane is necessary, extra precautions need to be taken to allow free access for these vehicles and minimize the possibility of injury from transiting vehicles.
Generally this means that either water-filled barriers or large planters need to be set up along the outside of the seating or dining areas. Most municipalities including New York require these barriers to be of any certain depth and height, and maybe comply with regulations regarding resistance to sideways force.
This is the simplest means of creating exterior seating and dining. However for more permanent installations, the concept of a Parklet would normally be used. It's generally accepted that parklets were first established in San Francisco where they were designed as compact seating areas taking place of one or two car parking spaces on urban streets. As such they were not designed to be associated with any specific retail establishment and normally did not permit serving of food or drink.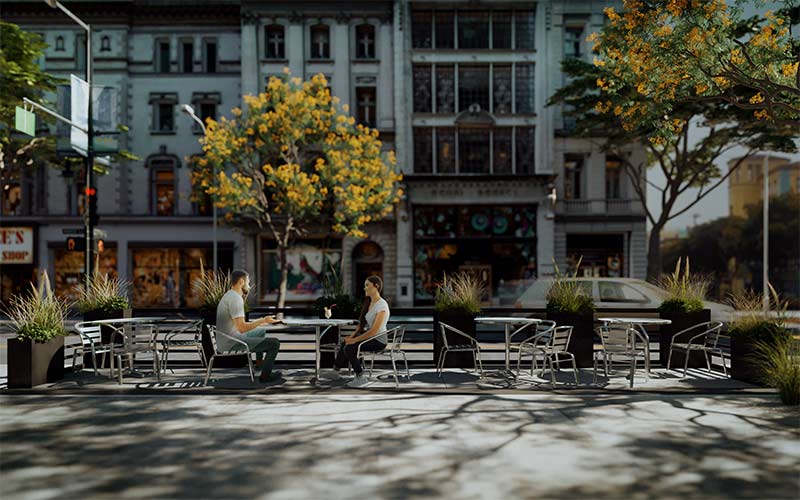 SteetDeck Parklet with customized components
In response to the need for an affordable, easy to build parklet, Archatrak developed StreetDeck, a modular deck kit specifically designed to be installed on urban streets, complete with planters, railings, ramps and bench seating.
Typically, StreetDeck kits are either 12' long or 32' long to take the space of one and two car bases respectively, but they can be extended indefinitely in length as needed. Essentially the StreetDeck modules create a raised platform to extend out from the pavement made perfectly level by support pedestals underneath the ¾" thick porcelain paver deck surface. The pavers are contained on the modular deck by means of a steel frame which is also used to mount and secure the planters and railings. The entire deck is completely self-contained, with fence panels and planters on three sides and the fourth side accessed from the pavement by metal ramps to avoid any tripping hazard.
A typical StreetDeck modular deck can be constructed in just a few hours with no skilled labor, with no on-site fabrication, as all components are simply bolted together. Consequently, it can be disassembled just as quickly and stored away when not required, for example over winter to permit snow clearing of streets.
But StreetDeck is also highly customizable. Starting with just the basic deck, you can add whatever planters or railings you like, whatever seating you require and any other components.
However you choose to build your deck, your New York parklet will undoubtedly provide a pleasant and relaxing seating, dining and meeting area for residents.
Call or email us to find out how easy it can be to set up StreetDeck outside your premises.