In these challenging times, especially for the restaurant industry, innovation and adaptation to restrictions on social gatherings can be the only means of survival for many struggling businesses. With local regulations and/or social distancing requirements restricting or prohibiting inside dining for a still unknown number of weeks or months, street seating on roads and pavements might offer the only hope for business survival and restore some semblance of normality for patrons.
Unfortunately of course, setting up tables and chairs outside is neither practical or possible for many restaurants due to location, local regulations or simply the extra cost for appropriate seating, tables, barriers etc. And a vast number of cities are still doggedly sticking with existing regulations for street or pavement seating, requiring mountains of paperwork, with approval processes that take weeks, if not months. Fortunately, some more enlightened cities like New York have not only closed miles of roads to car traffic, but have set aside specific locations for restaurants to set up street dining areas on the closed roadways. Which is great. But what if you want a seating and dining area that's a bit more upmarket than a black asphalt road? OK so it will certainly be an additional expense in these trying times, but let's look at some street seating ideas that won't necessarily cost a fortune.
One simple solution for closed off roadways is to lay down a bunch of porcelain pavers over adjustable height pedestals. Since you can easily adjust the height of the pedestals to cope with the slope of the road, you'll not only have a perfectly level (and amazing looking) deck surface, but you'll have no worries about your staff or patrons tripping over the curb, as the deck surface will be flush with pavement. And the cost? A 32' long x 6' wide area covered with porcelain paver supported by pedestals will cost around $1000 plus the cost of shipping of the pavers and pedestals, depending on the pavers selected and the pedestal height. Like the look of natural wood? You can also lay 24" x 24" Ipe wood tiles over the pedestals if you wish. They are bit more expensive than porcelain pavers, but look absolutely stunning. You'll probably need also buy lengths of concrete curbing to place along the outer edge of the pavers. This curbing is typically quite cheap and only needs to be about 6"-8" high. The purpose is to stop the pavers from moving and it also helps to avoid anyone tripping on the first row of pavers.
But what about a barrier to define the seating area? This is a bit more tricky since each city has its own regulations and will depend also on whether the road is totally closed to through traffic. For example, New York is apparently requiring barriers at least 18" wide where there is an emergency lane in the middle of a 'closed' road. But commercial steel or fiberglass planters of this width and at least 24" in height can be rather expensive. So what are the alternatives?
We've seen rectangular planters/barriers made of discarded pallets, but you'd have to say this is not the most aesthetic option, unless you're on an exceptionally tight budget. But if you have some DIY skills, here's a better option. Get hold of some 48" x 24" and 24" x 24" Ipe wood tiles and make your own planters/barriers out of these. So for the sides, you would use the 48" long tiles and for the ends, you can use full 24" tiles or you could cut them down to e.g. 18". You'll just need to put a 4" x 4" min. post inside each corner and screw the tiles to the post. To add some weight and stability, you might need to screw some slats of wood along the base and partly fill your planters with e.g. old bricks. And the cost? The 2 x 48" and 2 x 24" Ipe wood tiles will only cost around $250 which will give you a 48" L x 24"H x 24" W planter. Need a planter 36" high? Then simply cut the tiles lengthwise to give you an extra two 12" wide sections and just mount these sections above the full width tiles.
Another alternative. You could buy some ready-made fence panels from e.g. a home center and again with a bit of ingenuity, mount them to concrete curbing as an enterprising pizza restaurant in CA has done (see picture below and above). But you'd need to check with local authorities on this solution as it might not pass requirements for surviving a sideways force of up to 200-250lbs, which is often stipulated.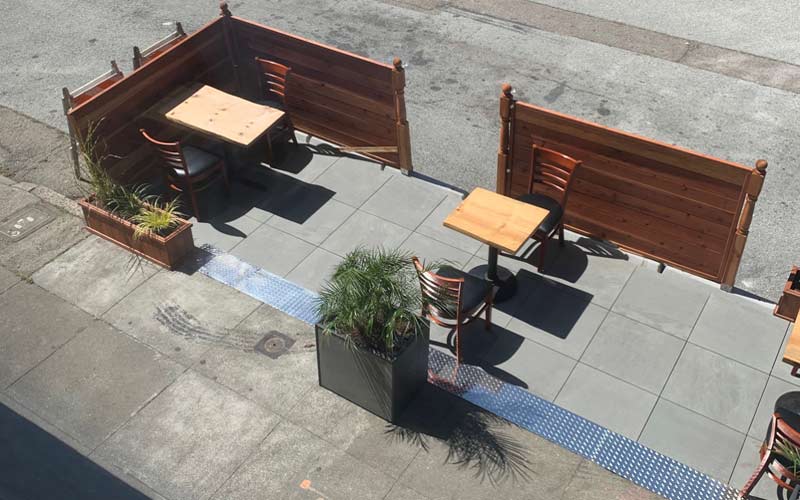 For a more permanent solution with a bit more class, you could also consider our basic StreetDeck solution. In this case, the same porcelain pavers and pedestals are used, but the deck is enclosed with a steel perimeter. The steel structure is primarily to permit mounting of steel planters and railings/fence panels so the base deck can be built into a totally integrated mini deck surrounded on three sides with planters and railings.
And although you generally can't add mains powered electric lighting to parklets due to the problem of bringing a power cord across the pavement, you could possibly add a solar charging pole or even solar bench seating to bring lights to your seating area.
In fact, well before the current Covid-19 pandemic, we specifically created StreetDeck for building more economical and easy to assemble city Parklets, where one or two car parking spaces are replaced with a small self-contained seating. As such, StreetDeck was designed to meet the regulations of the majority of municipalities for structures installed on roadways, including planter height, visibility, sideways force, under deck drainage, curb interface etc. Of course, StreetDeck is rather more expensive than the more basic deck solutions mentioned above, but it's completely modular and can be disassembled and installed in another location if required.
These are just some ideas for making outdoor dining areas on existing roadways a bit more upmarket and hopefully more enjoyable for patrons.