Self-Extinguishing Pedestals
Prevent spread of flames and minimize smoke fumes on pedestal supported elevated decks with Eterno VO self-extinguishing fireproof deck supports.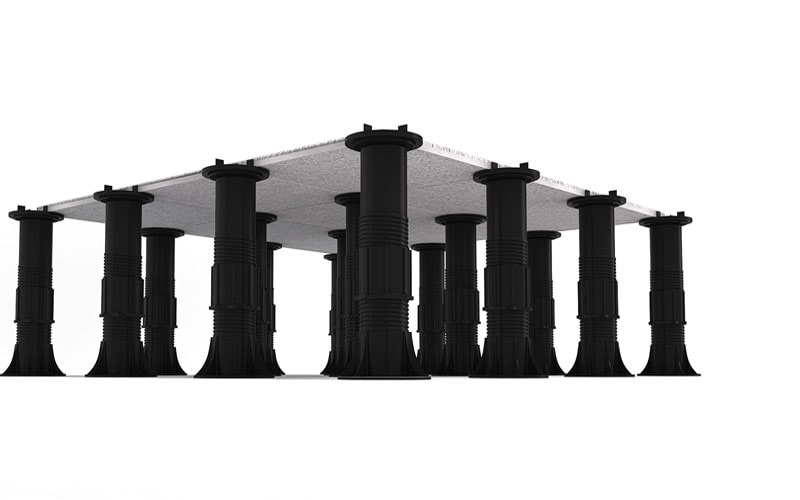 Porcelain pavers supported by regular polypropylene pedestal supports will normally meet the requirements of ASTM Test Method E108-11 "Standard Method of Fire Tests of Roof Coverings". This tests roofing products for the spread of flame and the ability of the roof covering or roofing system to resist fire penetration from the exterior to the underside of the roof material when exposed to flames.
However, in some densely populated urban regions, more severe requirements or regulations may apply, requiring pedestals to possess fire-resistant properties.
Until recently, the only fireproof deck supports we have been able to offer are the Eterno VO series pedestals, which have some fire-resistant properties. These pedestals are produced with special compounds that prevent the spread of flames due to their self-extinguishing properties and also produce significantly fewer smoke fumes than other plastic pedestal supports.
However, we can now offer a range of steel pedestals that are totally non-combustible. The Archatrak IGNO range of fire-resistant pedestals are completely height adjustable and provide incremental height adjustment from as low as 1″ to a maximum of 20″.  See further details here.
Eterno VO self-extinguishing pedestals are available in both the SE range with self-leveling head and the fixed head NM 'Maxi' range with a wider body and tapered twist rings for slope adjustment.
Note that VO fire-resistant pedestals are only available on special order with a lead time of min. 8 weeks.
Key Benefits

Completely self-extinguishing

Reduced smoke and fumes

Avoids spread of flames

Soft rubber head surface gives extra shock protection and reduces noise transmission

Height adjustment tool allows adjustments to be made from above even after installation

Wide diameter base spreads load evenly to avoid damage to roof membranes
A cut sheet for the VO self-extinguishing pedestals can be downloaded here.
Additional data and specifications of the Eterno series of pedestals including a complete catalog can be downloaded from our Brochures & Data Sheets page.